Simple Kamakura Sightseeing Course: Great Buddha, Ocean, Bamboo Grove and Full Information on Recommended Bites!
Kamakura is a town full of nature, scenic beauty and historic Buddhist temples. On this page, we will introduce the best places to visit, especially if it is your first time at Kamakura. sightseeing course. This is a highly recommended course filled with various attractions from sightseeing at the Great Buddha and the Bamboo Grove Temple, which are characteristic of Kamakura, to Shichirigahama Beach, gourmet food and shopping. With this one-day planned trip, you can enjoy the popular Great Buddha of Kamakura, Hase-dera, Shichirigahama's superb view and the Bamboo Grove Temple by train and on foot. You will also get to enjoy eating while walking along Komachi Dori.
Enoden 1-Day Train Pass: Noriorikun
First, get the Noriorikun, a Enoden 1-Day pass on the Enoden line, to move around for one day at a great price. This ticket allows you to get on and off at any station along the Enoden many times as you like. You can also get amazing perks at restaurants and stores along the Enoden line, so you'll save money not only for the train but for other things too!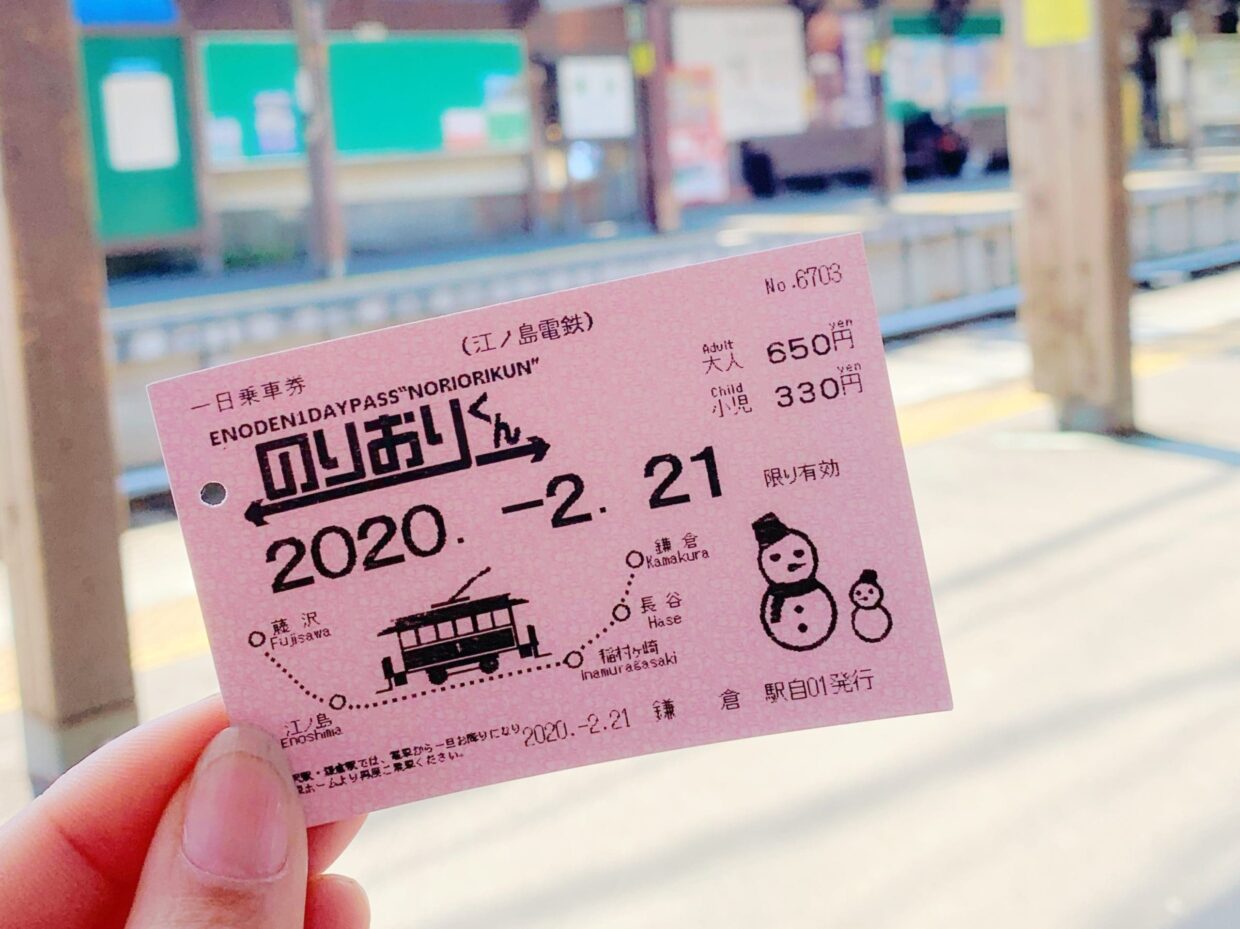 Enoden One Day Pass (Noriorikun)
Adult 650
Child 330
https://www.enoden.co.jp/tourism/ticket/noriorikun/
Boarding The Enoden to Hase
10:00 –
After arriving at Kamakura Station, transfer to the Enoden line to Hase, the third stop from Kamakura Station. Here you can enjoy the quaint feeling from passing closely by sweet shops and local homes.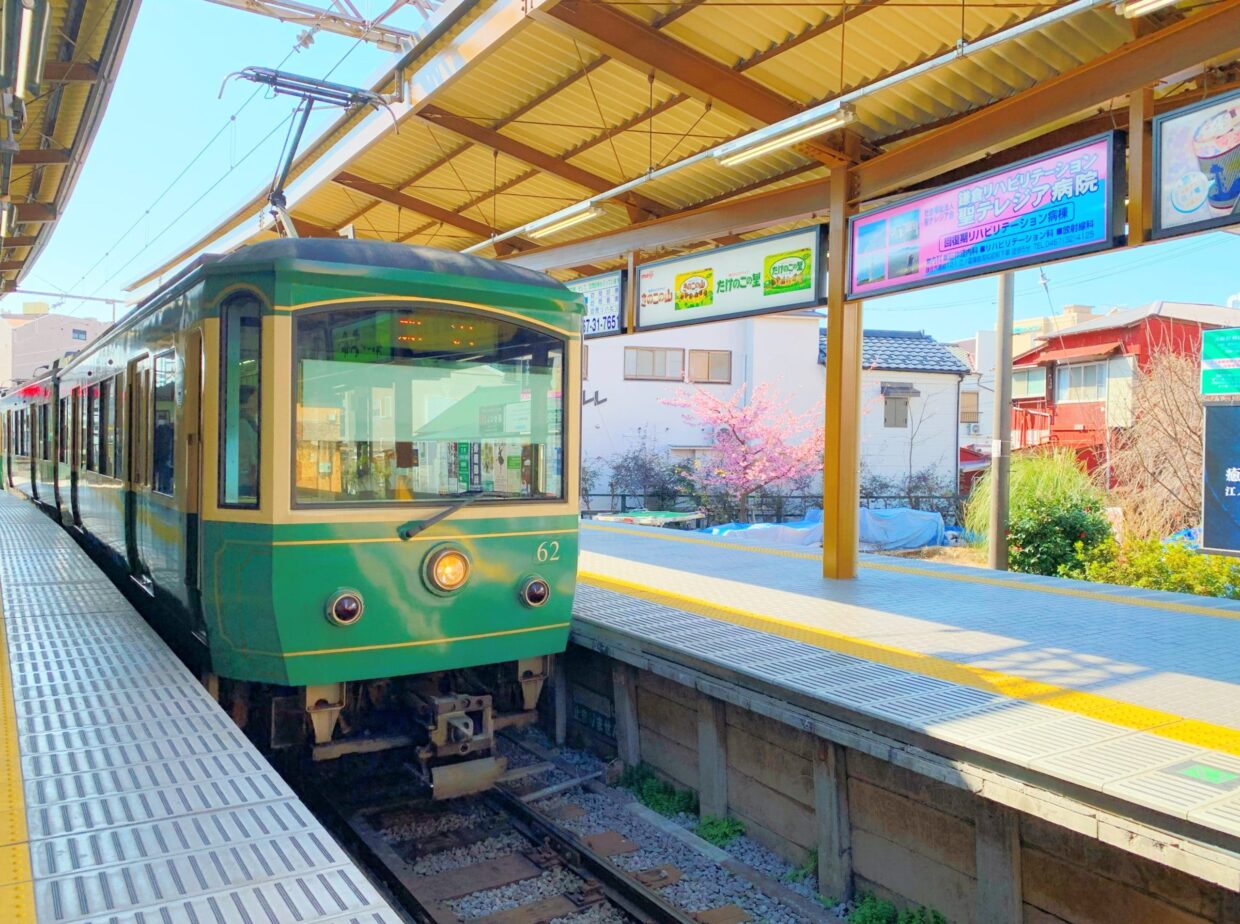 The Great Buddha of Kamakura
10:15-
After leaving Hase Station, walk along the single straight road from the station to Kōtoku-in of the Great Buddha of Kamakura. It takes about 10 minutes and you can have a peek at the shops lining the road while heading there. The Great Buddha of Kamakura, said to have started being built in 1252, looks almost exactly as it did when it was finished and is designated as a National Treasure. Along with the Great Buddha in Nara, it is one of the three Great Buddha statues in Japan, and is nicknamed "Kamakura Daibutsu" or "Hase no Daibutsu". Including the pedestal, it is approximately 13.35 meters tall and weighs about 121 tons. In addition, visitors can enter the Great Buddha interior for \20. The interior, casted from more than 30 pieces using advanced technology, is an incredible sight to see.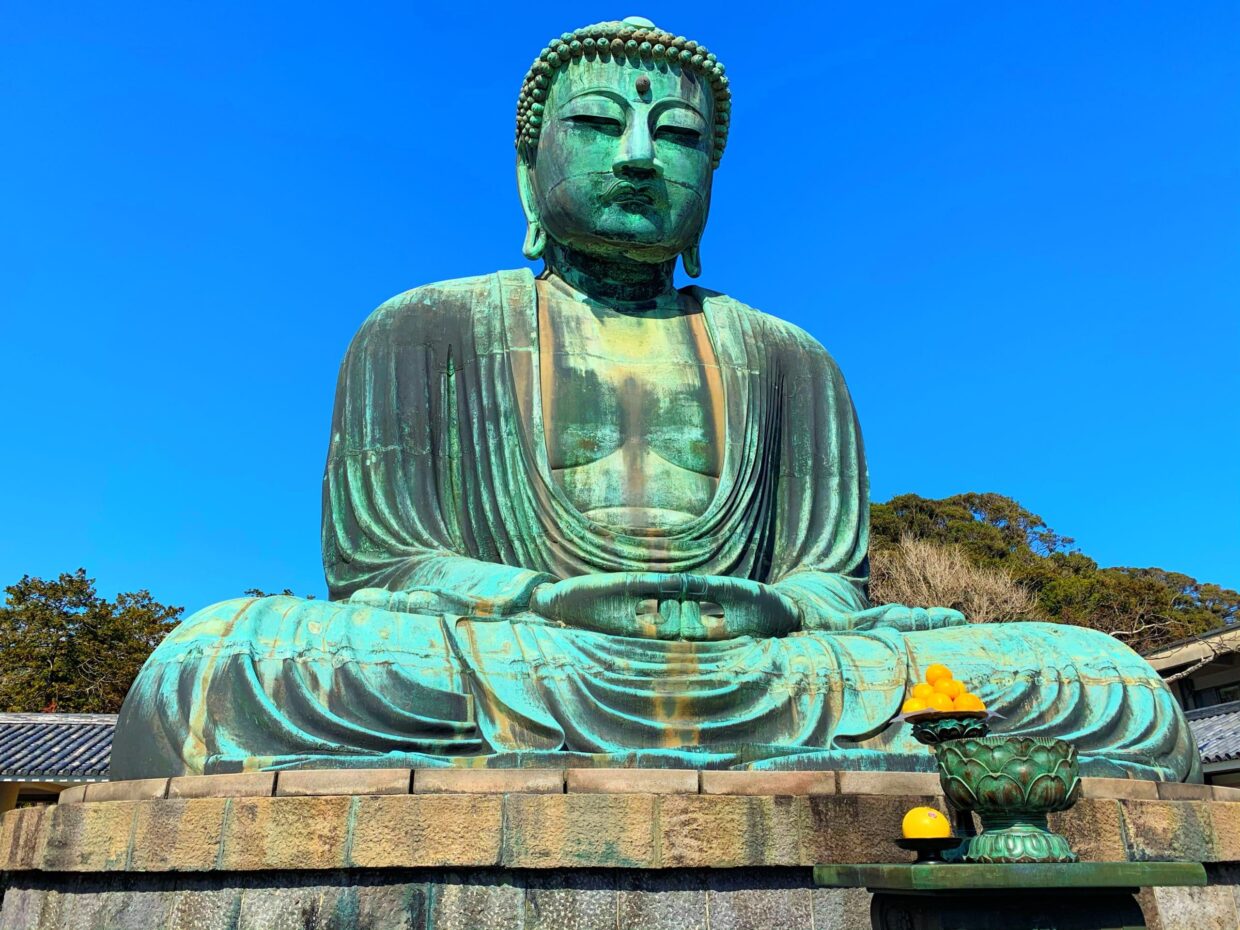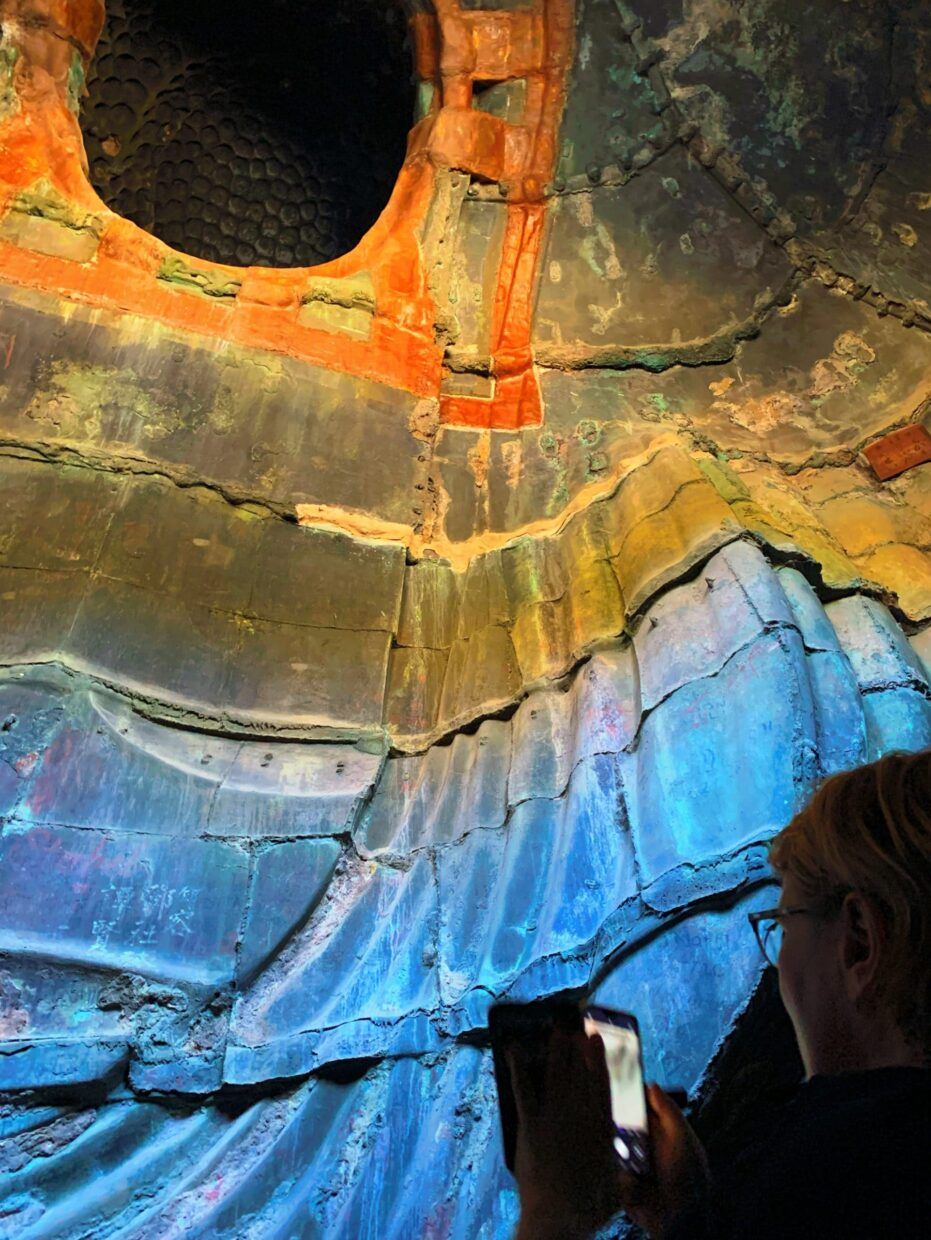 Kōtoku-in (Great Buddha of Kamakura)
Address: 4-2-28 Hase, Kamakura, Kanagawa 248-0016
8 min. walk from Enoden Hase Station
Hours Of Operations
April~September: 8:00 AM ~ 5:30PM
October~March: 8:00 AM ~ 5:00PM
Entrance Fee: 200 Yen
Last entry 15 min. before closing time.
Hase-dera (Ajisai-dera)
11:00-
After exiting Kōtoku-in, use the same road from which you came and head towards Hase-dera. Hase-dera is famous for its hydrangeas and autumn foliage, but it is also famous as a Hana-no-dera (Temple of Flowers) where there are flowers for every season. Visitors can enjoy beautiful flowers all year round, such as cherry blossoms and peonies in spring, hydrangeas in the rainy season, lotus in summer, autumn leaves in fall, and camellias in winter. Hase-dera is made up of a Japanese stroll garden with many places of interest, such as Kannon-do Hall, Amida-do Hall, Jizo-do Hall, Benten-kutsu Cave and Kyozo, so it is best to enjoy these while strolling leisurely. If you show your Noriorikun train pass at Hase-dera, you will receive a free gift.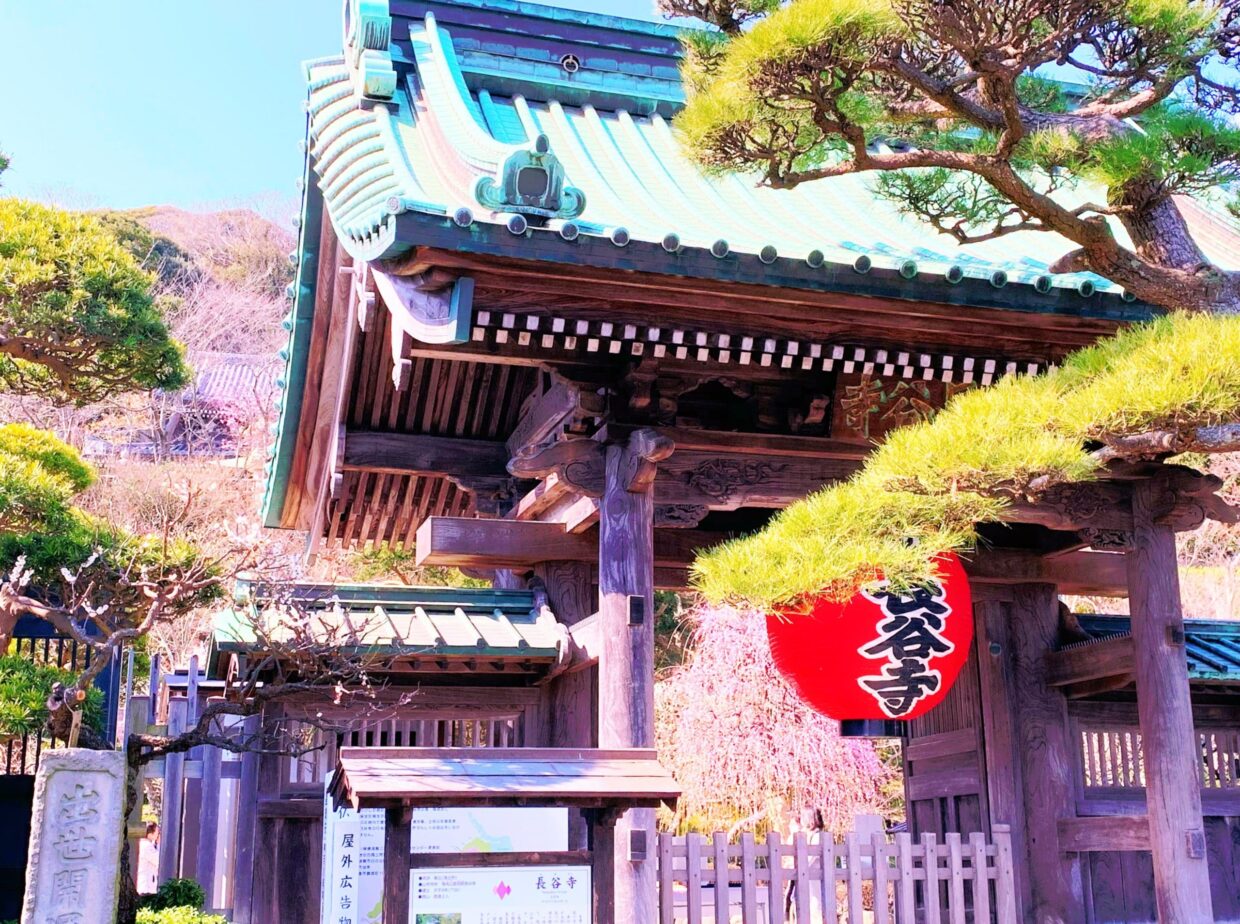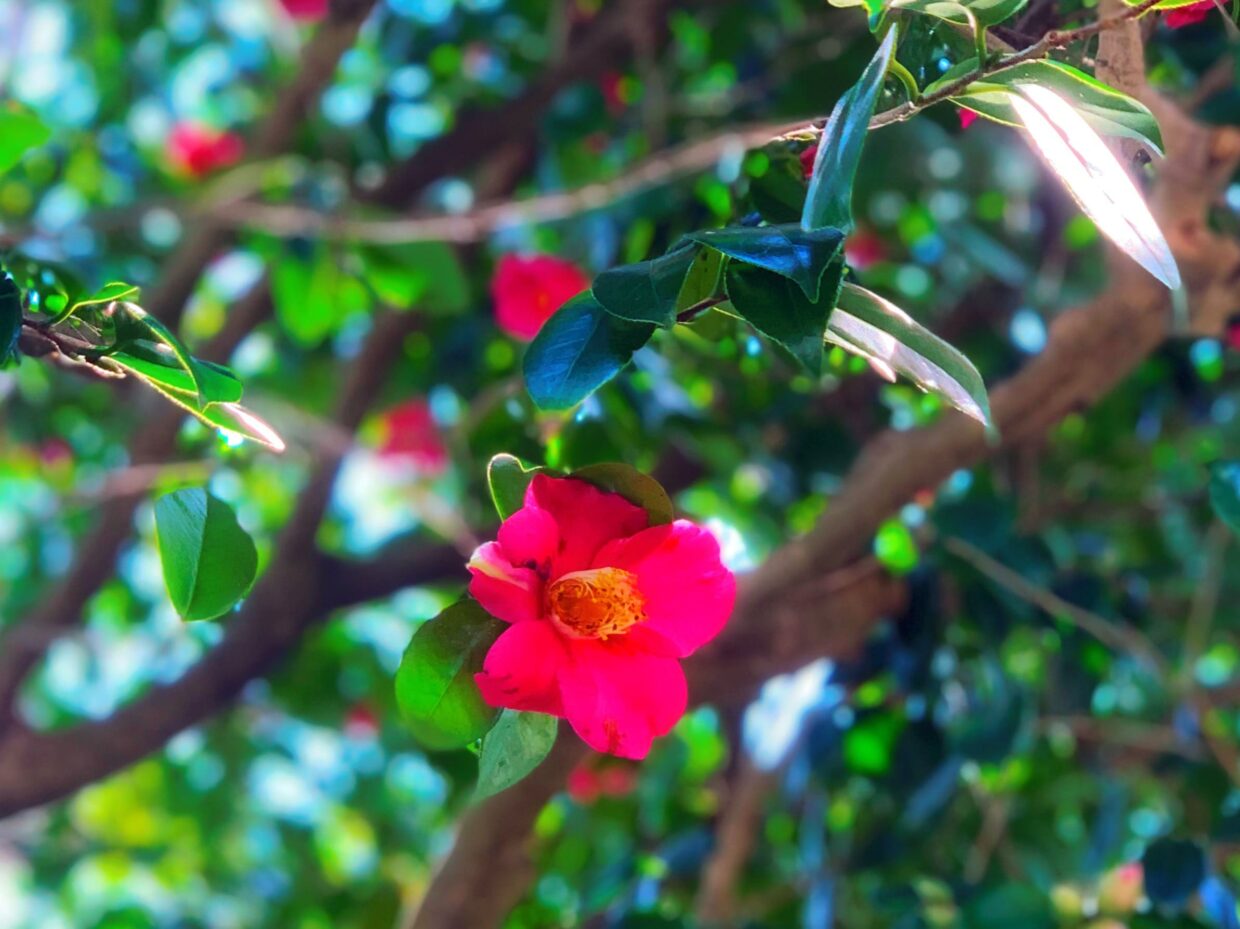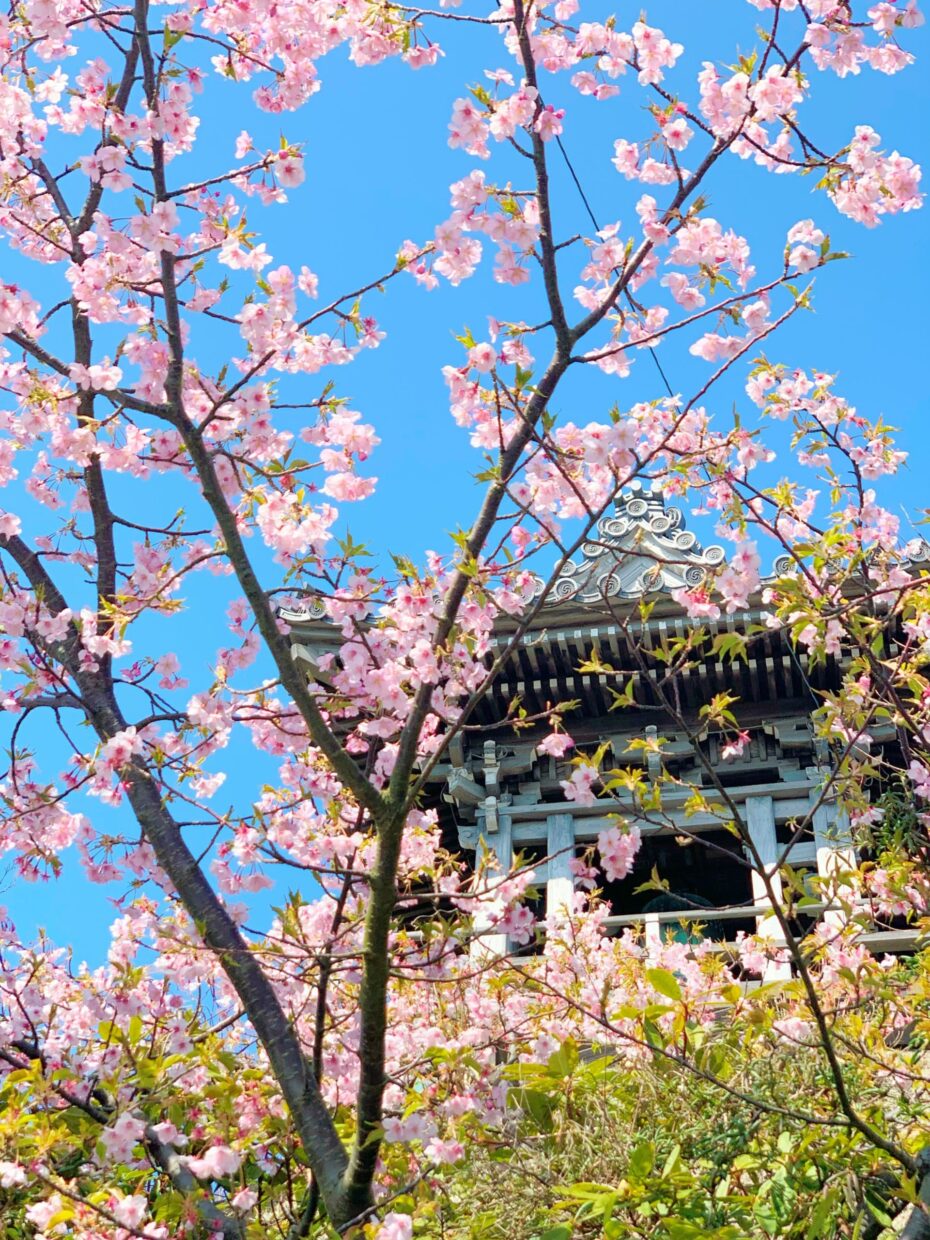 Vegetarian Curry Rice at Hase-dera
Though many people may not know, there is a restaurant located at the top of a small hill inside the garden on the temple grounds of Hase-dera called Kaikoan (海光庵).There are glass windows around the inside of the restaurant allowing diners to see a panoramic view of Kamakura's beautiful sea and mountains making it a great little-known spot. On a clear day, you can see as far as the Miura Peninsula.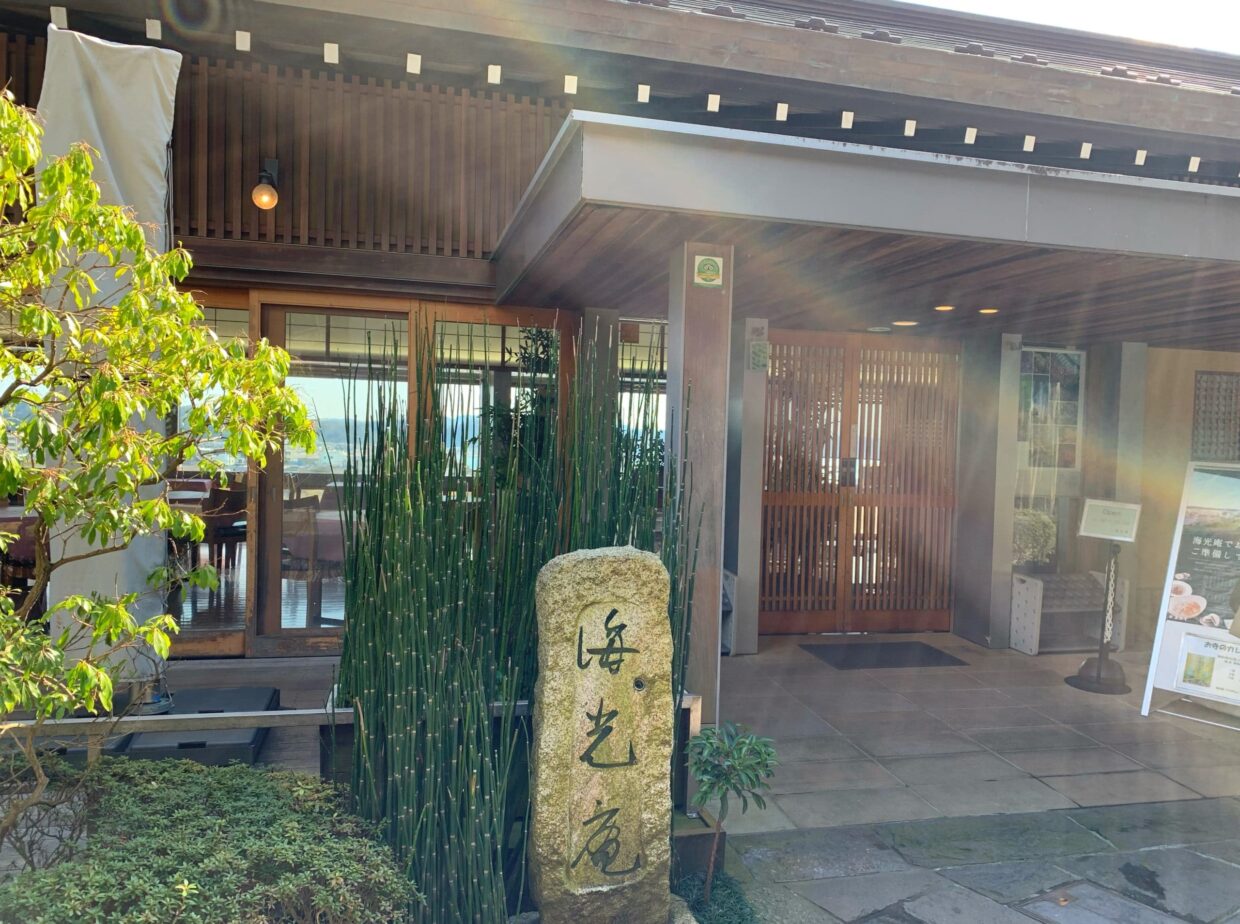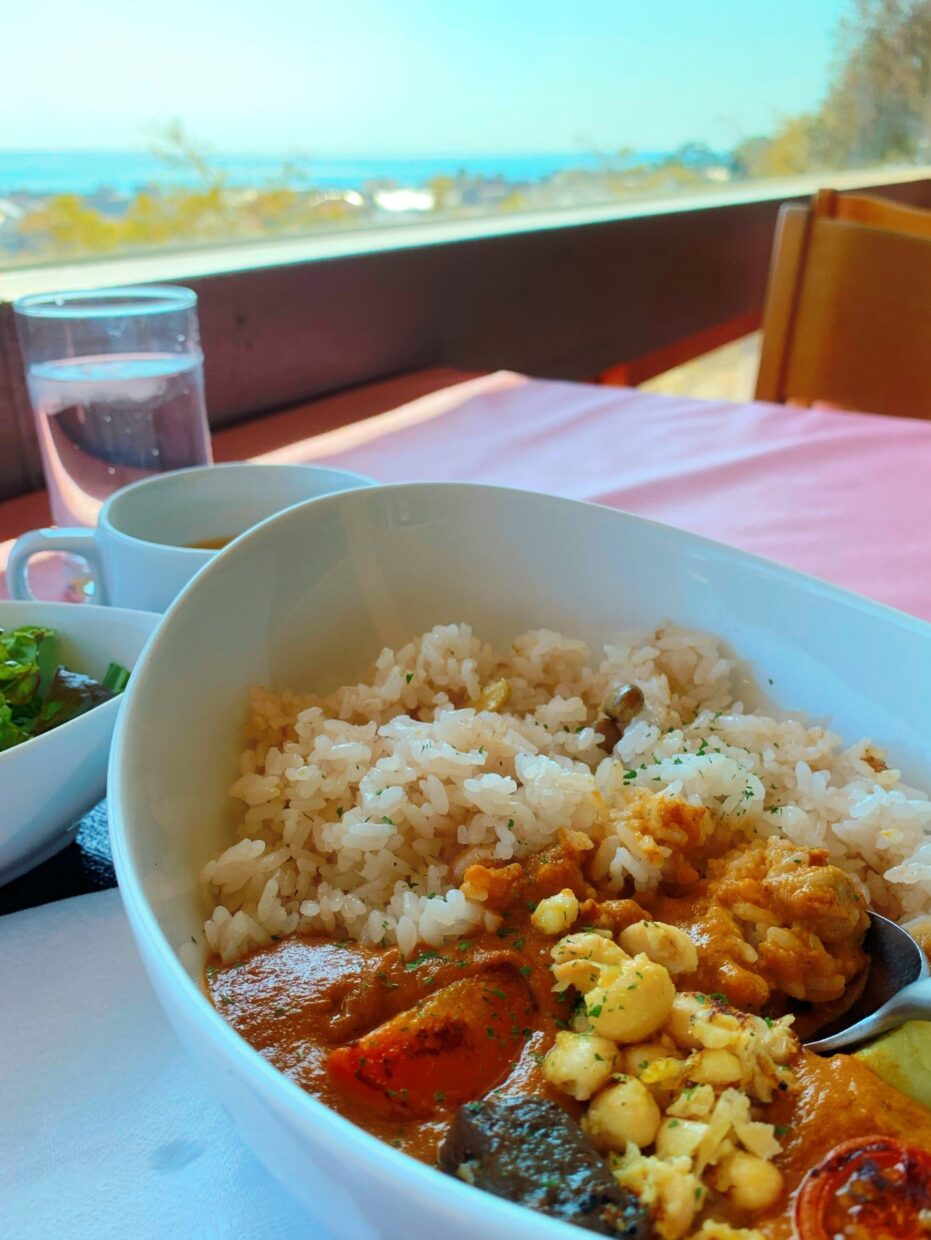 The menu, which you may be curious about, uses vegetarian cuisine as the base such as Otera Curry (Temple's Curry). This curry is popular with everyone including foreign tourists and because it contains absolutely no animal products, vegans can also rest assured when eating this meal. What's more, you can enjoy other dishes unique to the menu here, such as rice porridge and temple pasta, so it is recommended to spend a quiet moment here with your hands in a silent prayer to Kannon while thinking back on your visit to the temple.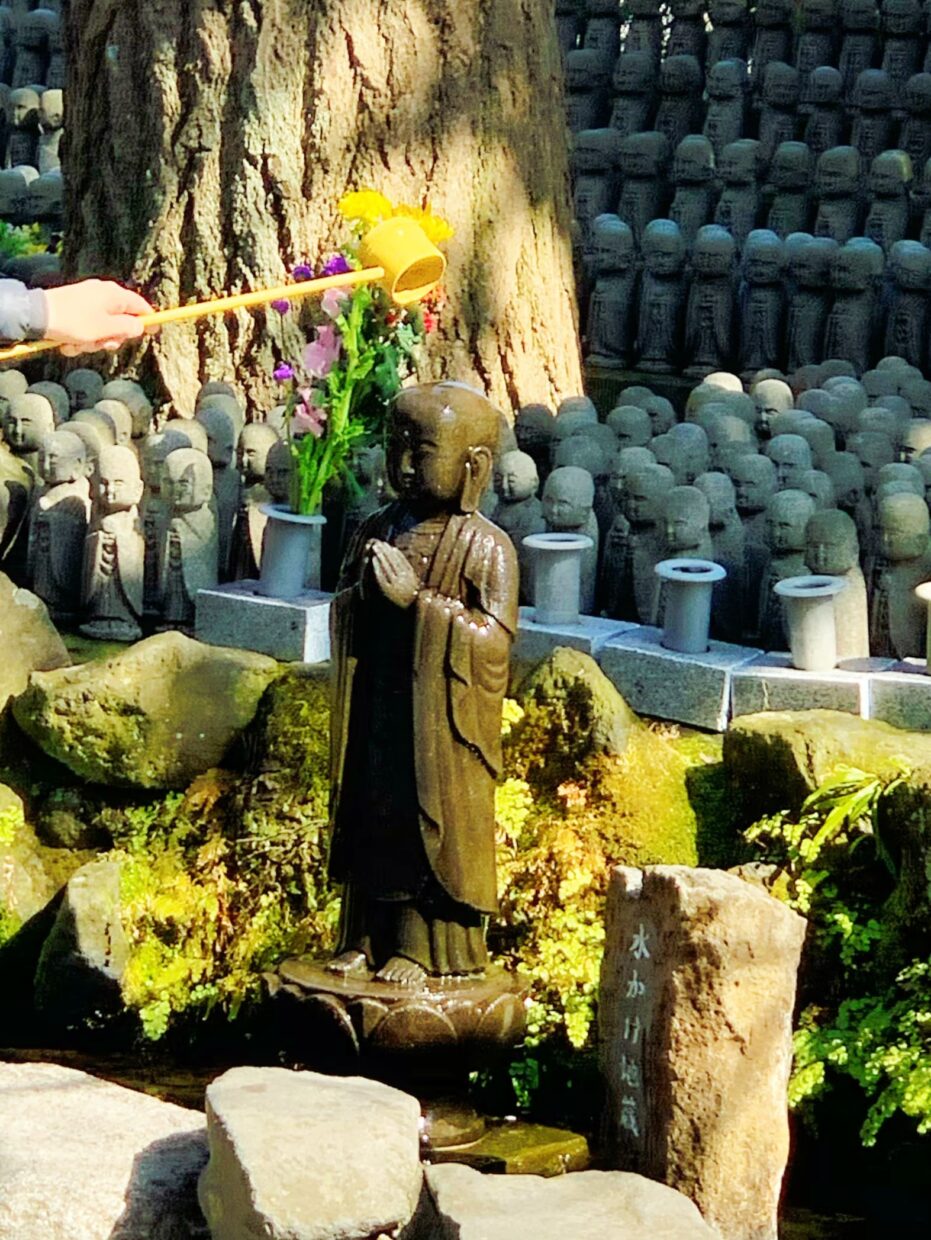 Kaikoan
Lunch 10:00~15:00
Cafe  10:00~16:20(L.O. 16:00)
Open All Year Around
※Please note business hours change during the year-end and New Year holidays.
URL: https://www.hasedera.jp/restaurant/
A Spectacular Walking View at Shichirigahama 
13:00-
長谷駅に戻り、そのまま、七里ヶ浜へ。駅を降りたら、少し浜辺へ降り立ってみましょう。七里ヶ浜海岸は「日本の渚百選」にも選ばれた海岸です。よく晴れた空気の澄んだ日には、富士山がくっきり。美しい姿を望むことができます。波音を聞きながら少し散策をして見ましょう。気持ち良い時間を味わうことができます。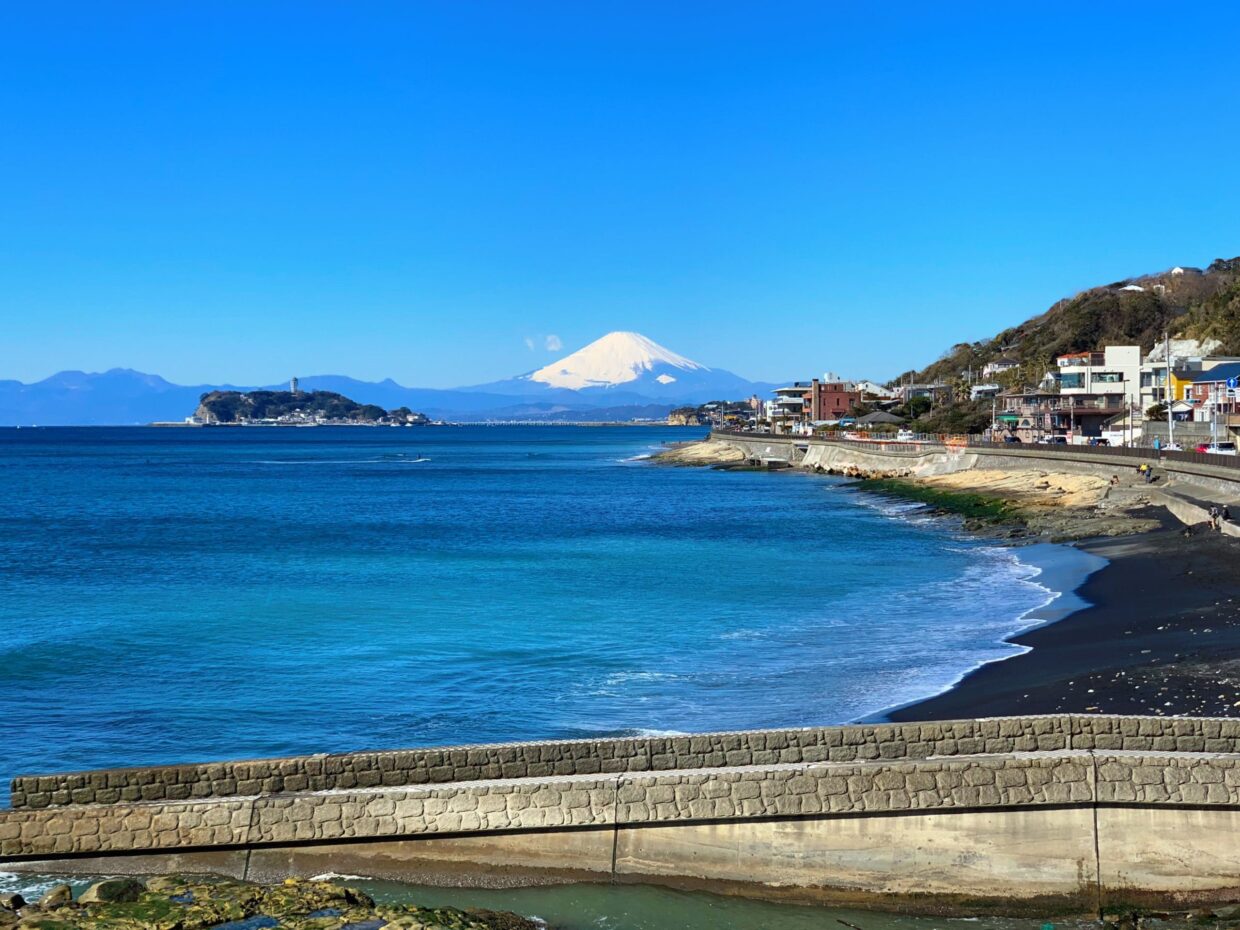 Enjoy Kamakura's Bamboo Grove at Eishō-ji
14:00-
Boarding on the Enoden, let us return to Kamakura Station.
There is a temple with a beautiful bamboo grove at Kamakura. Among the temples in Kamakura, the famous one is Hōkoku-ji, but even if you don't visit that temple, there is another temple within walking distance of Kamakura station with a beautiful yet hidden bamboo grove.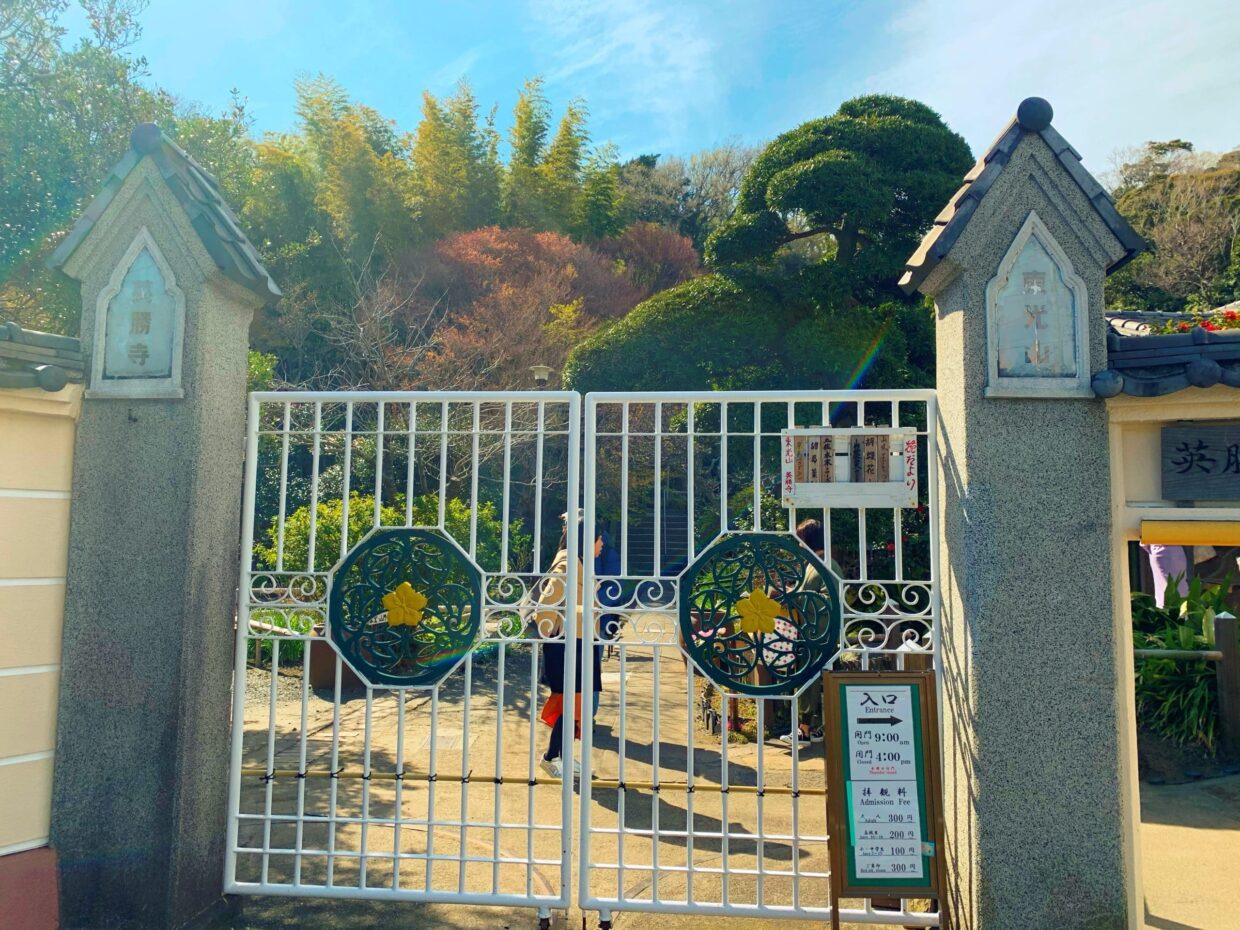 Eishō-ji, despite being 8 min. away from the west exit of Kamakura Station, sees few tourists and is the perfect place for visitors to just relax and enjoy the temple. It is the only nunnery in Kamakura. One of the highlights of Eishō-ji is the beautiful bamboo grove.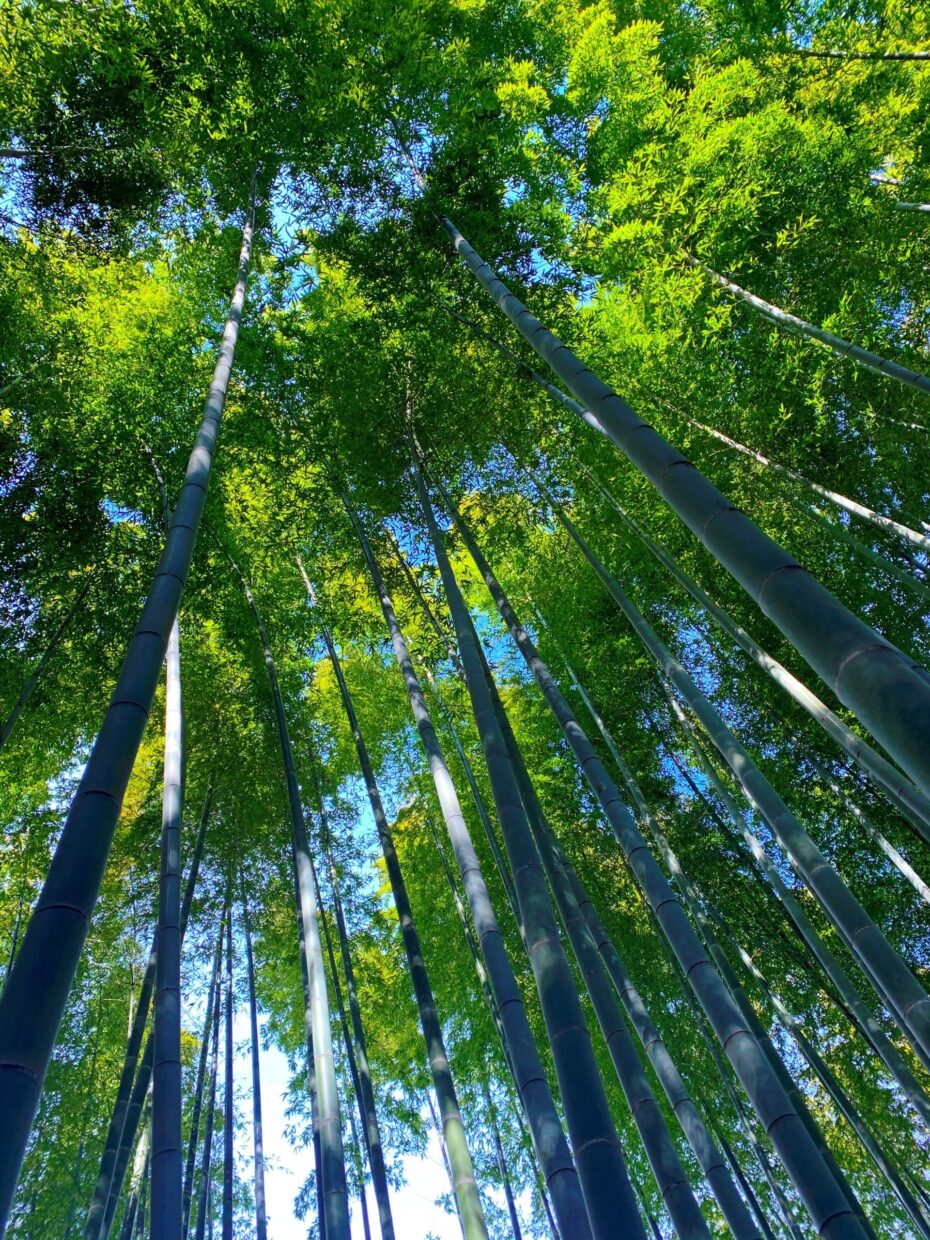 A magnificent bamboo grove widens at the back of the Buddhist temple with a walking path.
The shoin (study room of a temple) stands facing the bamboo grove, and the contrast between this and the grove is truly enchanting. In the past, princesses of the Mito Tokugawa family, who served as the chief priestesses for generations, resided in the area around the bamboo grove. Their residence was called hime-goden (princess' palace).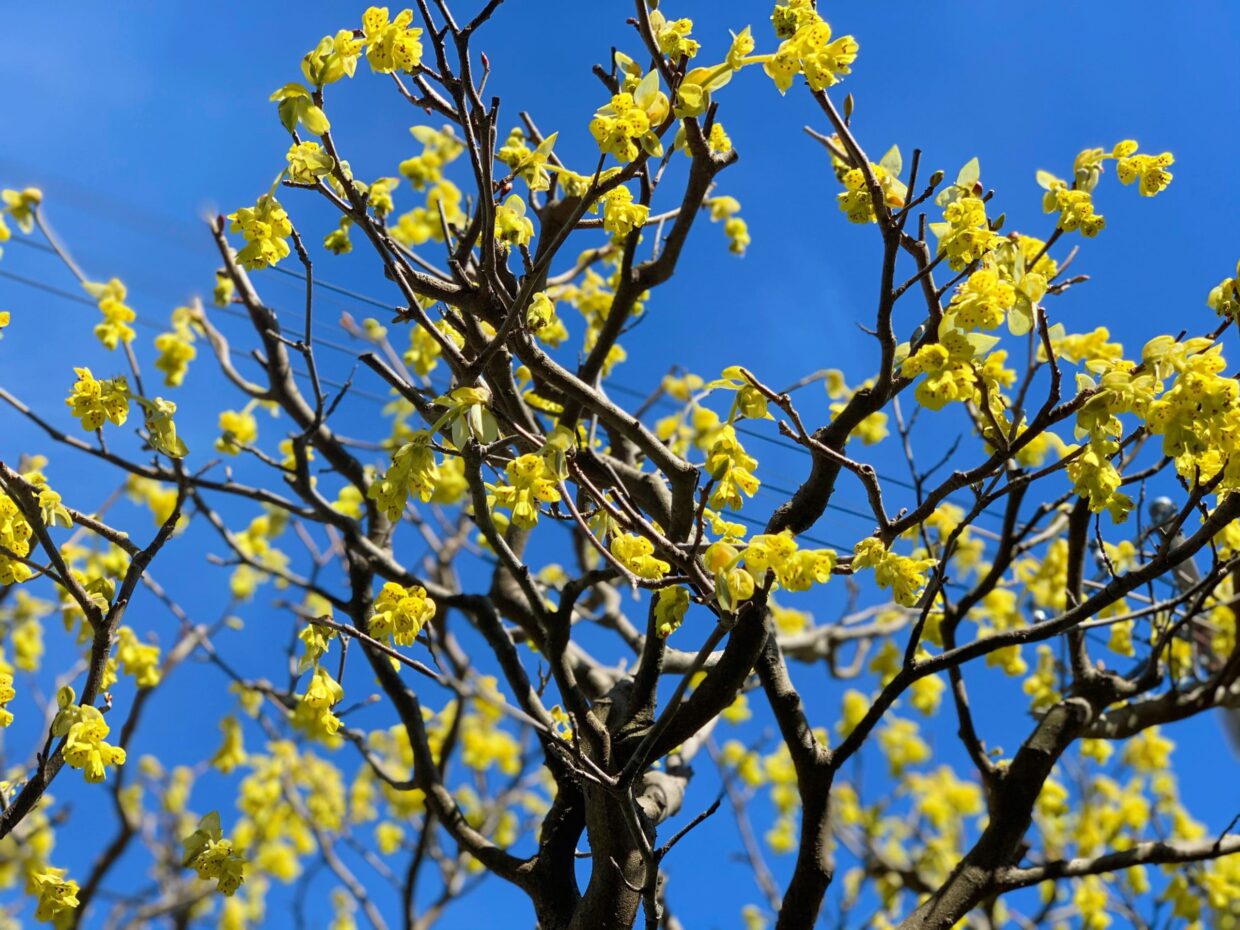 Eishō-ji is also famous as a flower temple and the temple grounds are abundant with seasonal blooms. The gorgeous colors, which make the temple seem feminine, will have visitors feeling bright and merry as well.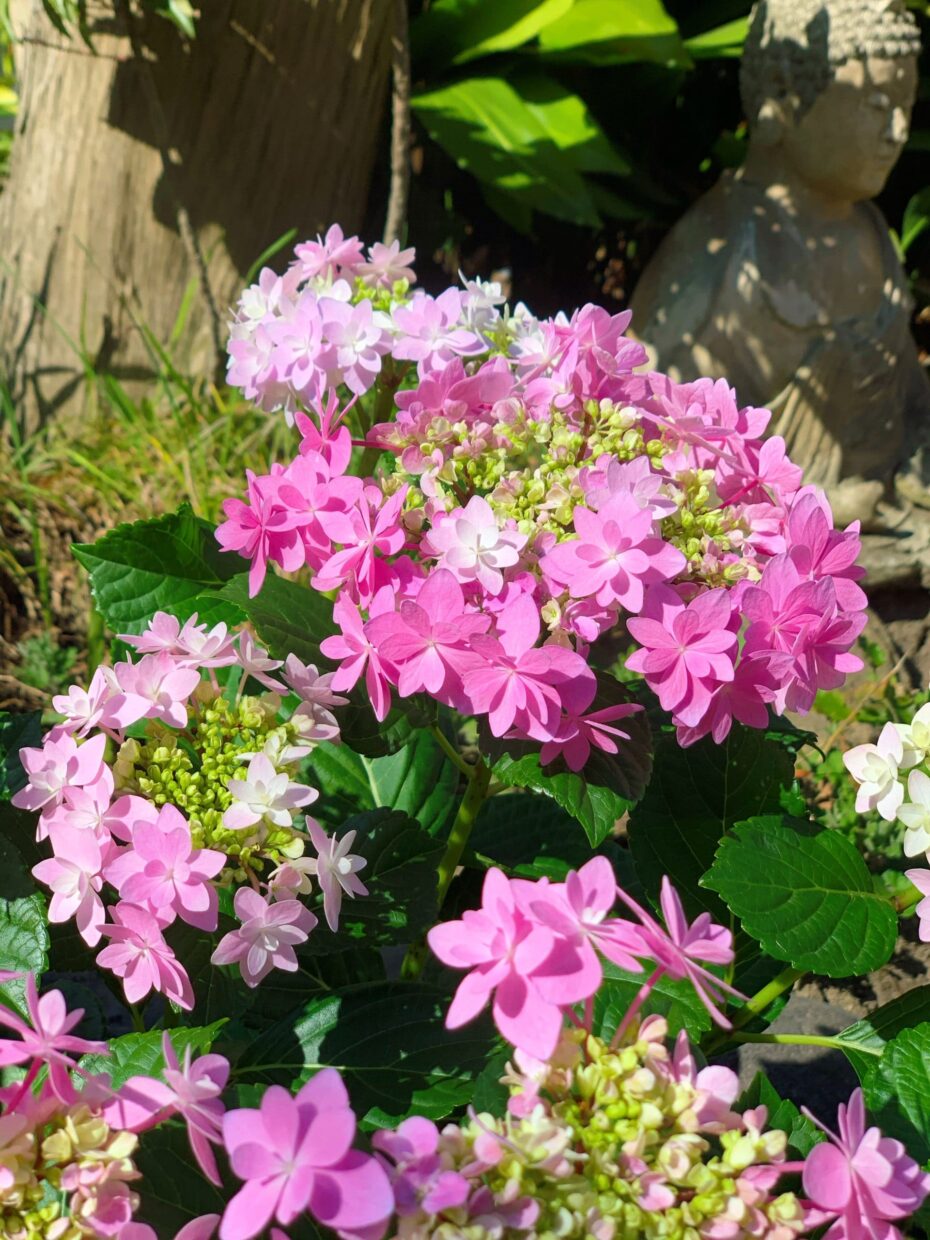 Slowly enjoy your walk amidst the calm quietness.
Click here for more details
Eishō-ji
Address 1-16-3 Ogigayatsu, Kamakura, Kanagawa 248-0000
Phone Number TEL 0467-22-3534
Visiting Hours: 9AM ~ 4PM; Closed on Thursdays
Entrance fee: 300 Yen
Parking: 20 spots available (600 yen for first 1 hr. then +300 yen every 30 min. thereafter)
Matcha Tiramisu at Momiji Chaya
15:30-
Along the road from Eishō-ji to Tsurugaoka Hachiman-gu is Momiji Chaya. This store has become a trending topic on SNS for its "Uji green tea tiramisu" (\600 for ala carte, \900 for a drink set, tax not included). The masu box (a traditional wooden box) matches the modern Japanese atmosphere and the dish looks amazing on SNS.
When you put your spoon in, you will find a thick mascarpone cheese. The use of the distinctive Uji green tea and mascarpone gives the tiramisu a refreshing taste that is not too sweet. This place is a must-try when you want to take a rest from roaming around the city.
Momiji Chaya Komachi-dori Branch
TEL 0467-60-5331
Address 1-4-26 WELLHOUSE 1F, Yukinoshita, Kamakura, Kanagawa
Hours Of Operation 10:00-19:00
Souvenir Hunting at Komachi-dori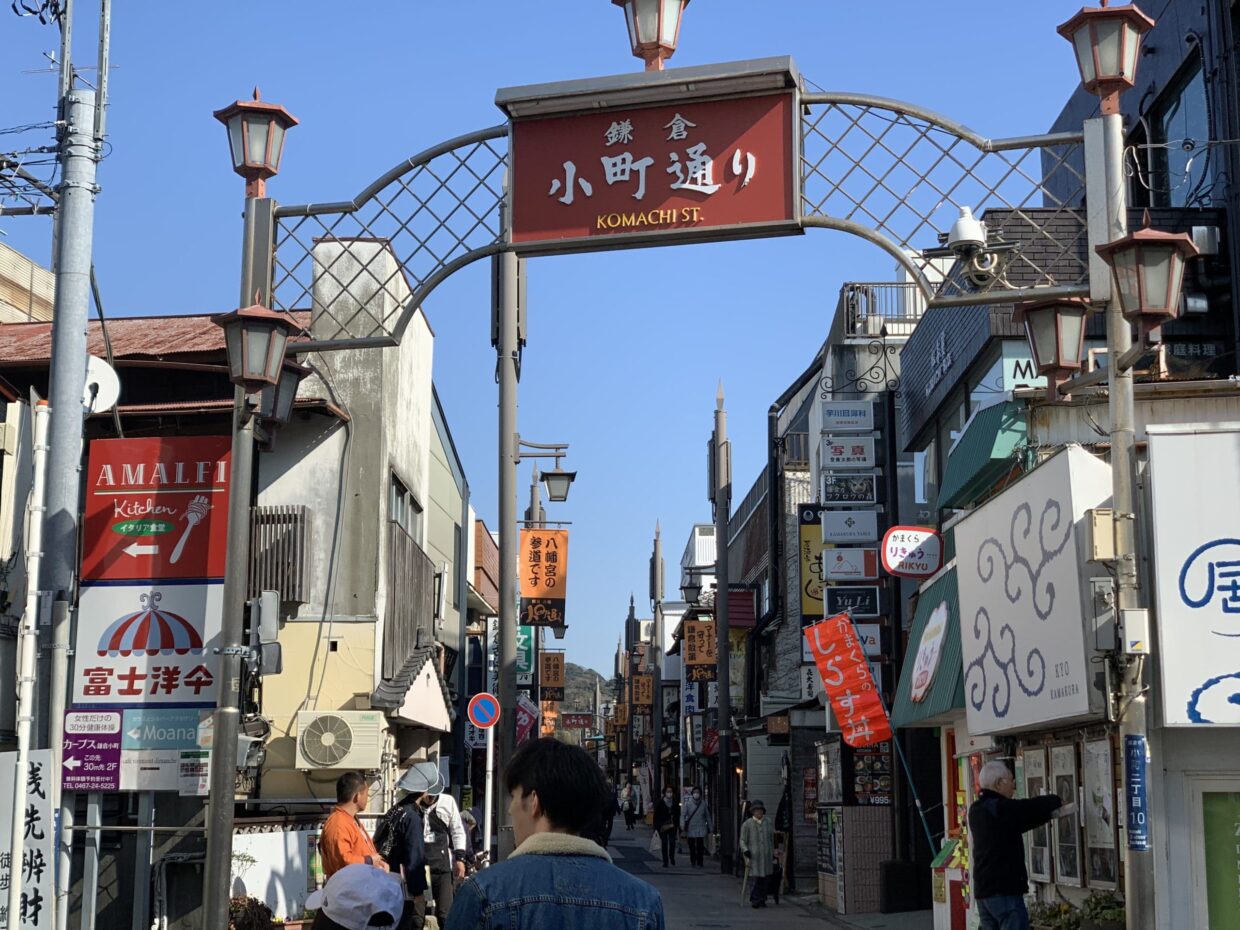 Speaking of Kamakura, there is the popular Komachi Dori in front of the east exit of the Kamakura station. After visiting Hachiman-gu, we recommend walking along Komachi Dori, a street on the west side of Wakamiya Ōji. The street is filled with people visiting the shrine, long-established traditional Japanese sweet shops, fashionable cafes, variety shops and attractive little gourmet restaurants located here and there. It is perfect for those searching for souvenirs or to take a quick break with some sweets. This is a little street visitors can enjoy while meandering about. Get your souvenirs for your day in Kamakura here with these recommended shops.
Hannari Inari
Here are rolled inari similar in shape to makizushi (rolled and sliced sushi rolls). Along with the standard plain flavor, there are rolls containing pickled plum, burdock root, and Shonan shirasu (baby sardines). For eating tours or eating while walking, there are also hannari-bou (inari on a stick). The well-flavored fried bean curd and the savory black sesame-scented vinegared rice are a perfect match and the delicious after-taste will linger making you want to come back for more.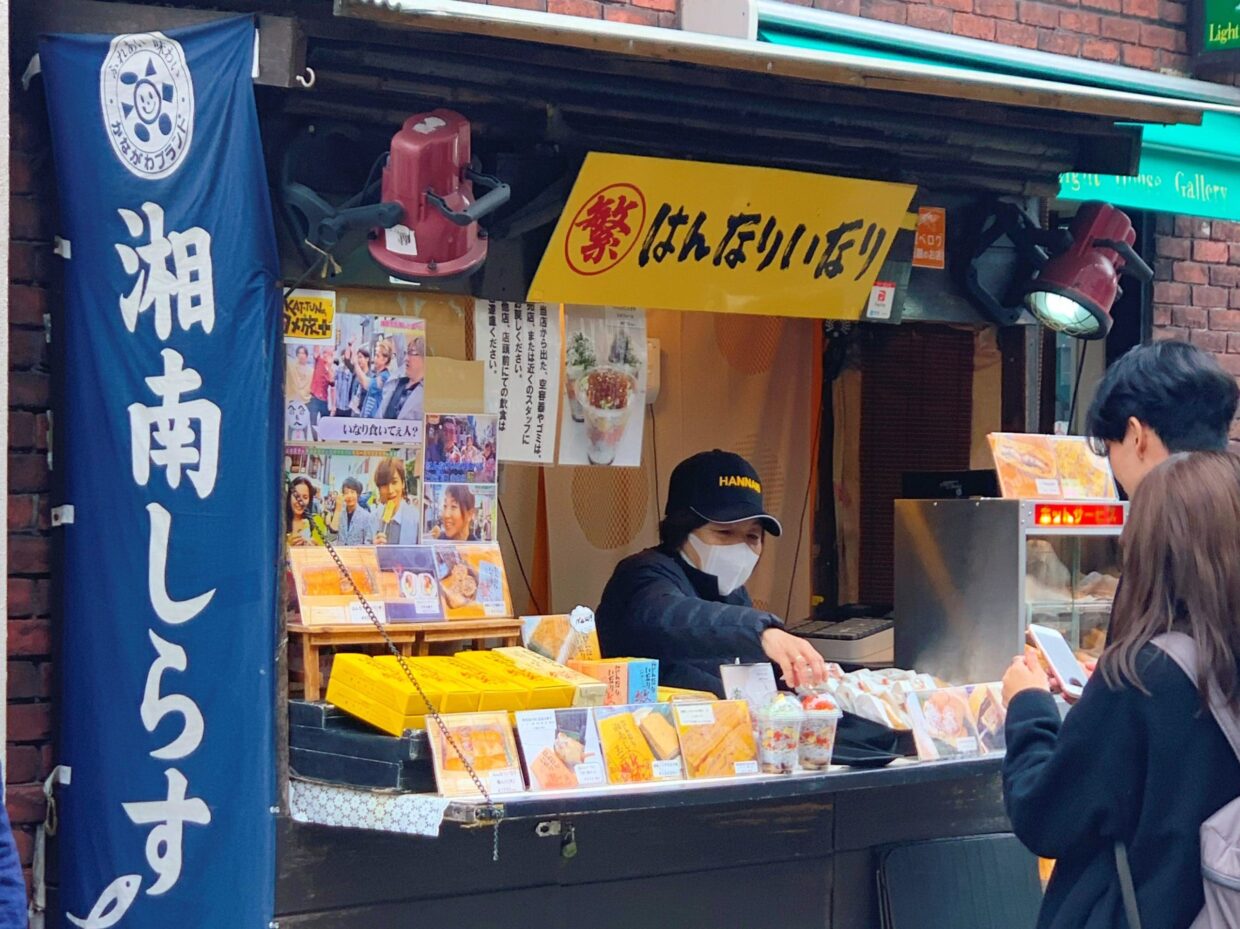 Kamakura Hannari Inari
Address:2-9-7 Tinkle Komachi Nakasugi Bldg. 1F, Komachi, Kamakura, Kanagawa
Hours of Operation:10:00~17:00
Contact:0467-23-7399
Kamakura-Mameya
Located on Komachi Dori, this bean confectionery specializes in over 70 varieties of nuts and beans, offering a rainbow of colorful bean snacks coupled with delicious bean snacks with a variety of flavors. They use seasonal Japanese flavors such as green tea, cherry blossom and wasabi, which are always very popular.
One of the appeals of Kamakura-Mameya is that you can try the snacks for free before you buy. Why not try to find your favorite flavor?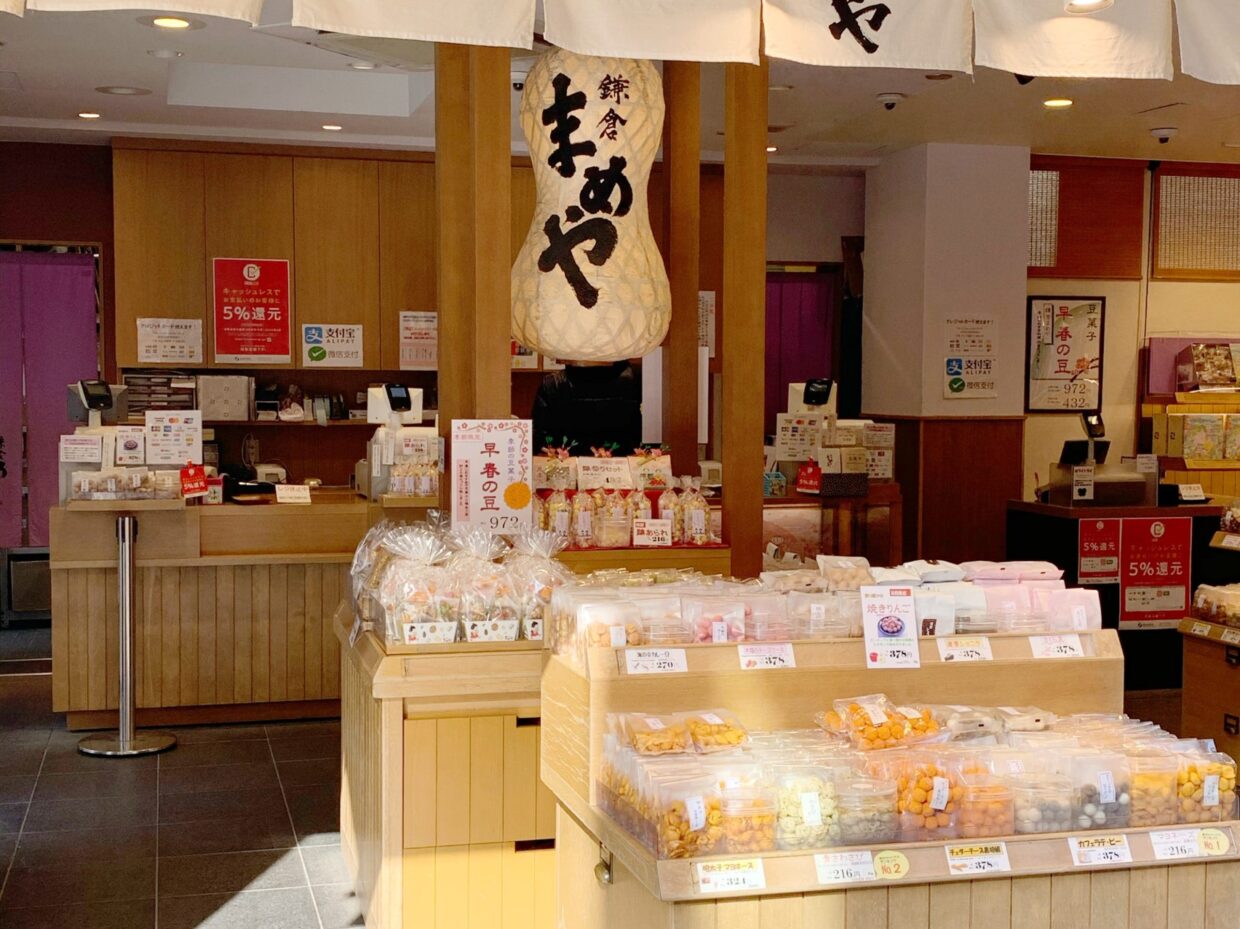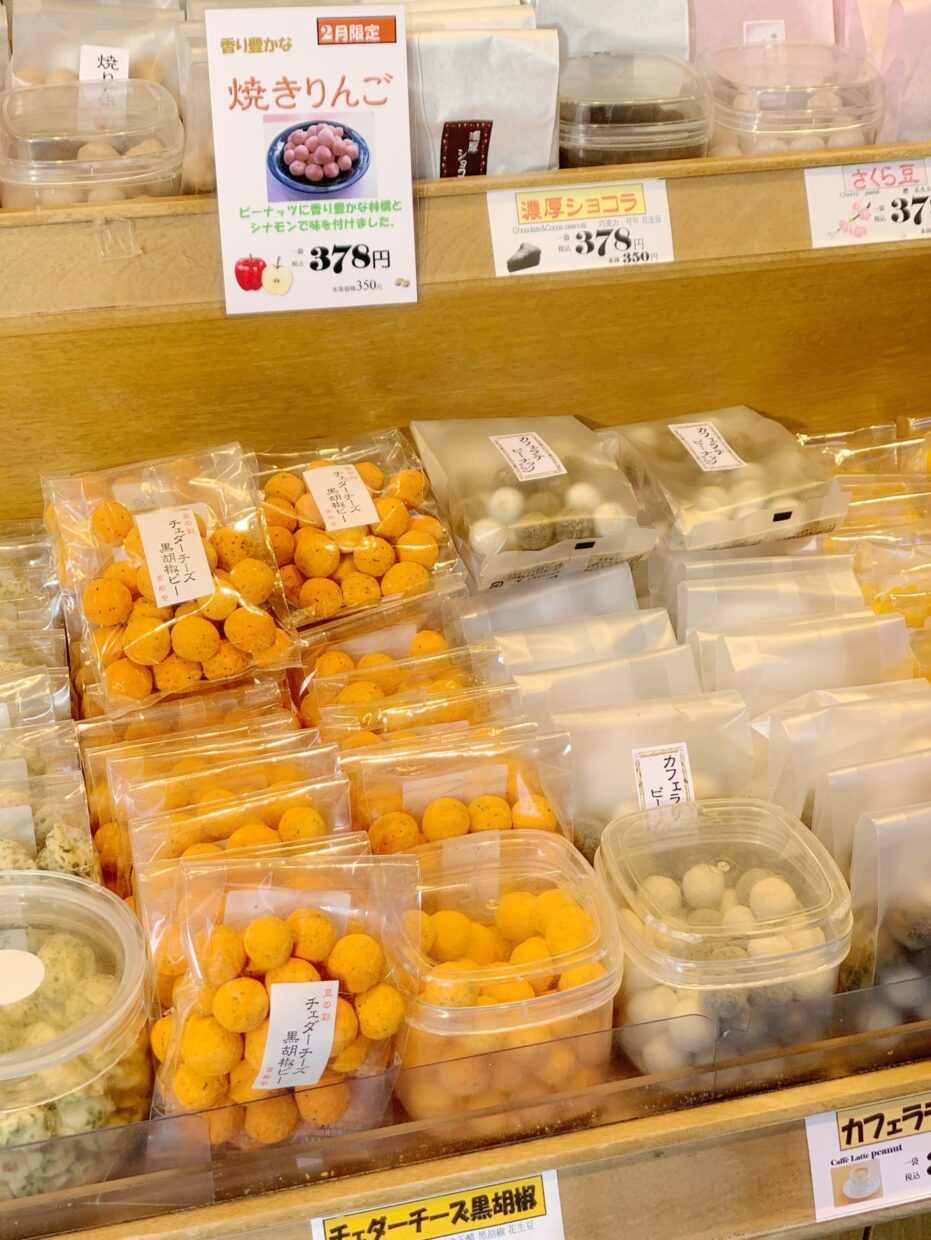 Kamakura-Mameya
Address 鎌倉市雪ノ下1-5-38
Phone 0120-39-5402
5 min. walk from Kamakura Station East Exit
Hours of Operation:10:00~18:00
Nugoo hand towels
A hand towel store along Wakamiya Ōji. The store specializes in eye-catching hand towels and umbrellas that capture the beautiful scenery unique to Kamakura, such as the spring view of Dankazura (the path leading to Tsurugaoka Hachiman-gu), hydrangeas in Hase, the Great Buddha, Tōkei-ji in autumn and the scenery of the Enoden railroad crossing at Shichirigahama. Why not find your favorite pattern as a memory of your sightseeing in Kamakura?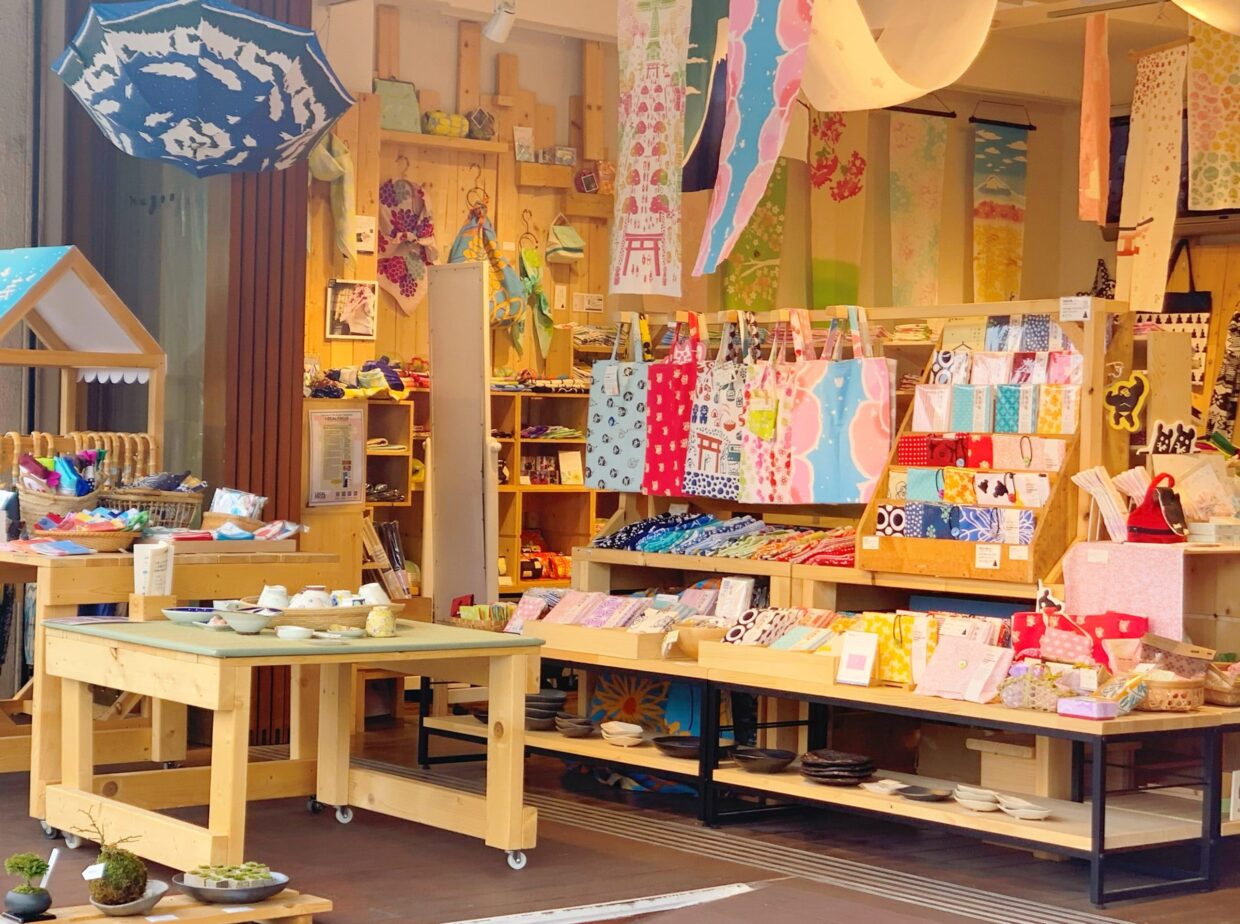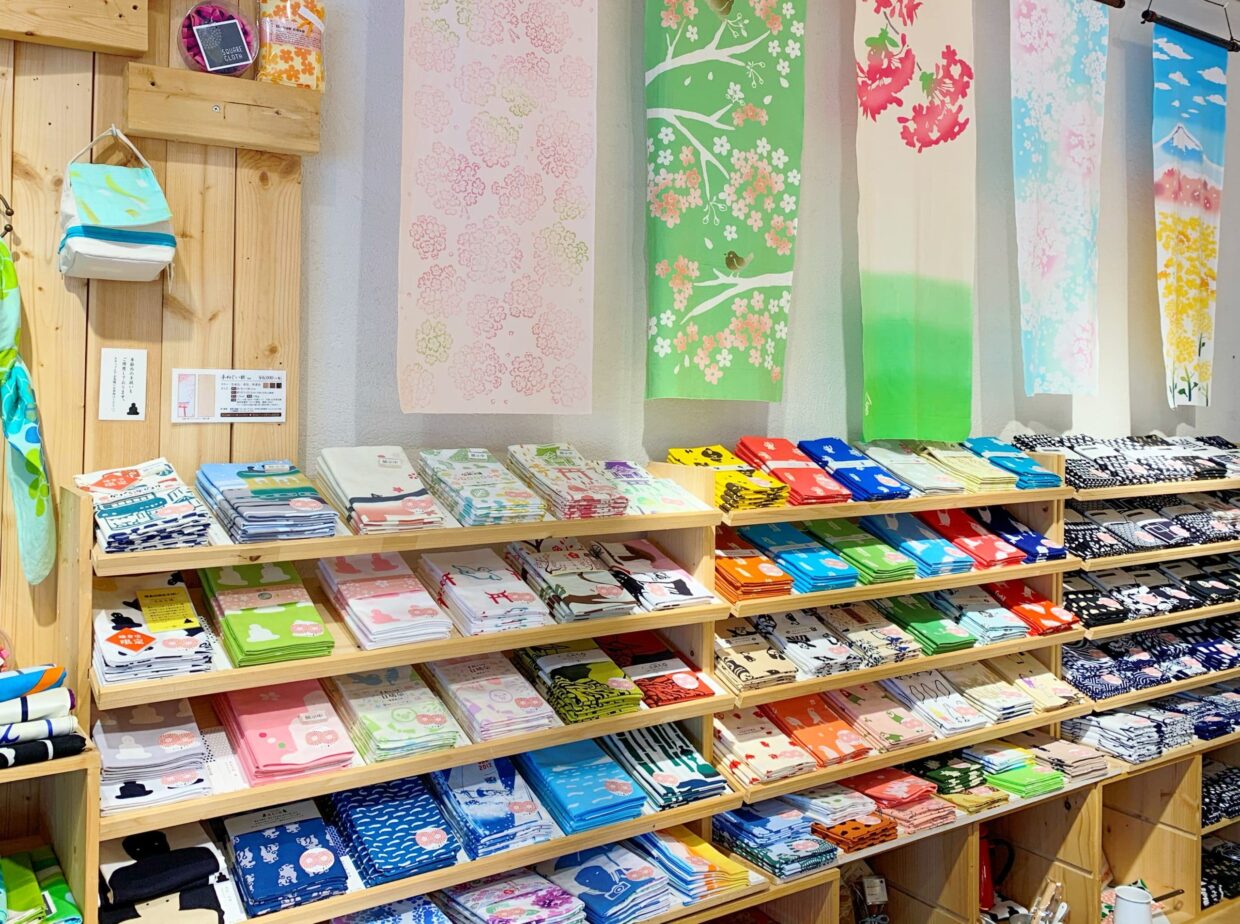 Nugoo (拭う) Ninotorii Branch
Address 2-10-12 Komachi, Kamakura, Kanagawa
Phone 0467-22-4448
4 min. walk from Kamakura Station JR Yokosuka Line
Hours Of Operations 
Weekdays 10:30~19:00
Weekends 10:00~19:00
Here was a one-day course to enjoy Kamakura to the fullest. Try to find your favorite part of Kamakura!
writer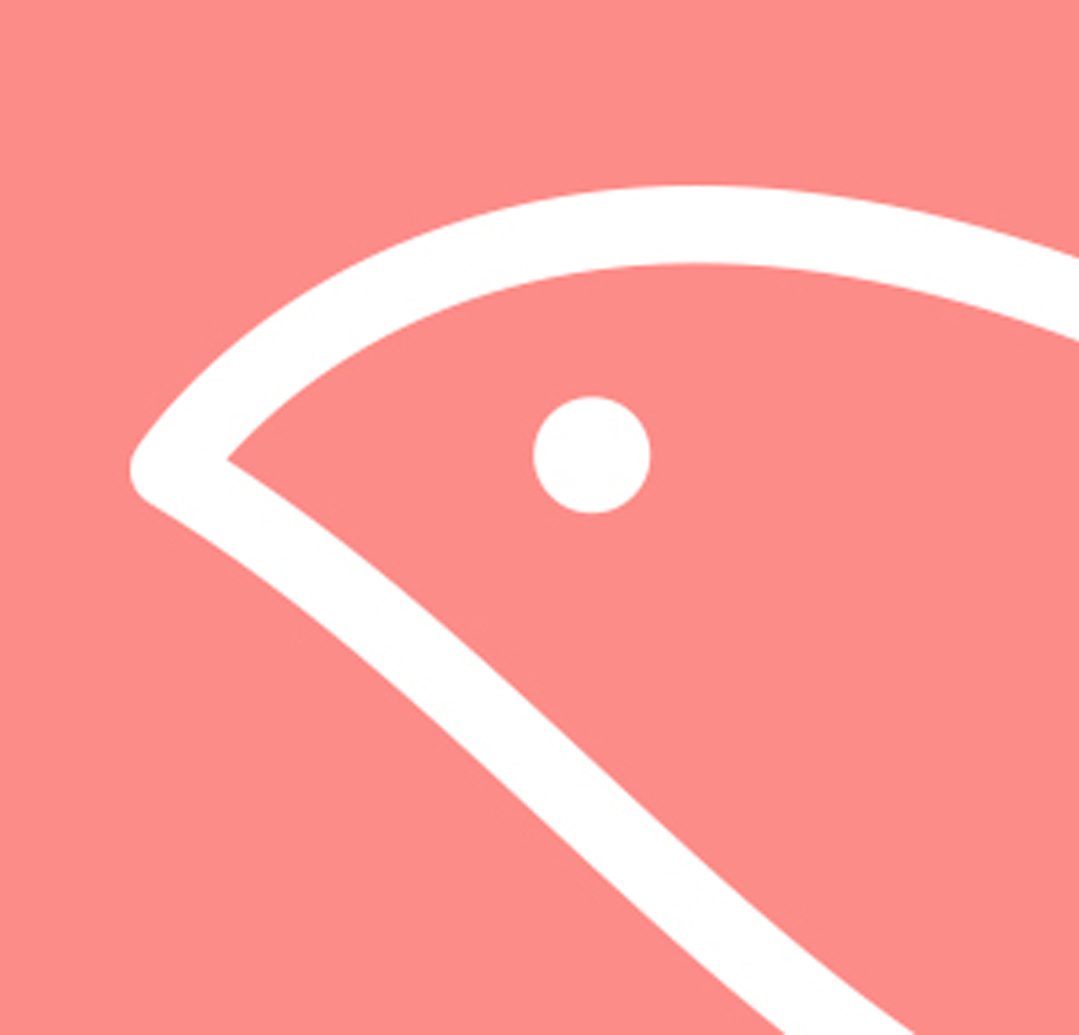 Buzz Trip Kamakura is an information site about Kamakura based on the concept of "spreading the joy and beauty of Kamakura to people in Japan and around the world. It is operated by BEEP Corporation, a web consulting company in Kamakura.
Our goal is to help not only tourists from Japan and abroad, but also all visitors to Kamakura to make their time and experience in Kamakura even more wonderful, and we hope that you will become a fan of Kamakura. We hope to make Kamakura a favorite among all visitors to Japan.
For more information about BEEP Corporation.