STOP HERE WHEN YOU VISIT 16 Different Guest Homes By Area
Kamakura is popular internationally because of its rich history, nature, and the fantastic view of its oceans. Thus, why not enjoy what Kamakura has to offer in a span of two or more days?
While there are many hotels, why not consider staying overnight at a guest home? Since guest homes are rare in Japan, here is a list of different guest homes you can stay at in Kamakura.
What Is A Guest House? How It Differs From A Regular Hotel?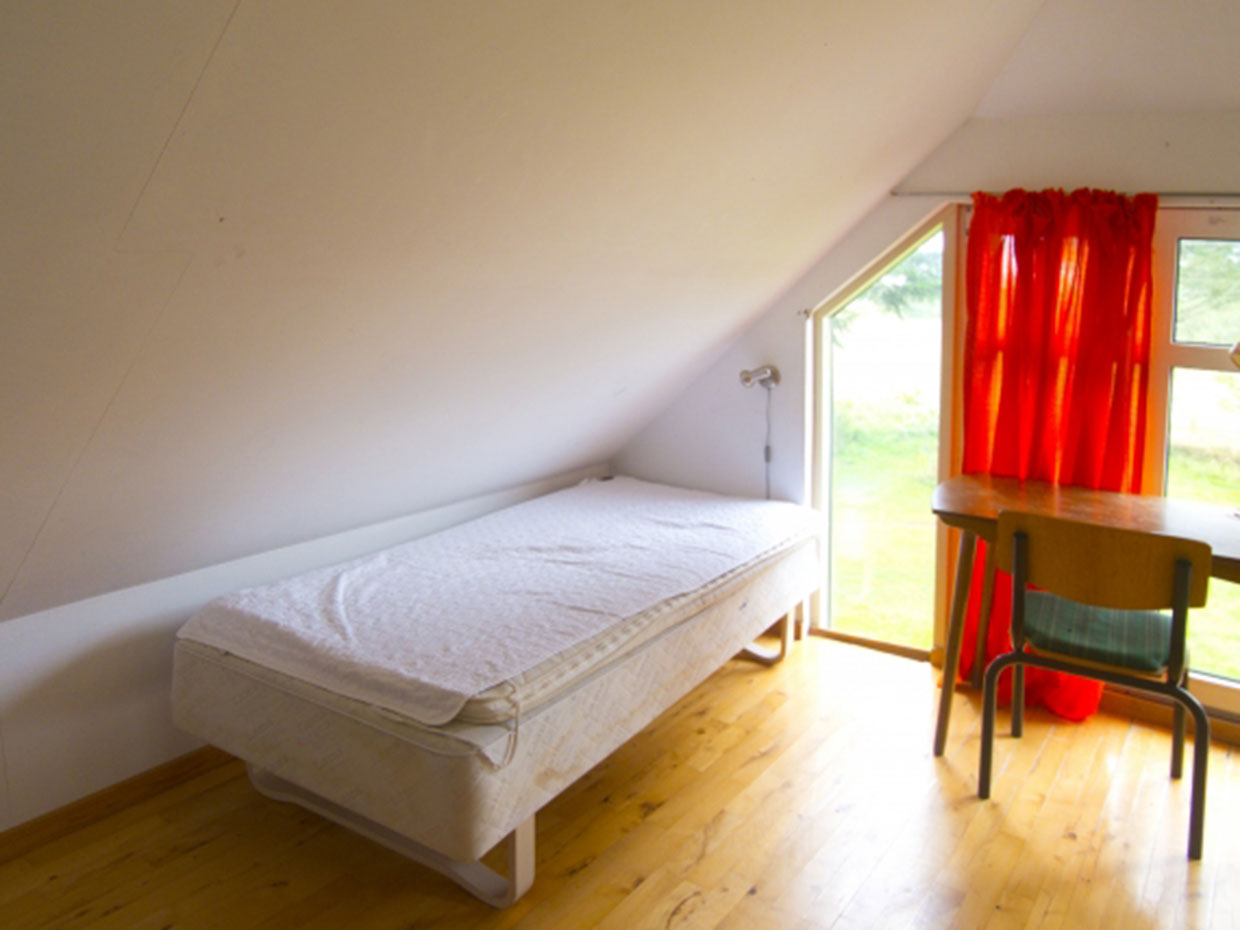 A guest home is an area created for short period visitors and a cheaper alternative to a business hotel.
There is no rule on what makes a home a guest home, but here is a list of common characteristics.
There is a community space.
More are a dorm type.
There are no amenities provided.
A shared bathroom/restroom.
The cheaper cost comes from the lack of services such as amenities including toothbrushes, bathrobes, towels, etc. They have the necessary minimum services included in their cost. The average cost of a guest home is between 2000 to 3500 yen. This is perfect for anyone wanting to overstay within a tight budget.
Furthermore, if you stay in a dormitory type guest home, you can save even more.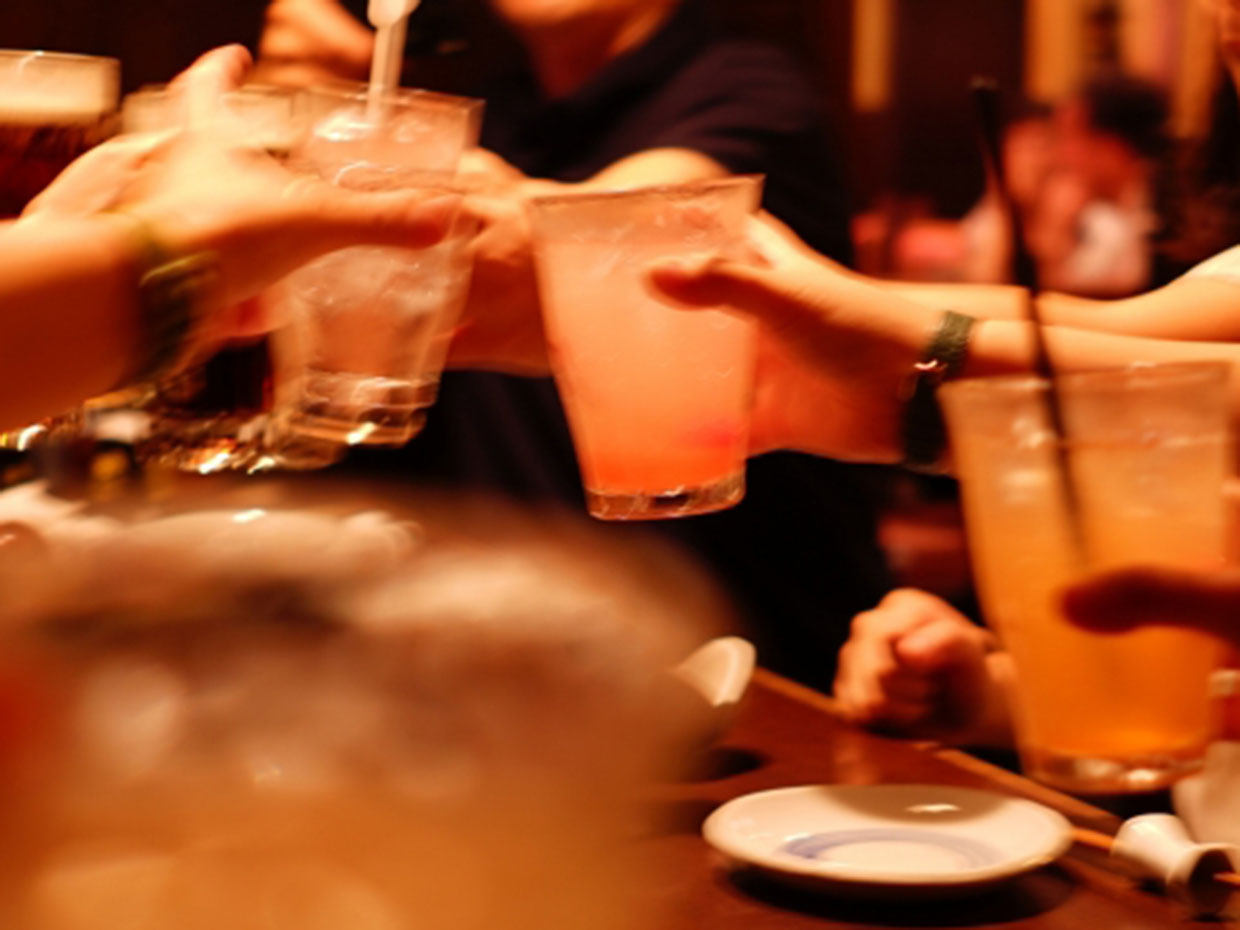 Additionally, they have a shared space where you can interact with other visitors. The idea of guest homes is common within the western community so you will see more non-Japanese staying.
As a result, you will enjoy international interaction. This is perfect for travelers interested in meeting different people.
The 16 Guest Houses We Recommend At Kamakura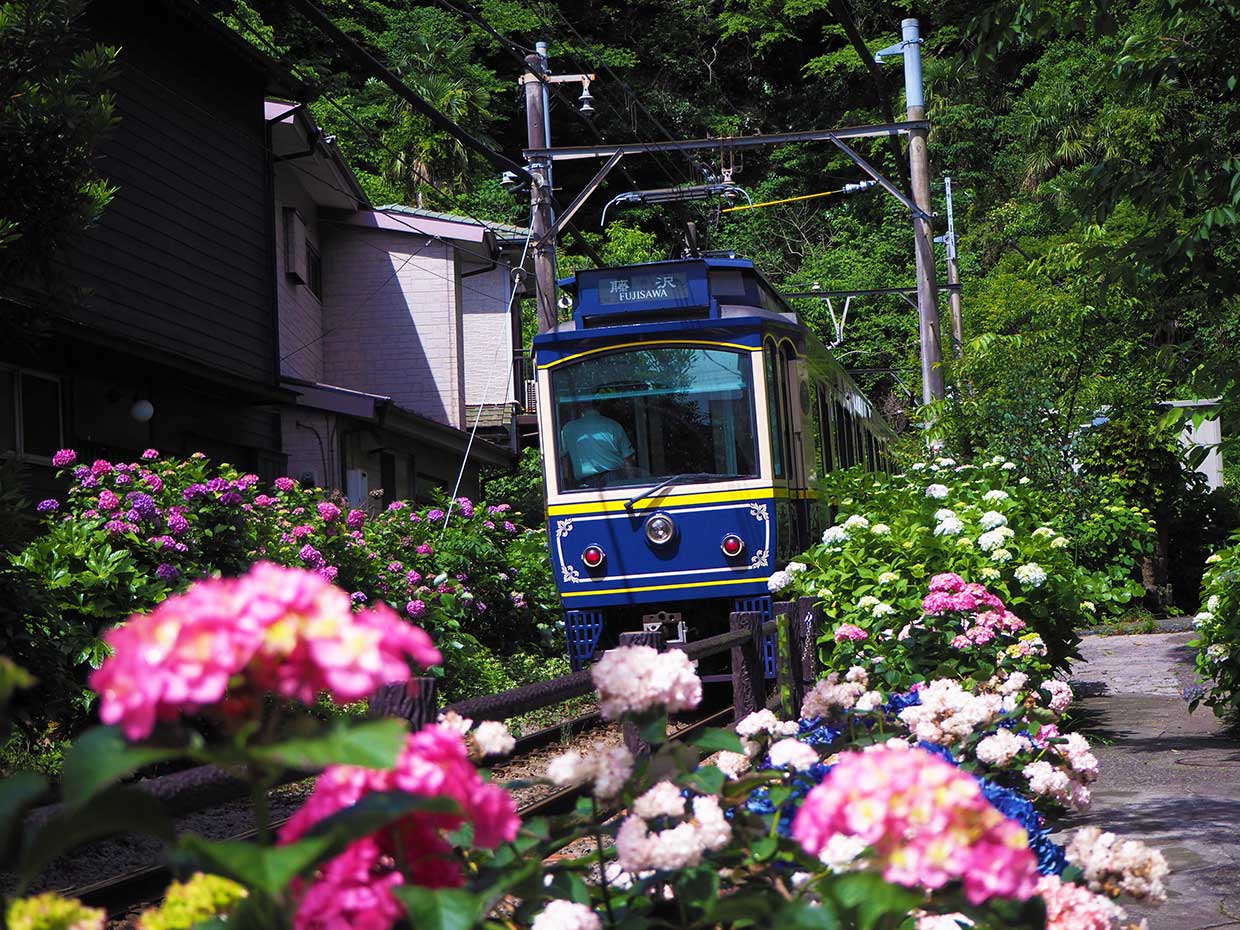 We will introduce different guest homes by different areas such as by the beach, close to Kamakura Station, etc.
Not only is it cheap, guest homes at Kamakura come with a classical home vibe, a nice oceanic view, and other various choices to choose from.
Area① By The Ocean (Zaimokuza Area)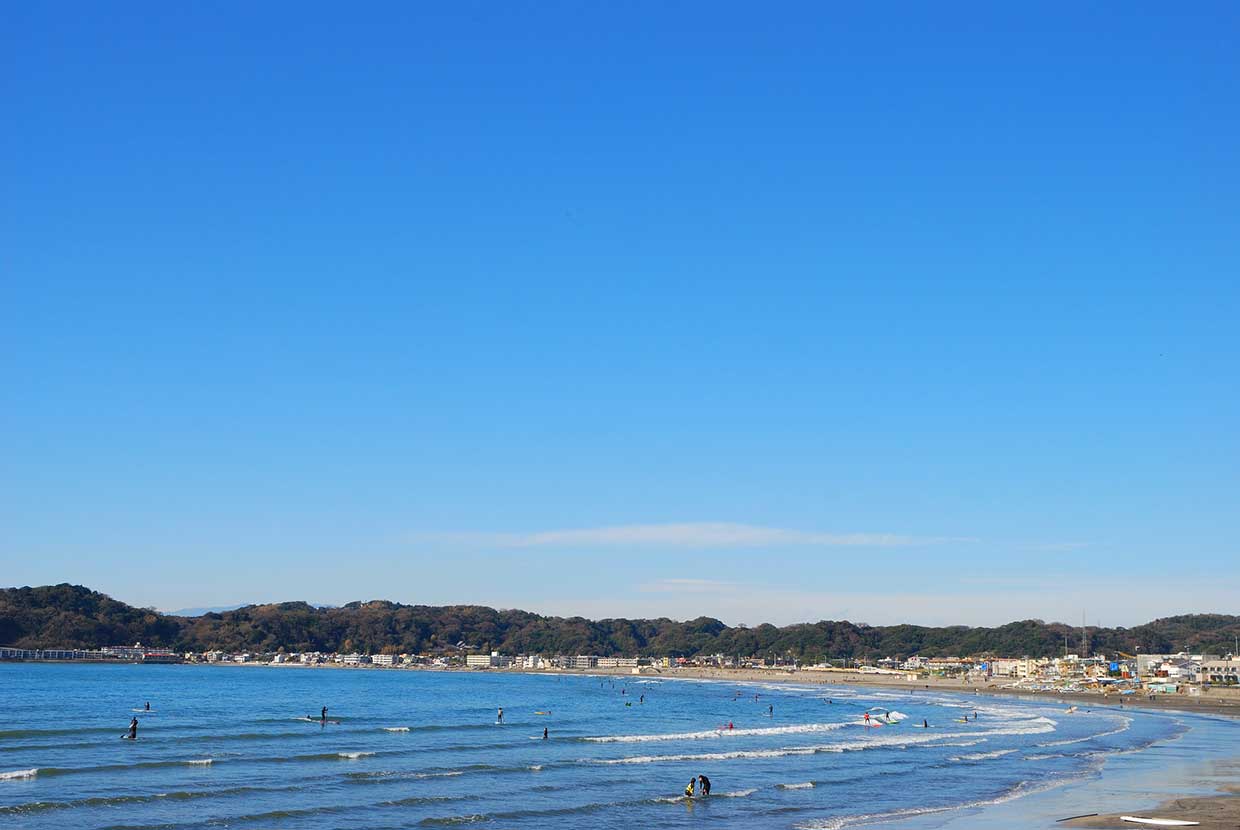 Zaimokuza is known for its calm vibes. You will find famous temples of the Jodo Sect such as
The Zaimoku Beach is a perfect place to visit during the summer because of its various service homes. You can enjoy both surfing and boogie boarding. There are also plenty of food areas to choose from too. This is a perfect area for active tourists.
KIYAZA Kamakura Resort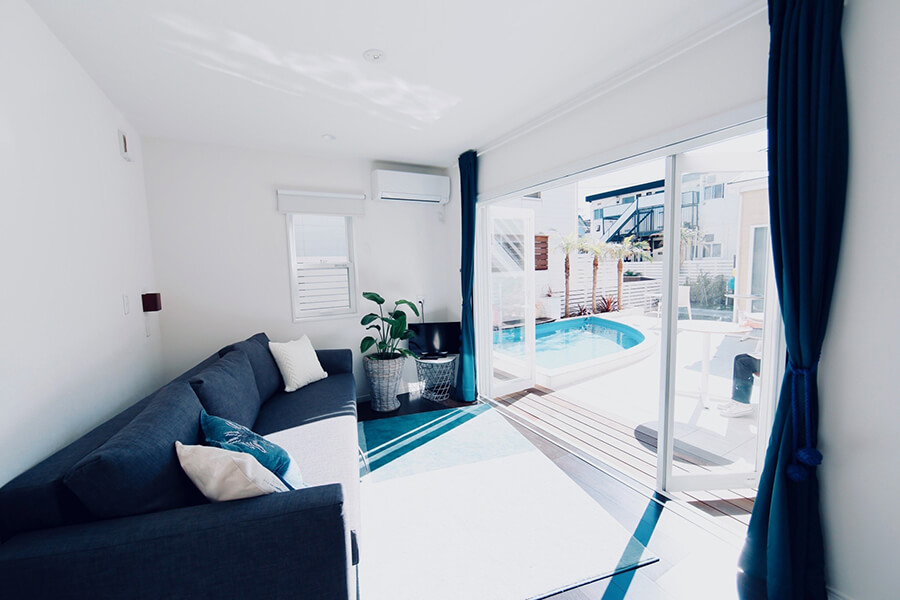 This is a guest home located two minutes by the beach. This place is perfect for marine sport fanatics.
There are four types of rooms: bunk bed room type rooms, double rooms directly connected to the garden pool, stylish Japanese-style spaces with Ryukyu tatami mats, and playful rooms with two-level sleeping arrangements.
Reservations can be made from a single group. This is a perfect place for families, couples, training camps, or even parties.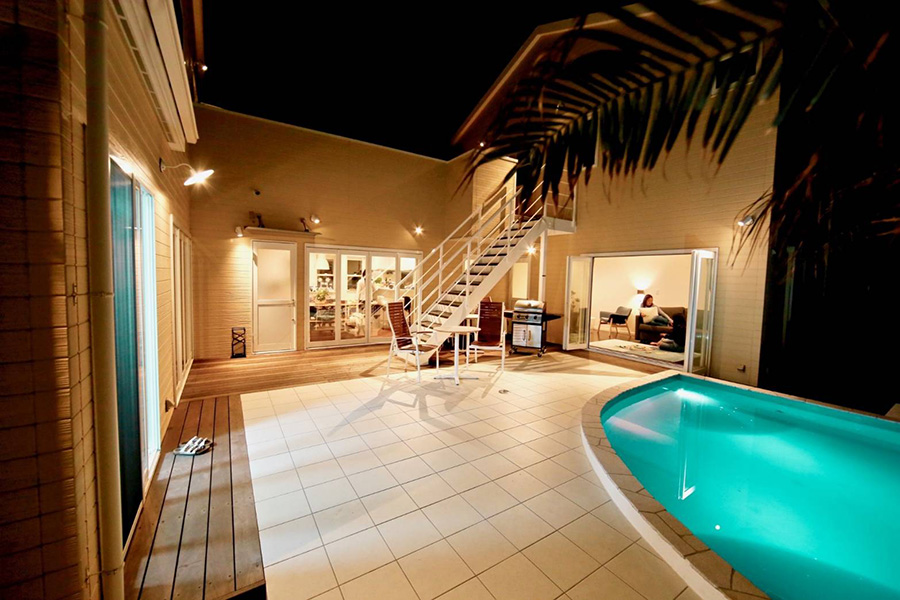 Each room comes with a shower, mini fridge, and free wireless internet. The shared area also comes with a garden and pool area.
While you can enjoy the beach, one can relax at the Kiyaza Kamakura RESORT pool too. This is an area where you can forget the stress of the real world.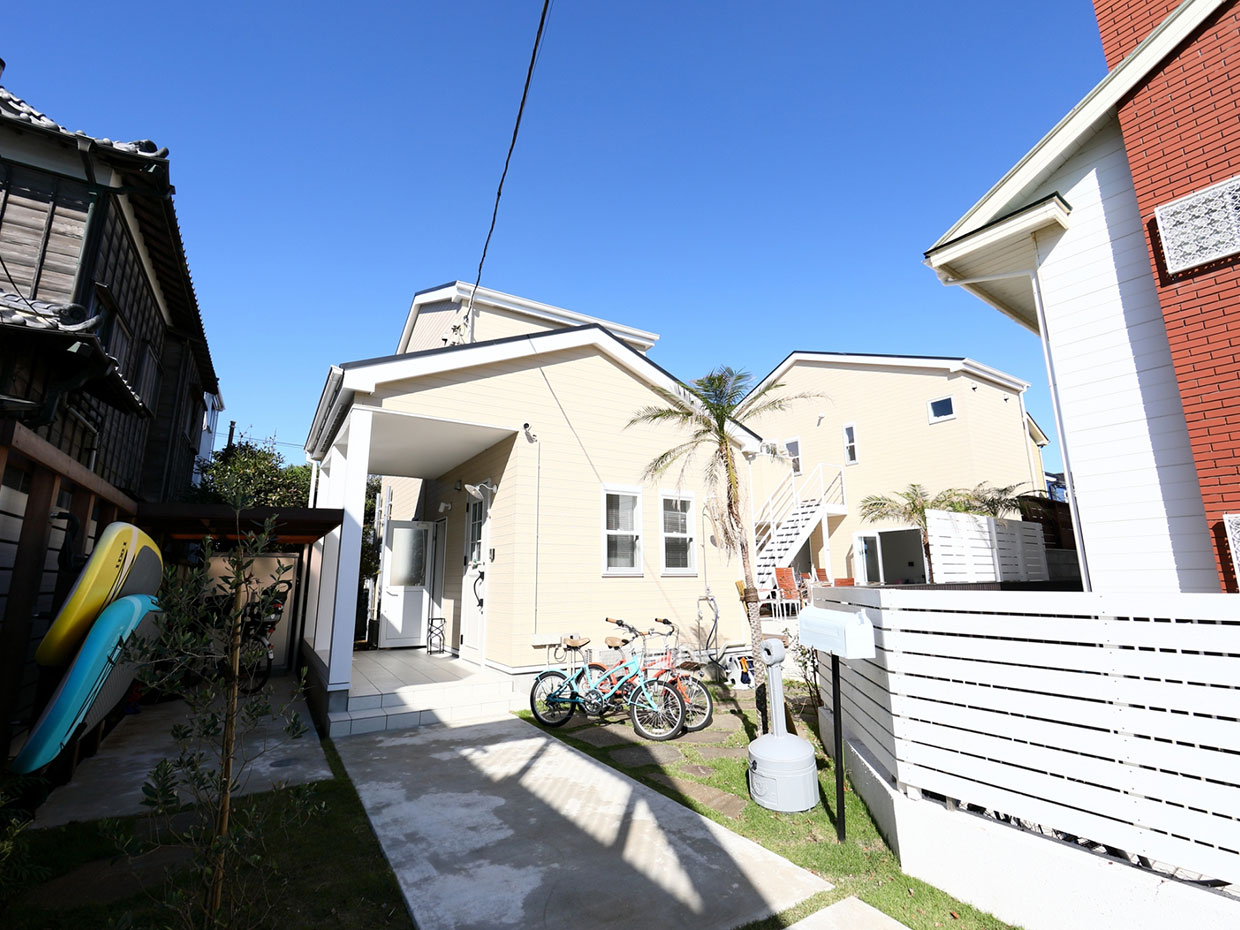 There are also various events held at KIYAZA Kamakura RESORT. An event where you can experience a mini aspect of Japanese culture by trying out a kimono or a simple yoga event. They also have rental services for SUP and barbecue purposes.
For additional costs, they have bicycles you can rent to travel around Kamakura.
This is a perfect place for any marine sport fanatic visiting Kamakura.
Kamejikan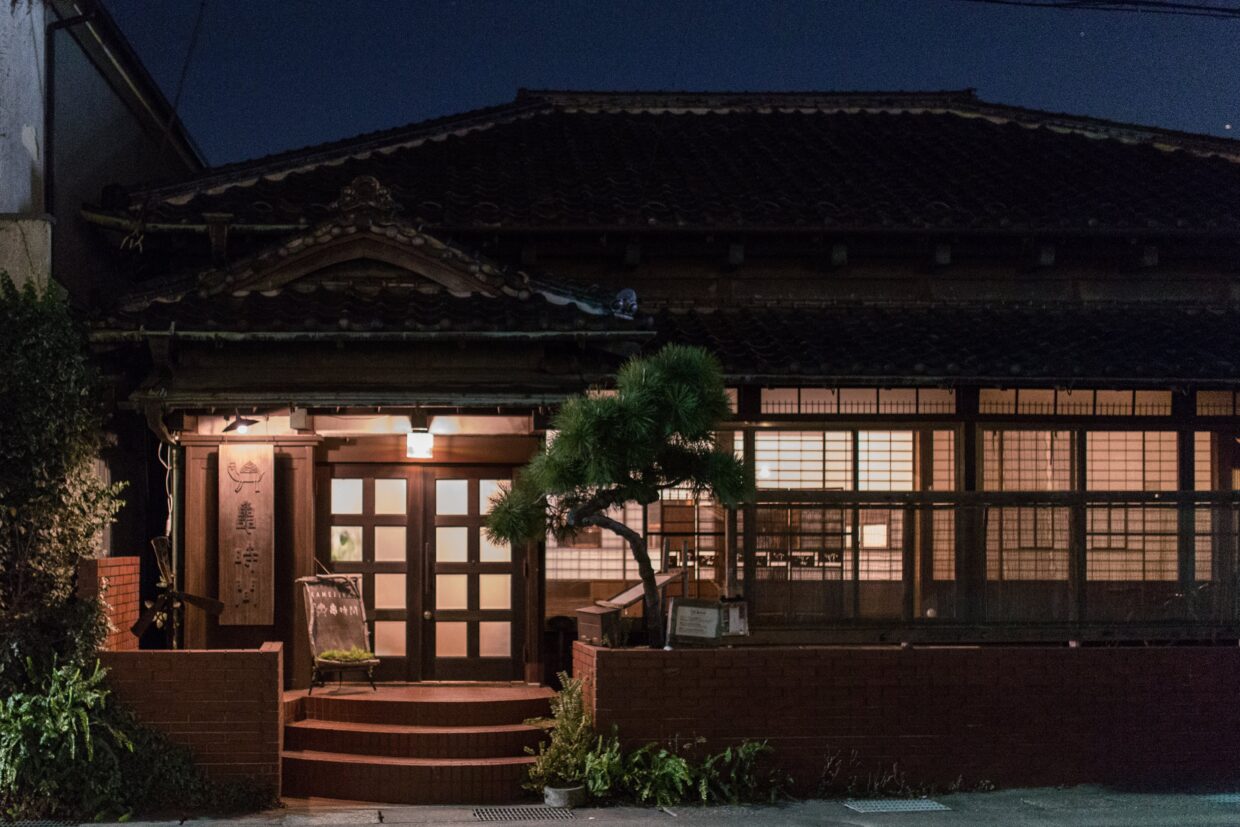 This guest home was remodeled from a classical home built after the Kanto Earthquake in 1923. The home itself was built 95 years ago by a Japanese temple carpenter.
This is a guest home filled with a mixture of a retro and a relaxing vibe.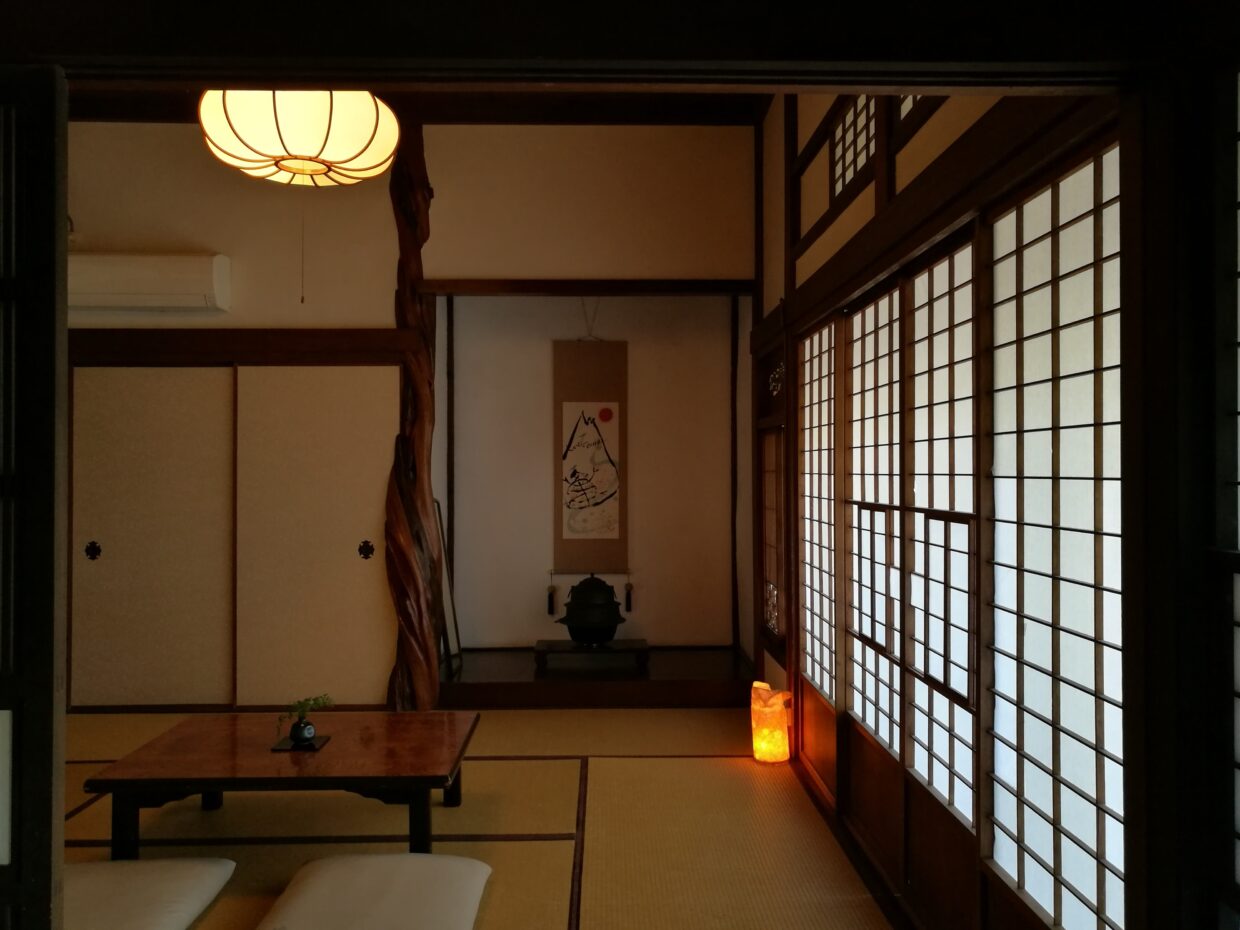 There are three rooms available: two individual and one dorm type of room.
Each room has a simple, clean design with the warmth of wood and tatami mats.
There are no clocks or television available. This creates a separation from the real world. You can spend time away from the real world.
The 4.5 tatami room for 1 to 2 persons costs 9,000 yen per night, the 8 tatami room for 2 to 4 persons costs 12,000 to 16,000 yen per night, and the dormitory type room for 6 persons costs as little as 3,200 yen.
The restaurant is also popular. Restaurant "Yolkame", open every first and third Saturday of the month from 18:00-21:00 serves Southern Indian Curry and sake.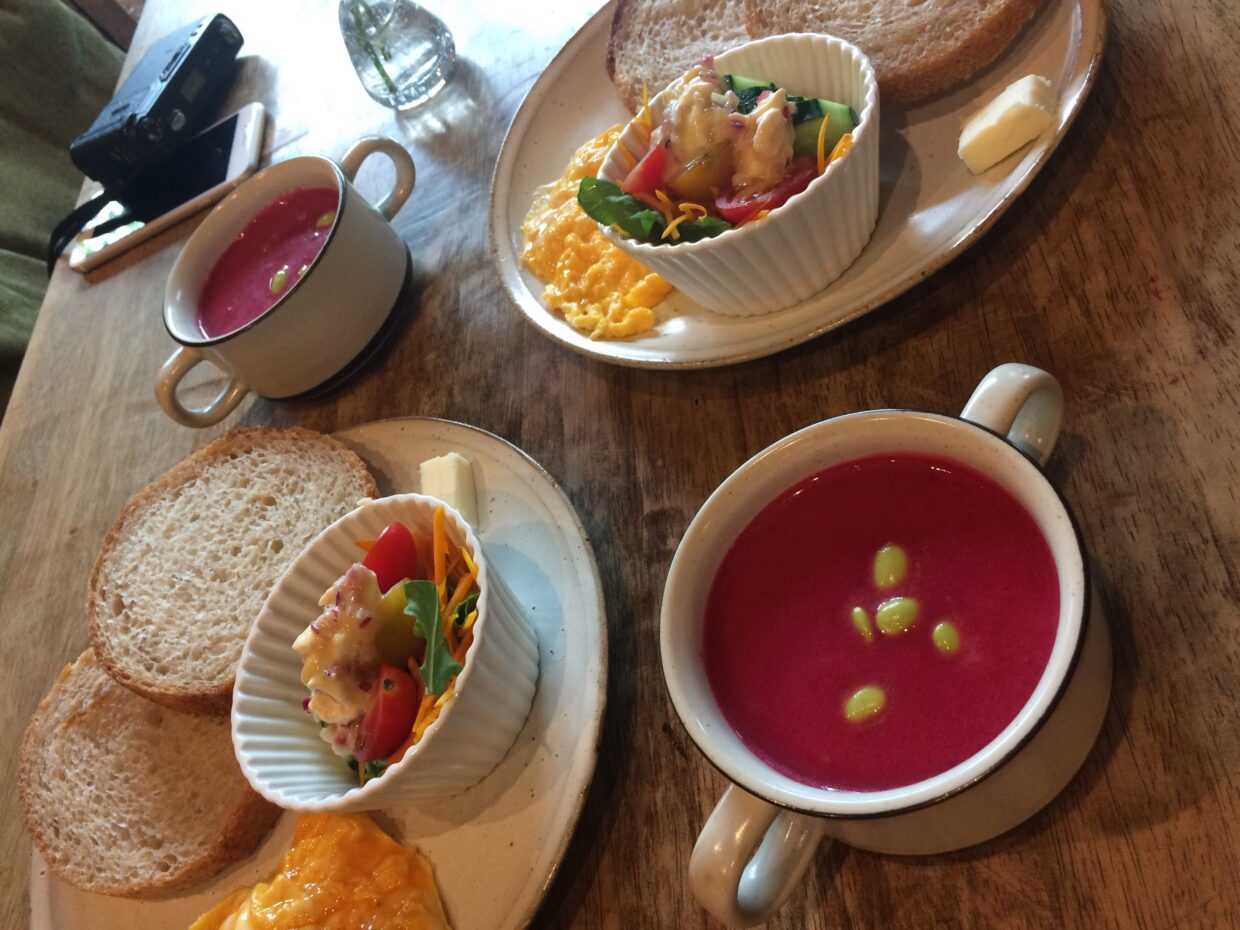 They also have fun events or workshops useful to everyday life such as beach yoga, break making, miso making, etc.
The home is located three minutes away from Zaimokuza Beach. Why not live like the old days by waking up early in the morning and visiting the temples. This is a great area to recharge that worn soul from everyday life.
Ano House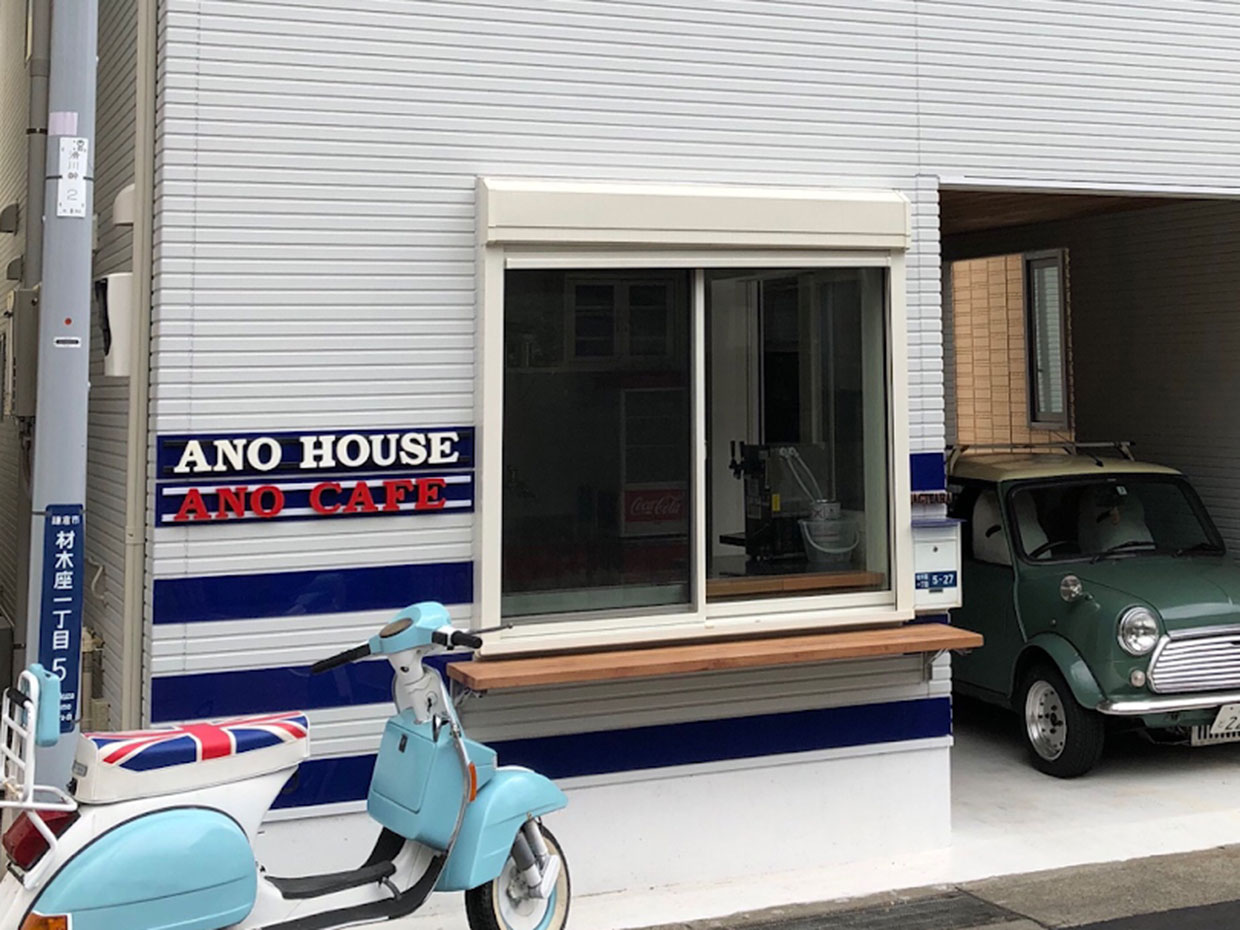 Ano House is a guest home exclusive to women. The designs used here are a fresh marine style common to seaside areas.
The home is located in the center of Kamakura Station and Zaimokuza Bay. They both take roughly 10 minutes to walk too.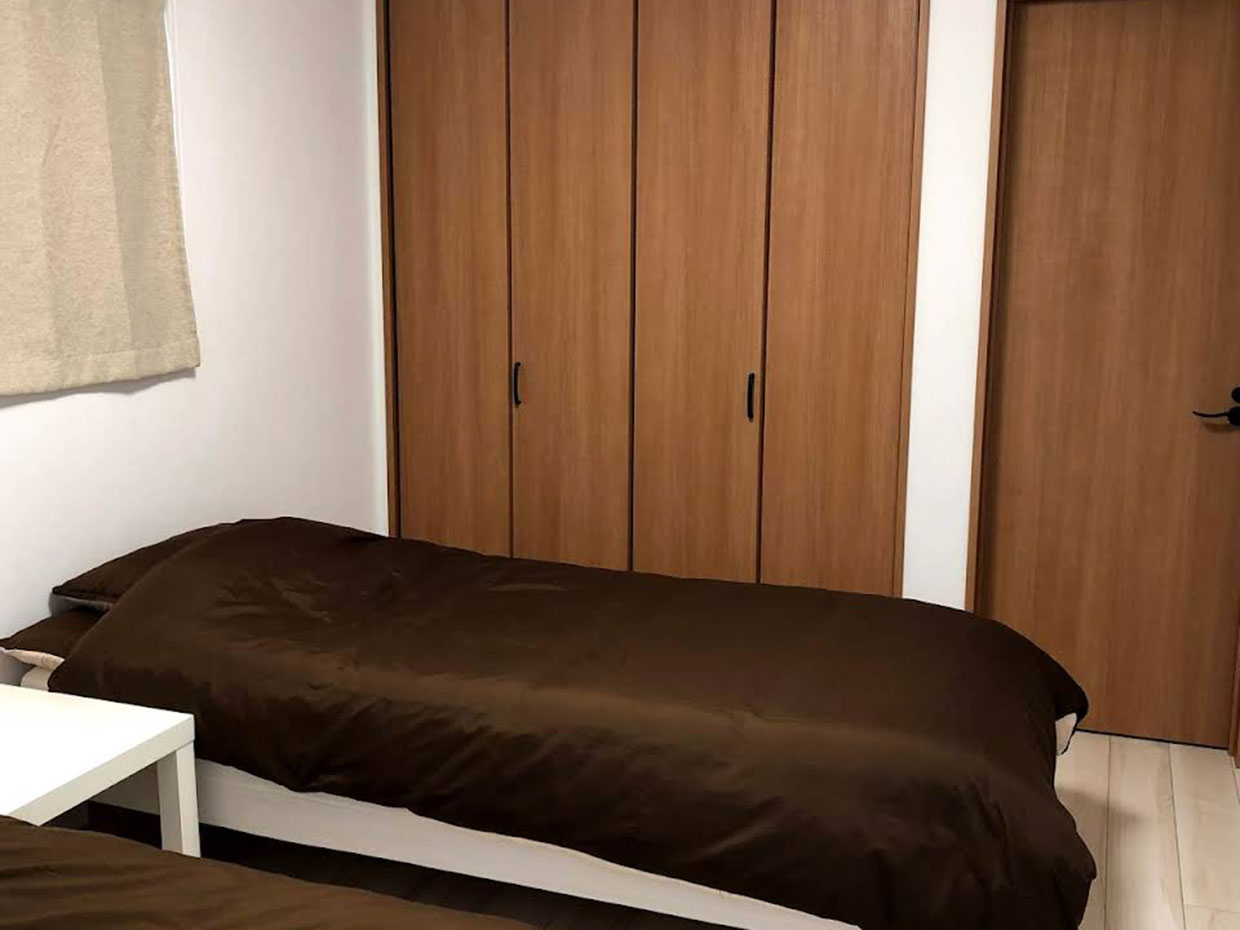 All rooms are lockable private rooms making it a safe place for women traveling alone.
The rooms are spacious and come with their own AC. Some rooms also have a balcony.
The rooms are both simple and clean. The rooms are located on the second floor, and the bathroom, kitchen, showers are located on the first floor.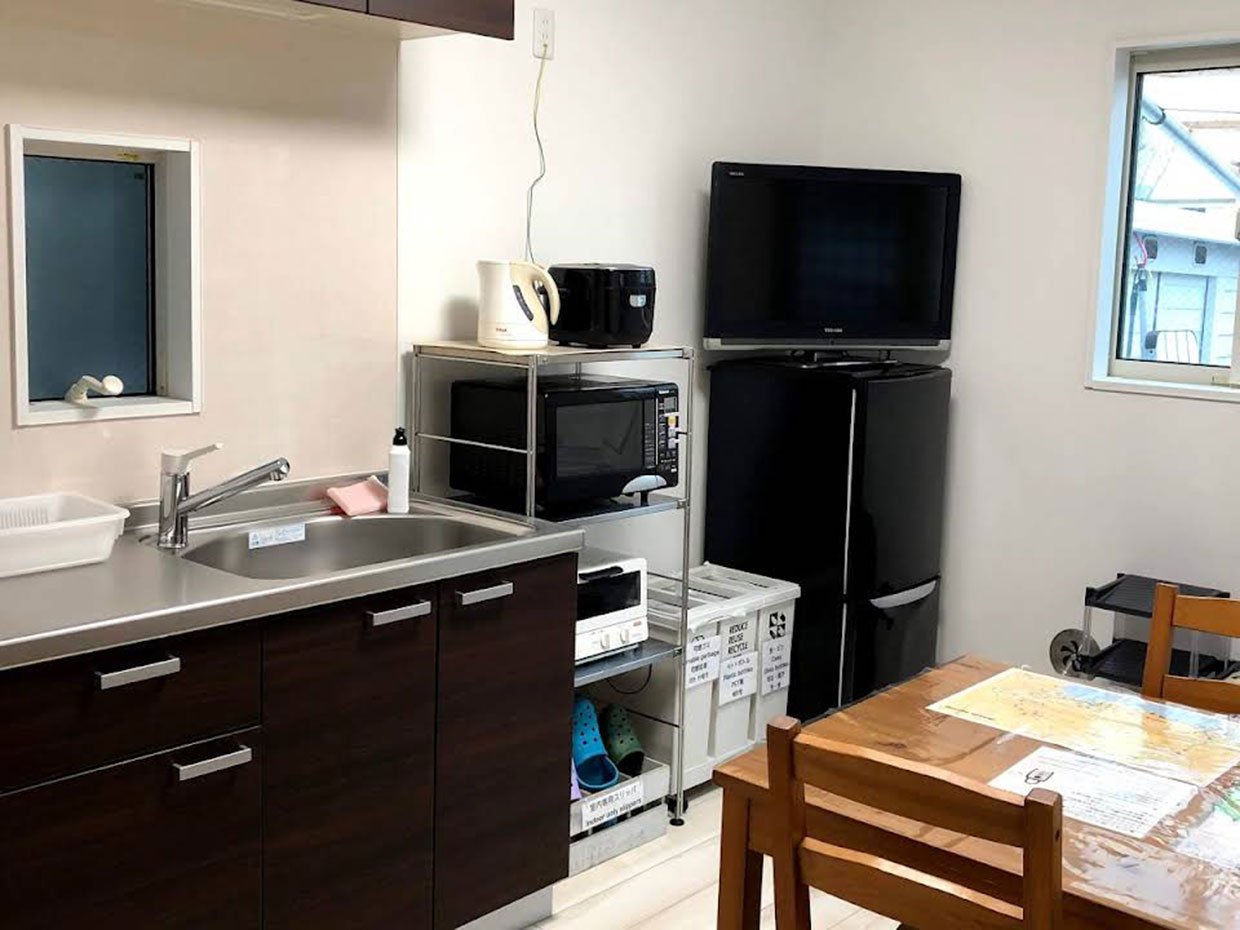 The shared kitchen comes with a fridge, television, microwave, kettle, and a rice cooker. They have one shower room, toilet, sink, and washing machine. Each bedroom also comes with a hair dryer. They also have free wifi available.
Zaimokuza Beach and Kamakura Station are both located within walking distance. If you are willing to walk further, you can also see the Great Buddha Statue of Kamakura and Engakuji Temple.
We recommend this guest home if gender separation or cleanliness is your priority.
Location① By The Ocean (Yuigahama, Hase, Inamuragasaki Area)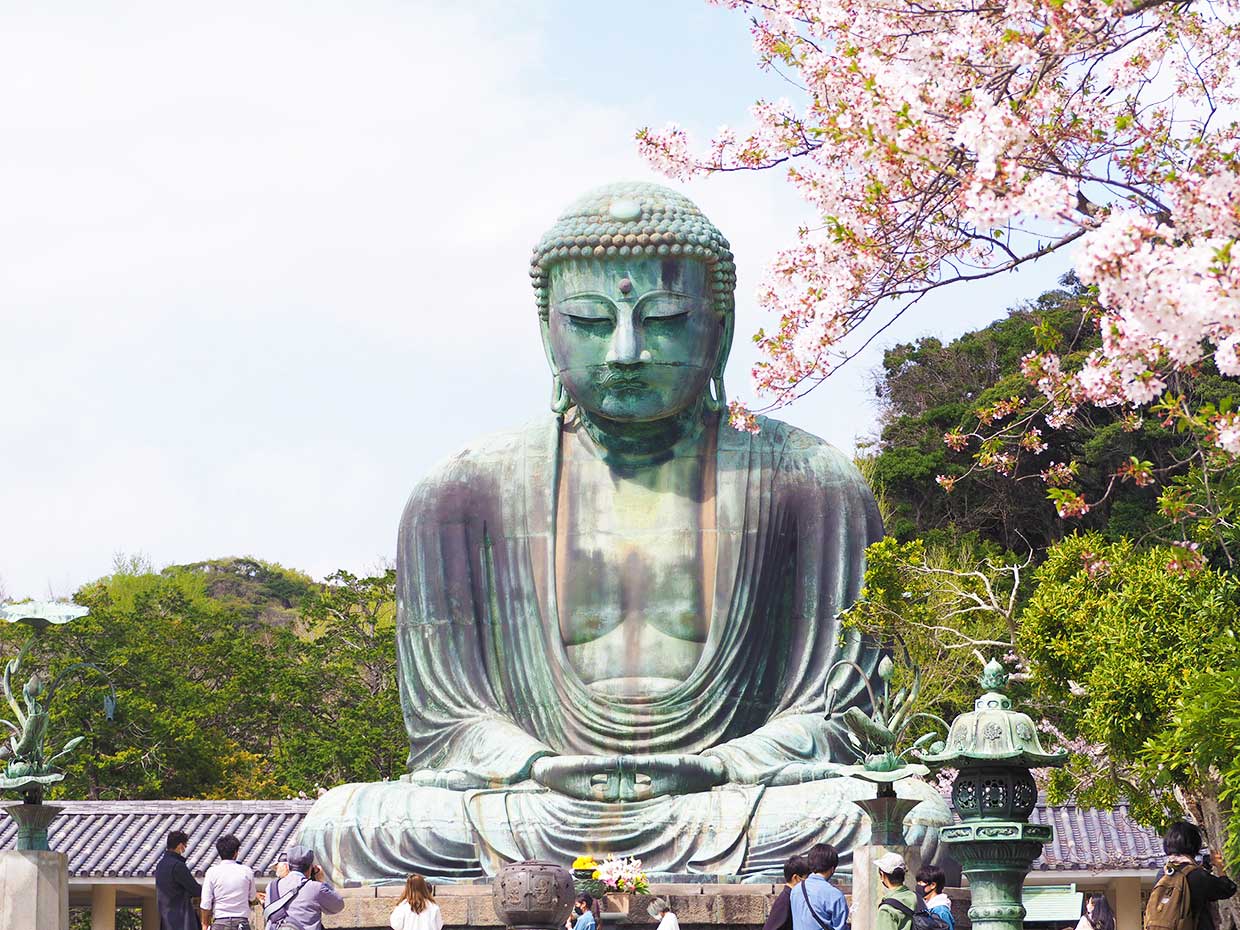 The Yuigahama and Hase area is filled with eyecons such as Great Buddha Statue of Kamakura, Hase Temple, and Kotoku-In. Besides temples and shrines, the area is also filled with various cafes or shops rebuilt from classical homes. We recommend shopping at Yuigahama Odoori.
At Inamuragasaki Area, you can enjoy a calm vibe. There are also many guest homes with a great oceanic view.
Kamakura Rakuan
This is a guest home filled with great care. The place is operated by a preschool teacher with the motto of "traveling around Kamakura as yourself." The insides are decorated with dry flowers. The rooms are decorated with dried flowers and other decorations, creating a simple yet stylish atmosphere with the warmth of the wooden structure.
The owner traveled around the world from 1999 to 2000 and opened the guest home in 2015 based on that experience. In addition to enjoying the interaction with guests and staff, this guesthouse is a cozy place for various styles of travel, such as time to yourself, an evening with friends, or a family reunion.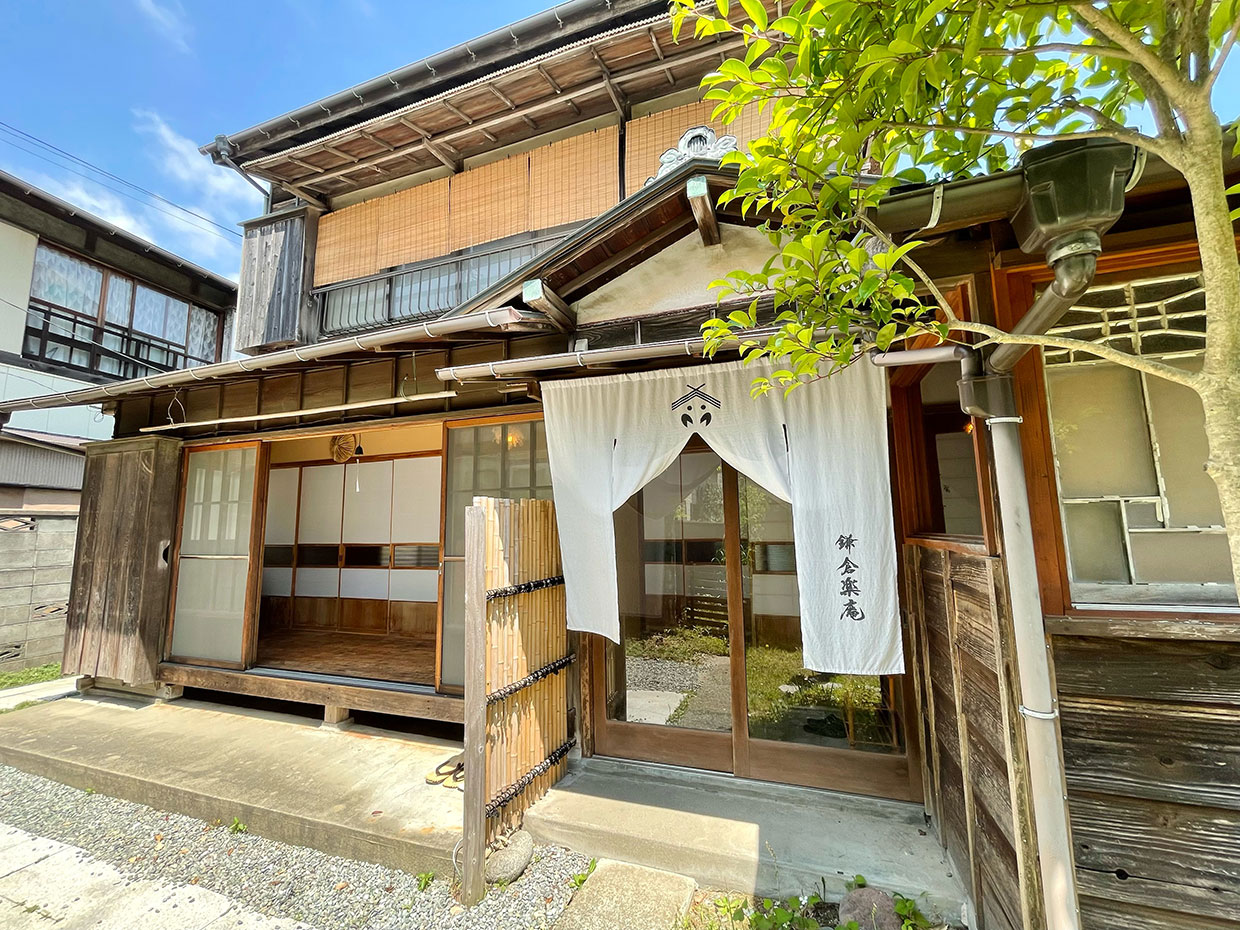 The guest home is located three minutes away from Enoden's Hase Station and Yuigahama Beach. Additionally, Hase Temple and Kotoku-In are located within a 10 minute walk.
It is also surrounded by great food and cafes. You can choose from a family plan or a regular plan.
The family plan allows the family to rent the entire building.
The home comes with a big living room allowing where you can avoid tight spaces. The fee is 7,000 yen per person. For the regular plan, you can choose between private rooms and dormitories with separate men and women. Dormitory accommodations start at 3,500 yen.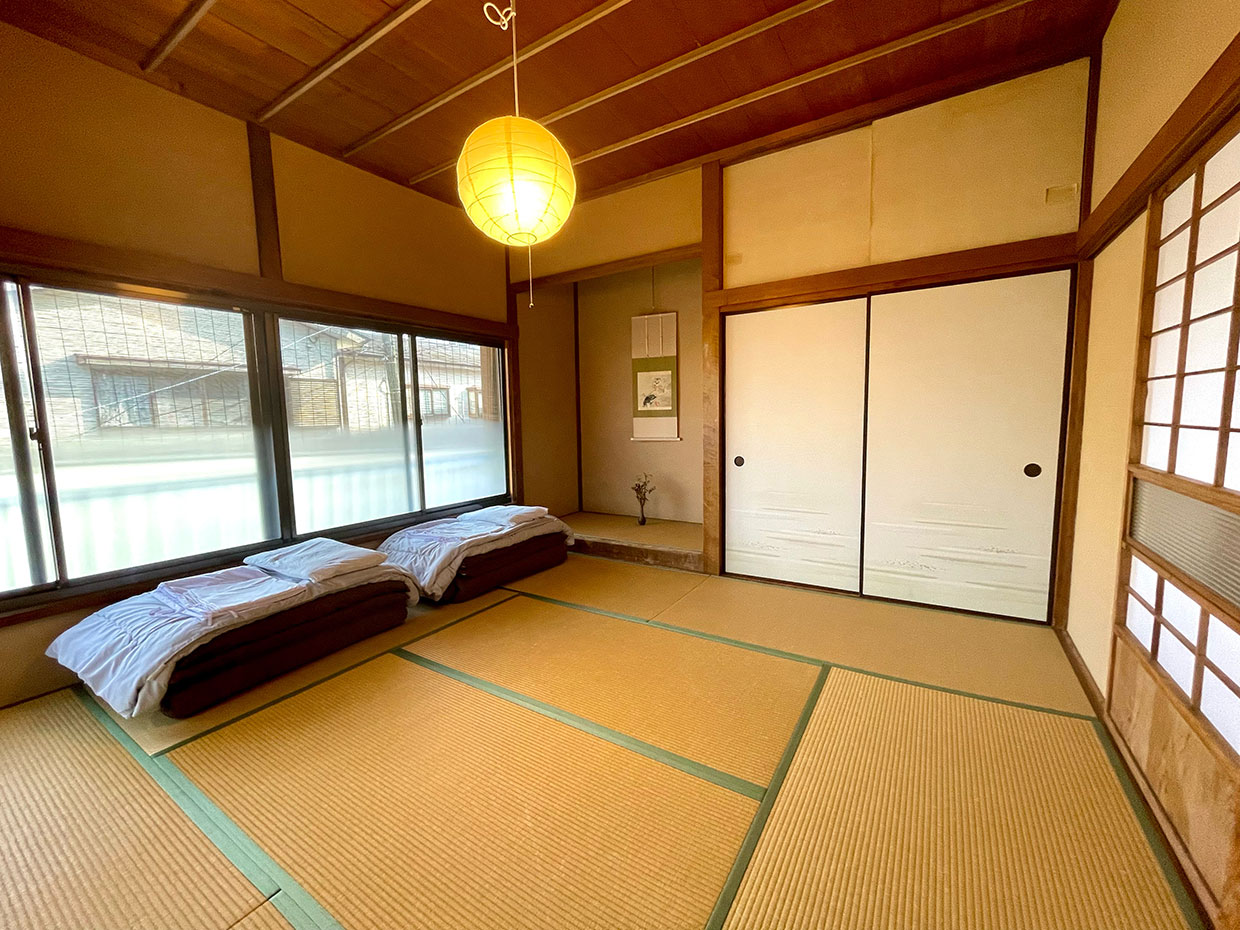 All the rooms are nicely maintained Japanese style rooms. The living room is placed with a big table to interact with other guests. You can also enjoy the breeze or listen to the sound of dragonflies on the porch.
The shared kitchen also comes with different appliances. Coffee and tea is also available. They have two shower rooms prepared with their own shampoo, hair conditioner, and body and face wash. This is a perfect place to rent as a family or anyone wanting to enjoy a classical style home.
3rd HOUSE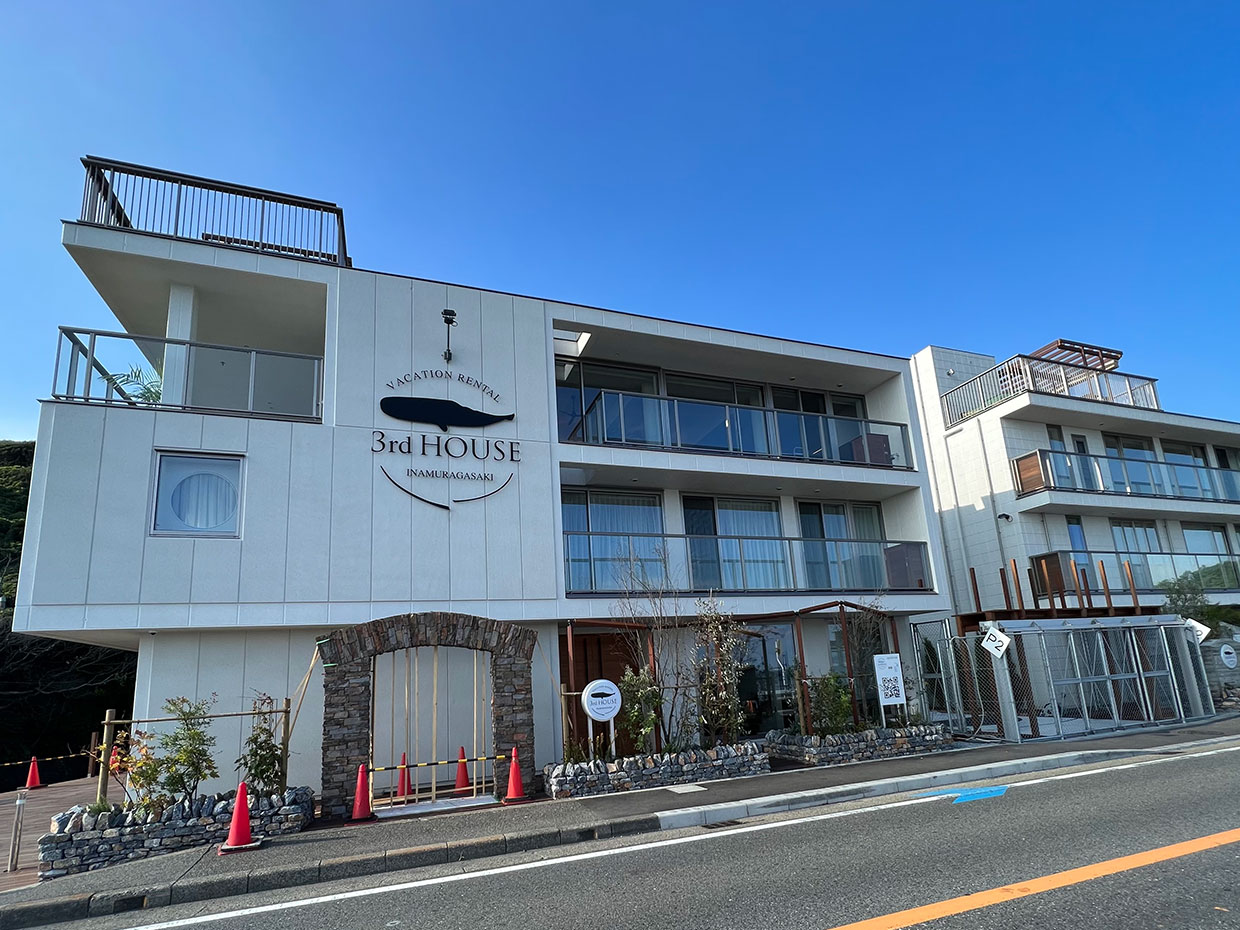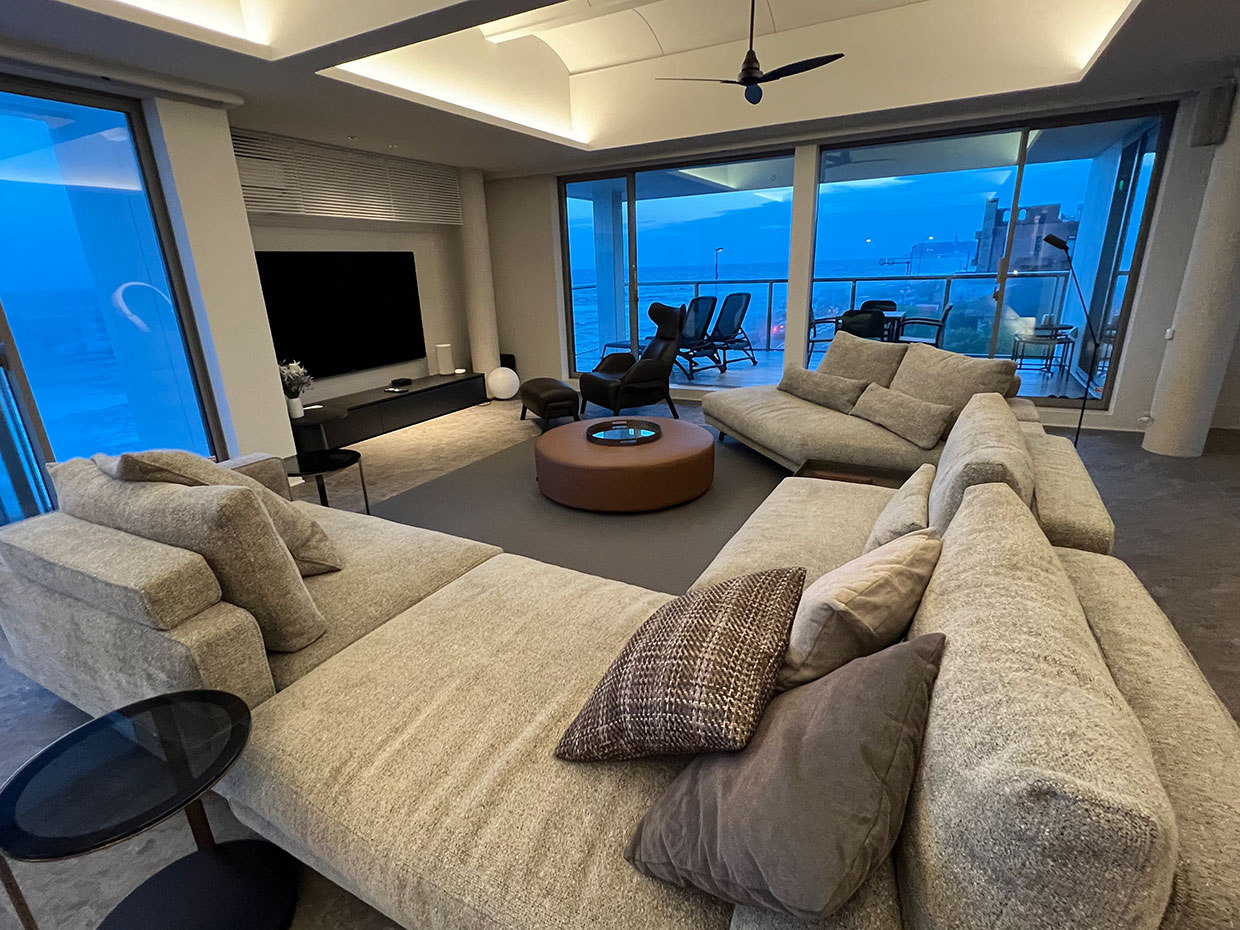 The interior design reminds you of a scene from a fancy movie. The inside is set with a comfortable sofa and the latest massage chair.
Furthermore, you have a great ocean view from the window.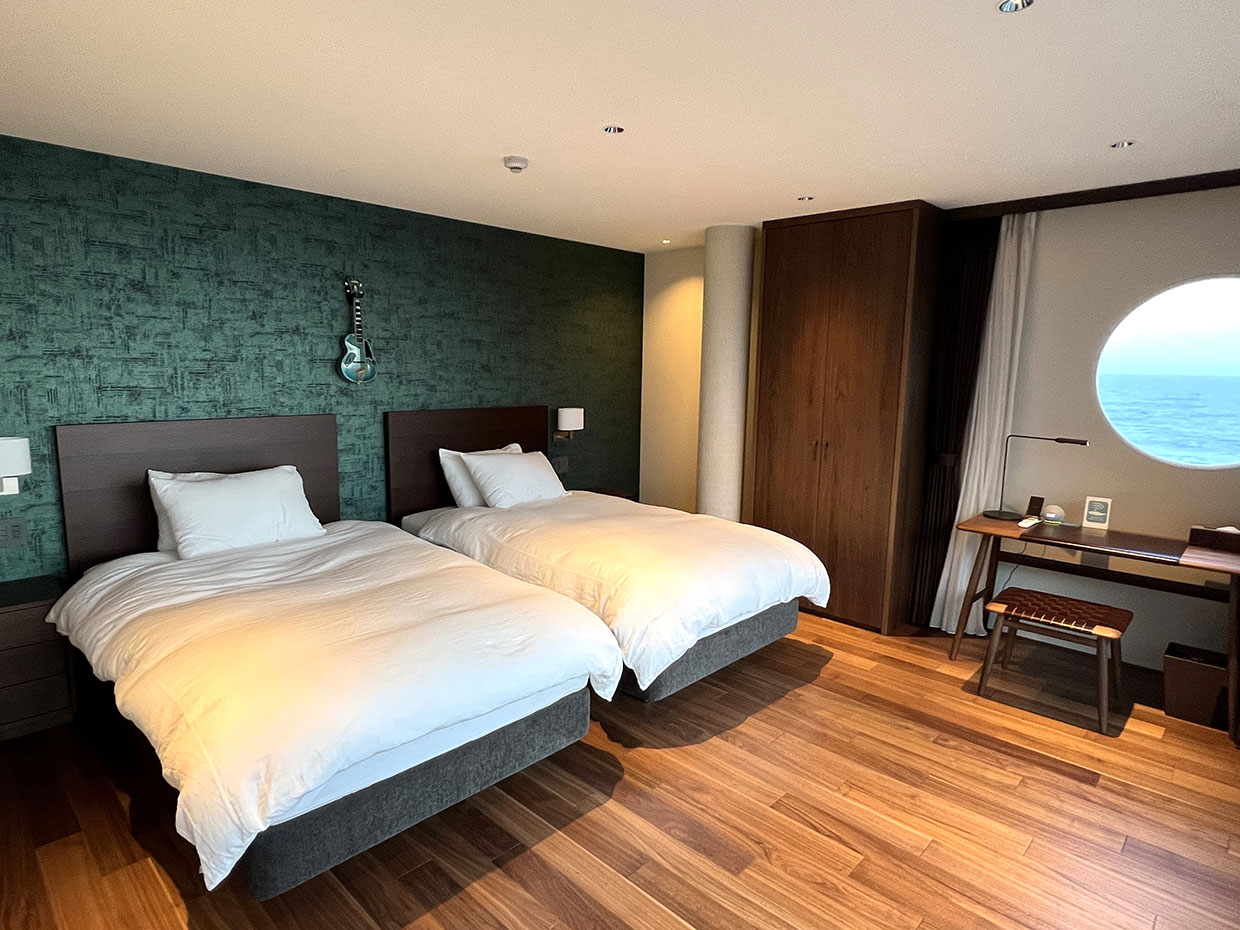 The bedroom is nice as if it is a model room.
Each bedroom is set up with a natural, dramatic, and relaxing vibe.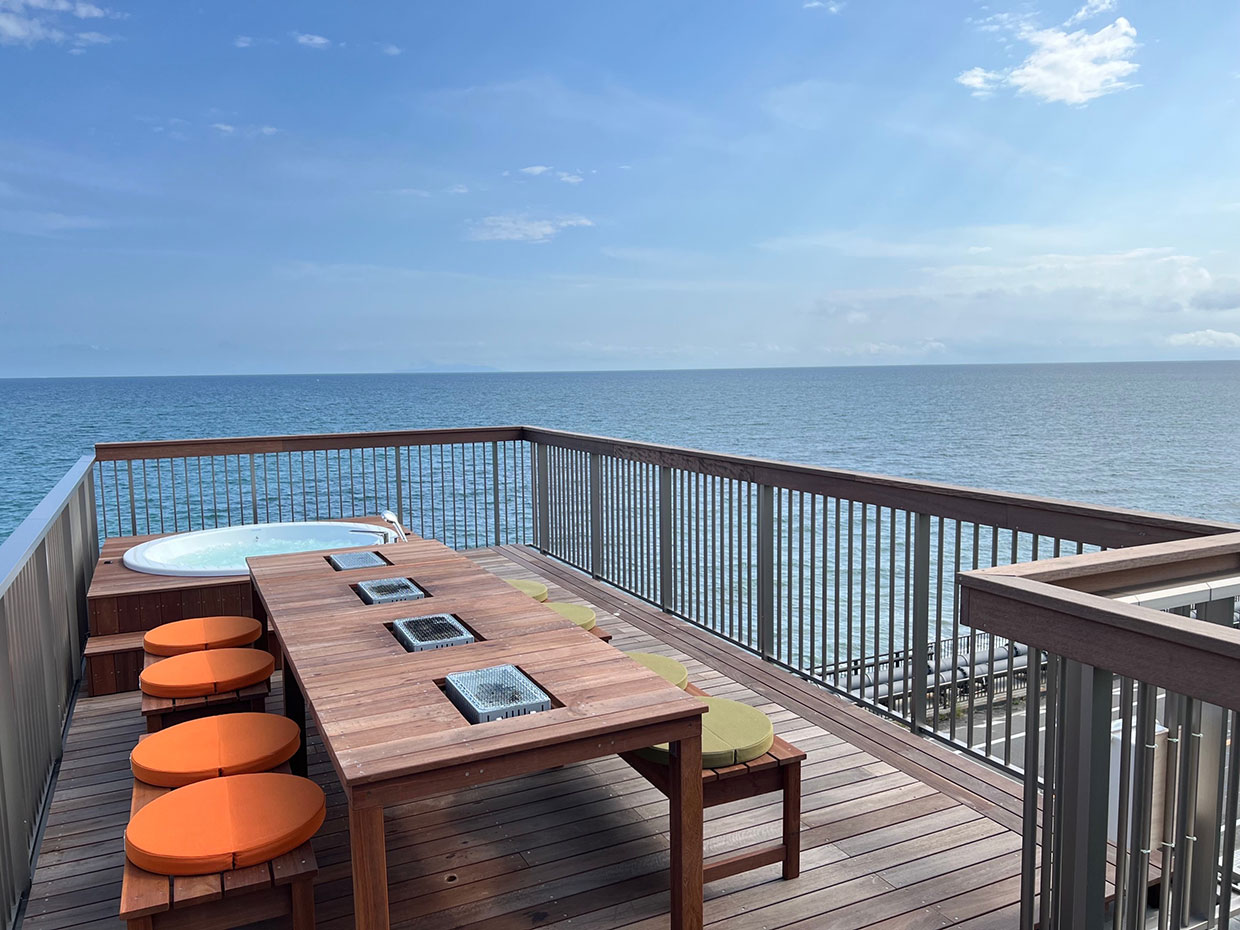 On the roof top, there is a BBQ grill and jacuzzi. We recommend spending your time here by forgetting about your daily woes and stress.
They also have complementary surfboard, electric bicycle, and fishing tool rental services for guests. For additional cost, you can enjoy a yoga class. Why not relax your body while feeling the sea breeze.
We recommend this hotel for anyone wanting to spend time by the ocean.
We Base Kamakura Hostel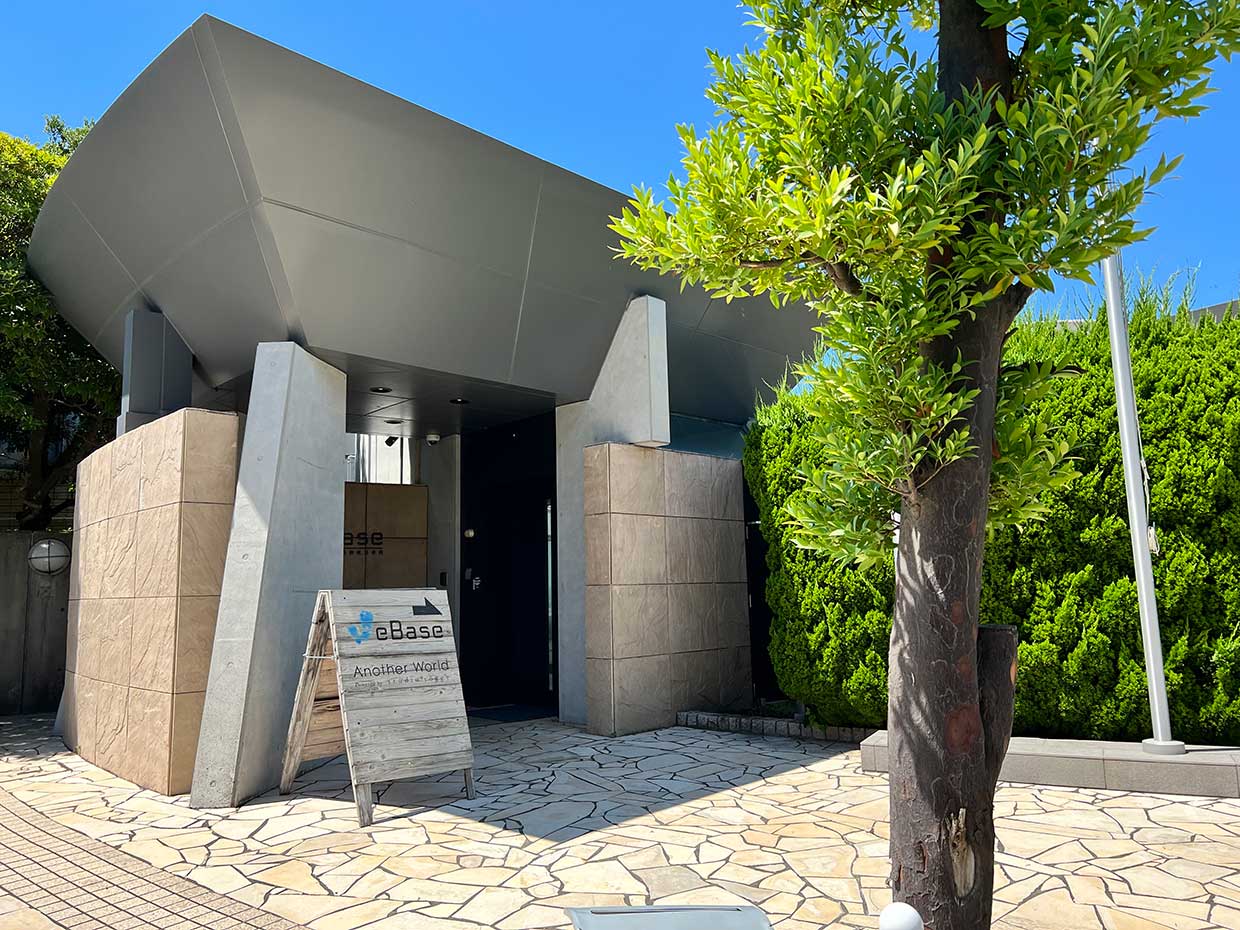 This hotel is located 1 minute walk from Yuigahama Beach and 3 minutes walk from Yuigahama Station, both by the station and beach. The hotel offers not only lodging, but also food, activities, and other attractions of Kamakura. There are rooms that accommodate from one person to group. The hotel can be used for employee or student training purposes too.
The price for a dorm room starts from 4600 yen. In addition to POD beds that protect your privacy, the rooms are equipped with high resilience mattresses made in Italy, which will properly relieve travel fatigue.
Additionally, there are rooms with different vibes such as standard twin rooms, single double rooms, deluxe twin rooms, family rooms, and Japanese-style rooms.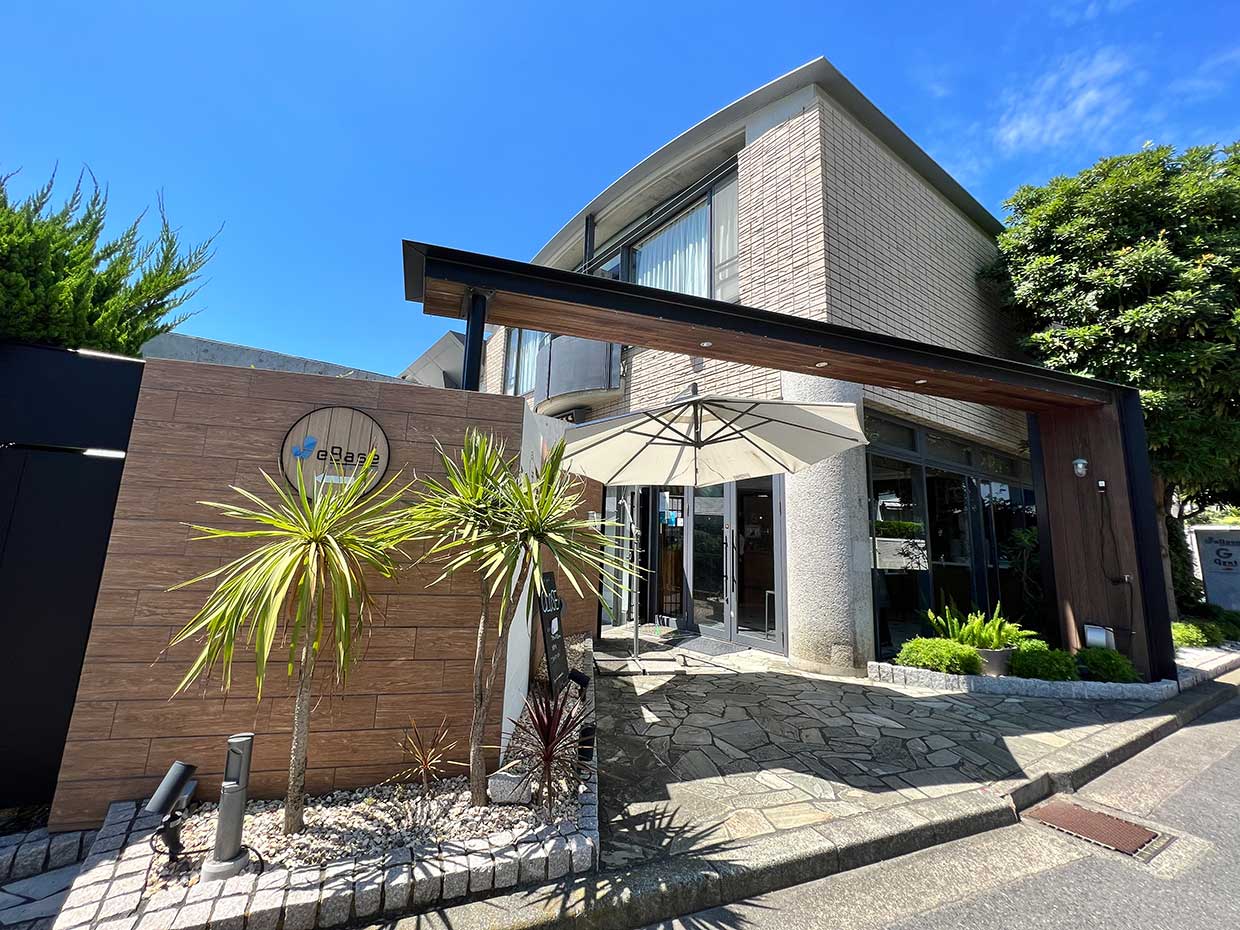 Furthermore, the restaurant serves meals with local ingredients such as freshly caught fish from the Miura area and Kamakura-grown vegetables as the center.
Breakfast comes with freshly baked bread and a seasonal plate meal. For lunch, you can enjoy a meat or fish plate or pasta. Then for dinner, you can enjoy a course meal that uses plenty of local vegetables and seafood, offering a taste of the four seasons.
You can experience a relaxing moment on the terrace with the sea breeze.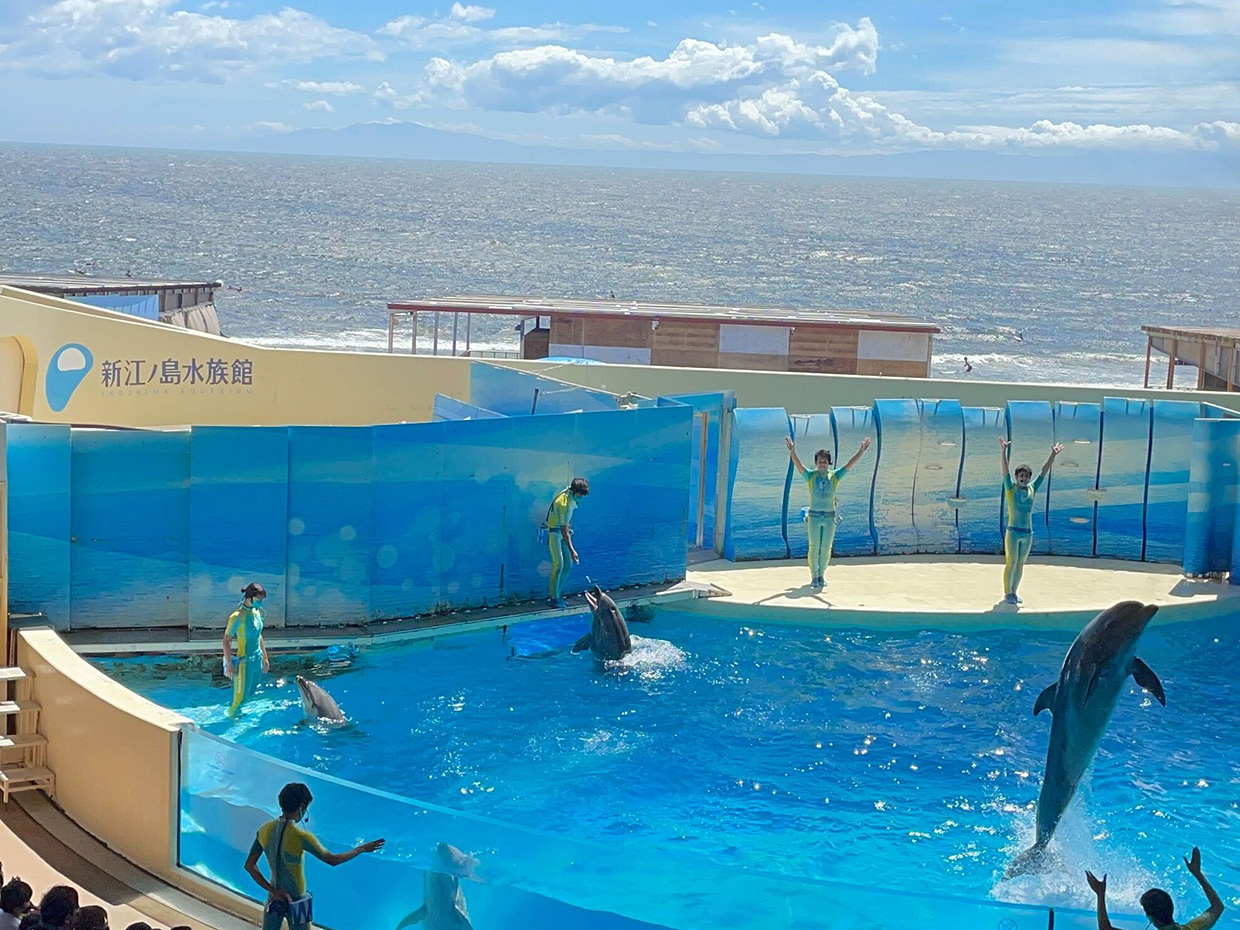 There are various plans prepared.
You will be able to find a plan that suits you, such as a plan with an admission ticket to the Enoshima Aquarium, a petit course, a full course, or a plan with kimono rental.
At We Base Kamakura, you can also rent a bike. You can return the bike to any of Kamakura's bicycle stations. We recommend cycling around and enjoying Kamakura's beautiful scenery.
Plage Yuigahama
Plage Yuigahama is known for its boarded-up exterior and its green garden. The hotel is located 3 minutes away from Yuigahama Bay and Zaimokuza beaches, where you can also enjoy marine sports.
There are 8 guest rooms, all of which are completely private rooms. There are no dormitories, and all rooms are non-smoking. (There is a smoking area outdoors.) You can choose from single rooms, semi-double rooms, double rooms, loft rooms, and Western-style rooms.
In addition to air conditioning, amenities such as a hair dryer, toothpaste, and bath towels are provided in the rooms. Shampoo, conditioner, and body soap are also available in the bathroom. Face towels, toothbrushes, and razors are also available for a fee, in case you forget them.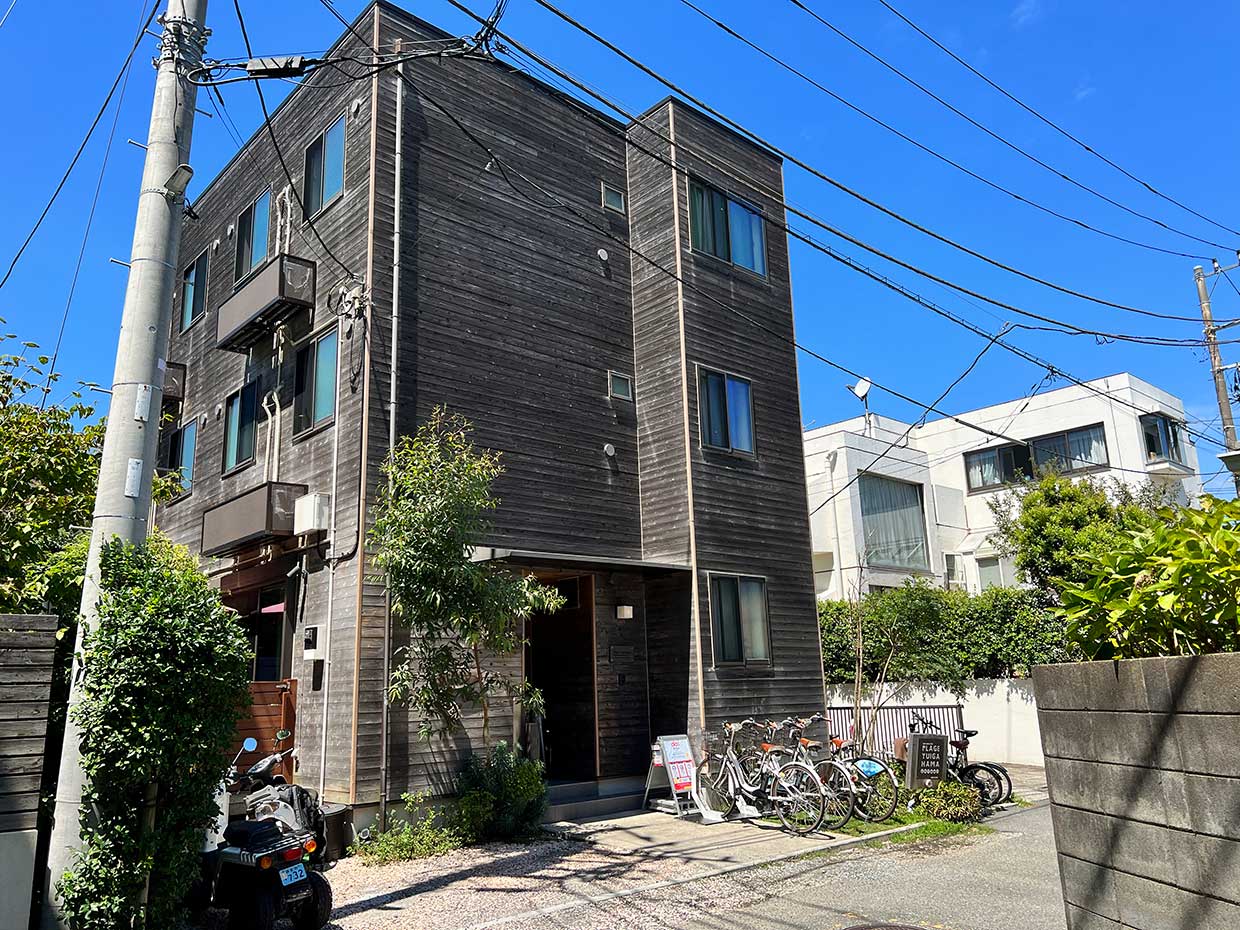 The spacious living room with TV is a great place for guests to socialize with each other.
There are many guests from overseas, so there is a possibility of international exchange.
The kitchen is fully equipped with cooking utensils and seasonings. You can try your hand at cooking with Kamakura vegetables.
Shared showers are available outside, so you do not have to worry about getting covered in sand on your way back from the beach.
Furthermore, you can bring pets as long as they are kept inside cages. Guests are allowed to bring two small kind of dogs or cats, or one medium sized dog. Kamakura Seaside Park, a perfect area for a dog run, is also located close by.
This is a perfect place for those who enjoy marine sports or guest interactions.
Area① By The Beach (Koshigoe & Enoshima Area )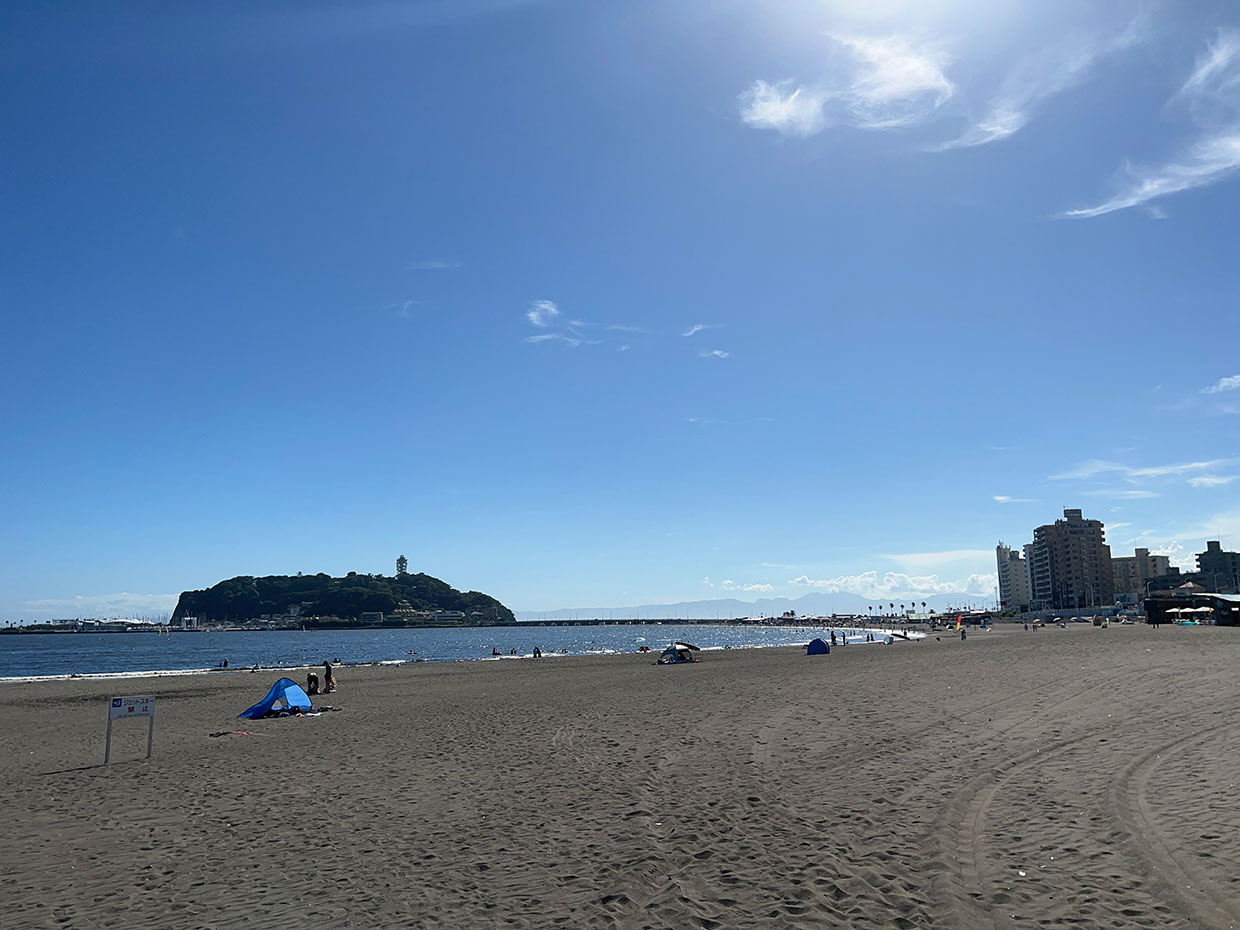 The area offers various tourist facilities and an open area filled with nostalgia and the sea breeze.
There are bakeries, gelato shops, classic-style cafes, etc that cannot be found elsewhere.
There is also a complex of restaurants and bookstores along the coast that will keep you entertained.
Enoshima Guest House 134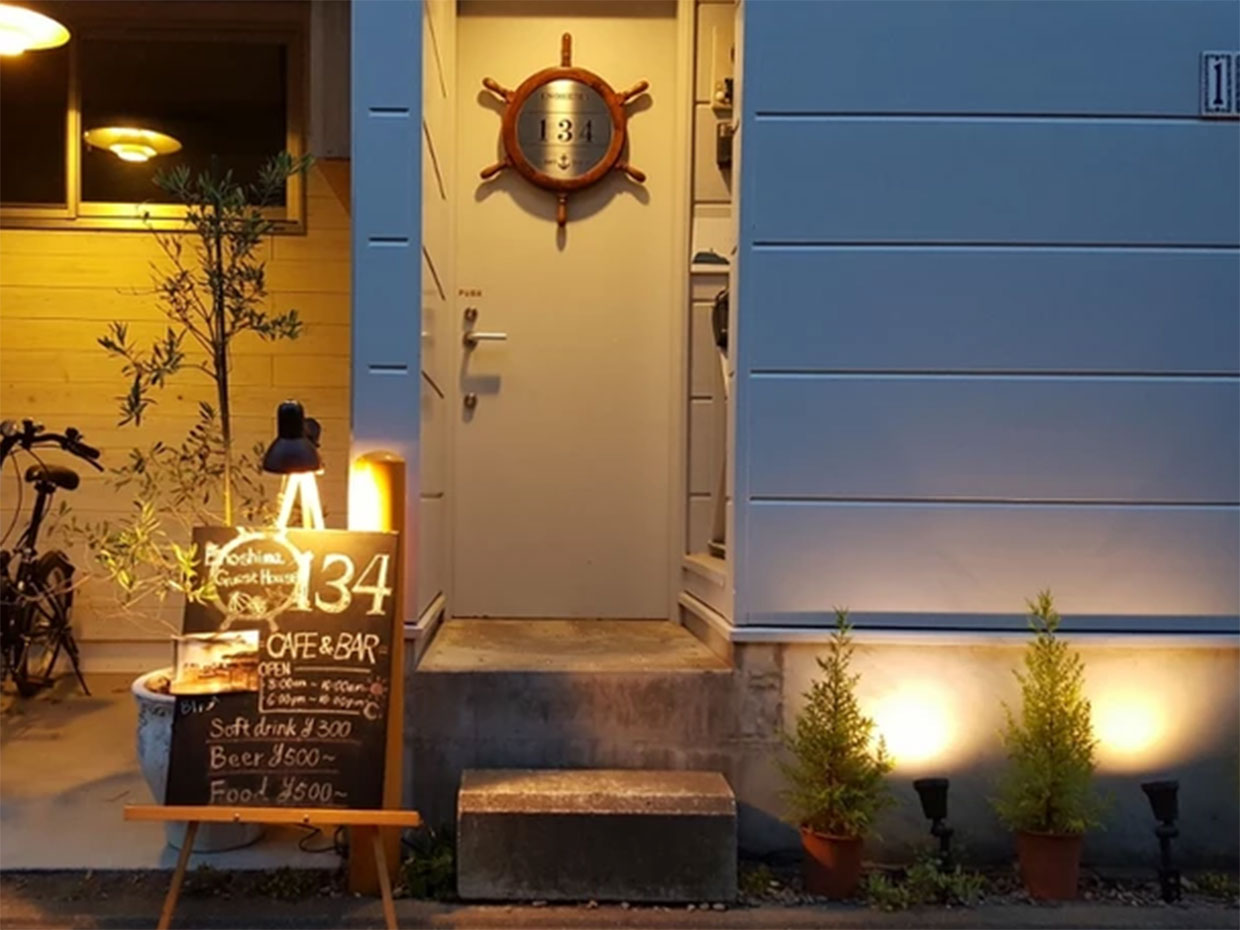 The concept of this guest home is a place where people who love the beach and traveling can gather naturally.
This was the first guest home in the Shonan/Enoshima Area that opened on October 1, 2016.
Since it is close to the station or beach, this is a perfect place for marine sports and Kamakura tours.
One of the charms of this guest home is that you can choose your style to stay. There are three kinds of areas: Main Hall, ANNEX, and Southern court134.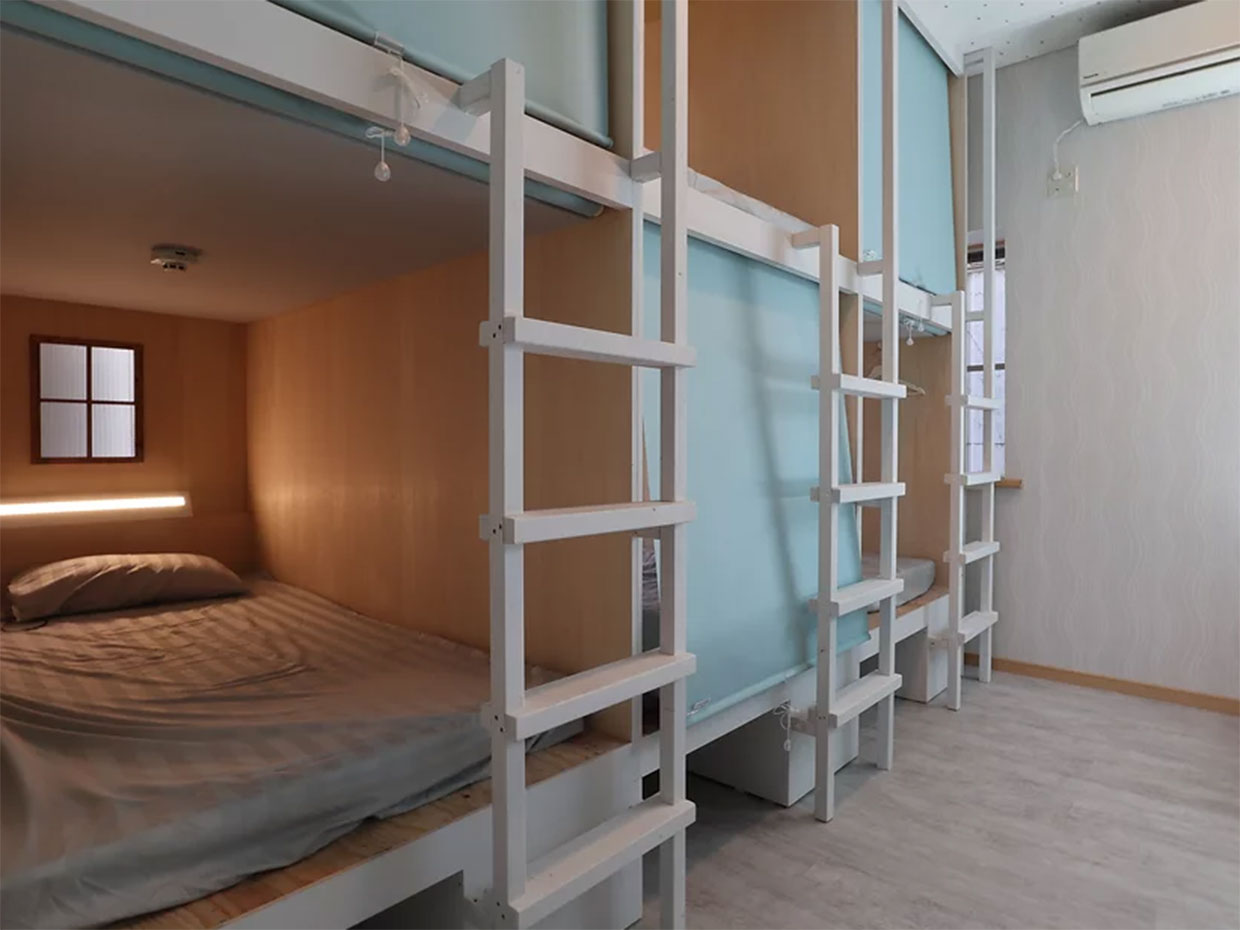 Enoshima Guest Home 134 (Main Hall) places importance on guest interaction. They have an underground lounge space like a secret base. The lounge is filled with a cafe & bar, board games, table tennis, etc.
The guest rooms are equipped with dormitory rooms as well as private rooms for a maximum of two people to enjoy a relaxing stay.
Prices start from 3,500 yen, so this is a perfect spot if you are traveling on a budget.
By drawing the curtain at the entrance, you can secure your private space. Sheets, electrical outlets, room lights, and hangers are provided in each booth.
Enoshima's guest house 134 ANNEX is a female exclusive dorm. This is perfect for those who have concerns about guest home security.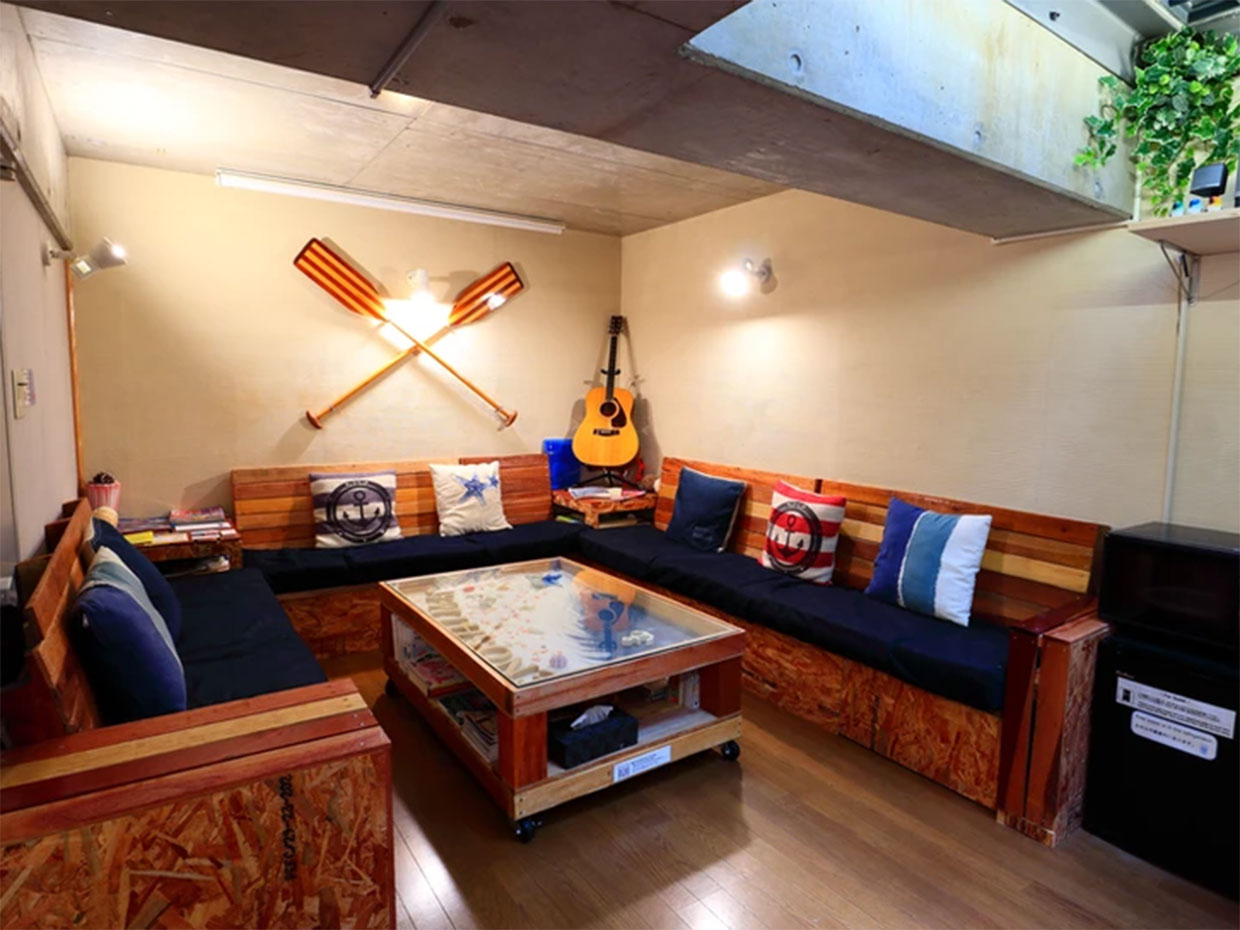 The main hall and ANNEX have a big and relaxing community space common to any guest home by the ocean. The marine style set up relaxes any mind. This is a perfect spot to enjoy a beer and open conversations with other guests. The entire building can be rented out. This makes it perfect for surfing or yacht competition, graduation, company, or family trips.
Furthermore, you can rent out the lounge area. You can use it for partying, meetings, filming, or other purposes. The charm of the lounge is the fashionable interior set up.
The basic plan starts from 2,700 yen per hour. There is also a weekday special where the entire day can be rented for 33,300 yen.
Lastly, Southern Court134 is the recently built apartment with a modern style. The apartment comes with a kitchen and bathroom and is also filled with female amenities. It also has convenient areas for travelers such as outdoor showers and two free rental bikes.
You can rent or purchase bath towels, tooth brush, or shave for a cost. You can also rent body boards, beach tents, or fishing rods. This means you can travel light. We recommend taking a look at the place if you enjoy meeting with others and traveling around the beach lightly.
IZA Enoshima Guest House & Bar
IZA Enoshima Guesthouse is marked by its cute cream-colored walls.
You can sense the spirit and mindset of Japanese omotenashi from the area. In an average guesthouse, the bed making is usually done by the guest. However, IZA Enoshima has staff preparing the bed. You can sense that they prioritize the customer here.
Located in the center of the Katase-Subana-dori shopping street, the road leading from Enoshima Station to Enoshima, it offers easy access to both the station and the ocean. It is also a good spot for sightseeing in Enoshima and Kamakura and for marine sports.
Guest rooms comes with the following types: Single Twin Room, Single Double Room, Single Room for Four, Female Only Dorm, and Dorm. Each room is simple and comes with a certain cleanliness. You can feel the warmth of the wood and sunlight from the window. The dorms can be used starting from 3,850 yen per night.
Additionally, you can use the area for a daily rest from 10:00 am to 3:00 pm. For 2,200 yen, you can take a break or use it for work by using the rooms and shower room.
You can freely use the bar lounge area and outside terrace area. Drinks are available at the bar lounge. Every Saturday, they have parties or events that you can enjoy.
This is a spot recommended for those who enjoy any form of hospitality.
Cafe & Guest House – SLAMs
SLAMs, located in the Koshigoe Area, is a cafe and guesthouse that was renovated from a 100 year old house.
Enoshima Aquarium is located within walking distance. The building consists of an underground floor with a gallery space, first floor is a living room area and cafe, and second floor is a dorm style bedroom.
At the first floor cafe, you can enjoy a delicious hamburger. The number one recommendation is the 100% Wagyu Beef Dunk Burger Meal. You can choose the burger size, sauce, and the toppings.
The well-maintained facility is filled with a sense of nostalgia and excitement.
The tall ceiling and sense of freedom adds to the charm. The interior is set up with a shaved ice machine matching the classical style home.
Check in for the guest home starts at 3:00 pm and check out is until 10:00 am. Furthermore, you can stay here for a reasonable cost of 2000 yen per night.
For those who want to stay at a home filled with history or just enjoy a burger, we recommend staying here.
Area② By Kamakura Station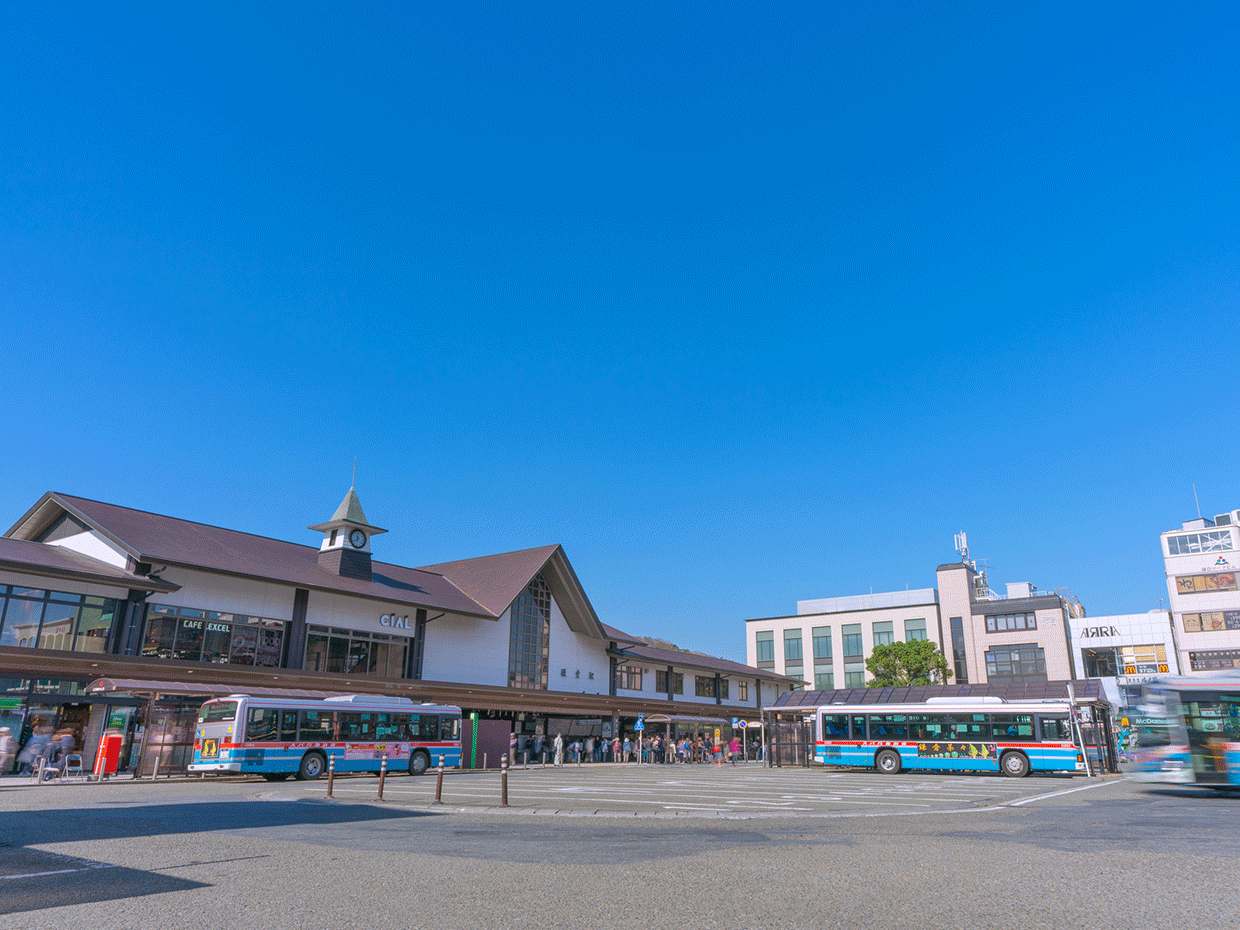 The area around Kamakura Station is filled with various tourist destinations such as Tsurugaoka Hachimnagu and Kamakura Komachi Dori. This is a perfect place to stay to enjoy the tourist sites. The residential area is filled with classical style homes and churches. You can also enjoy the town area.
Villa Sacra Kamakura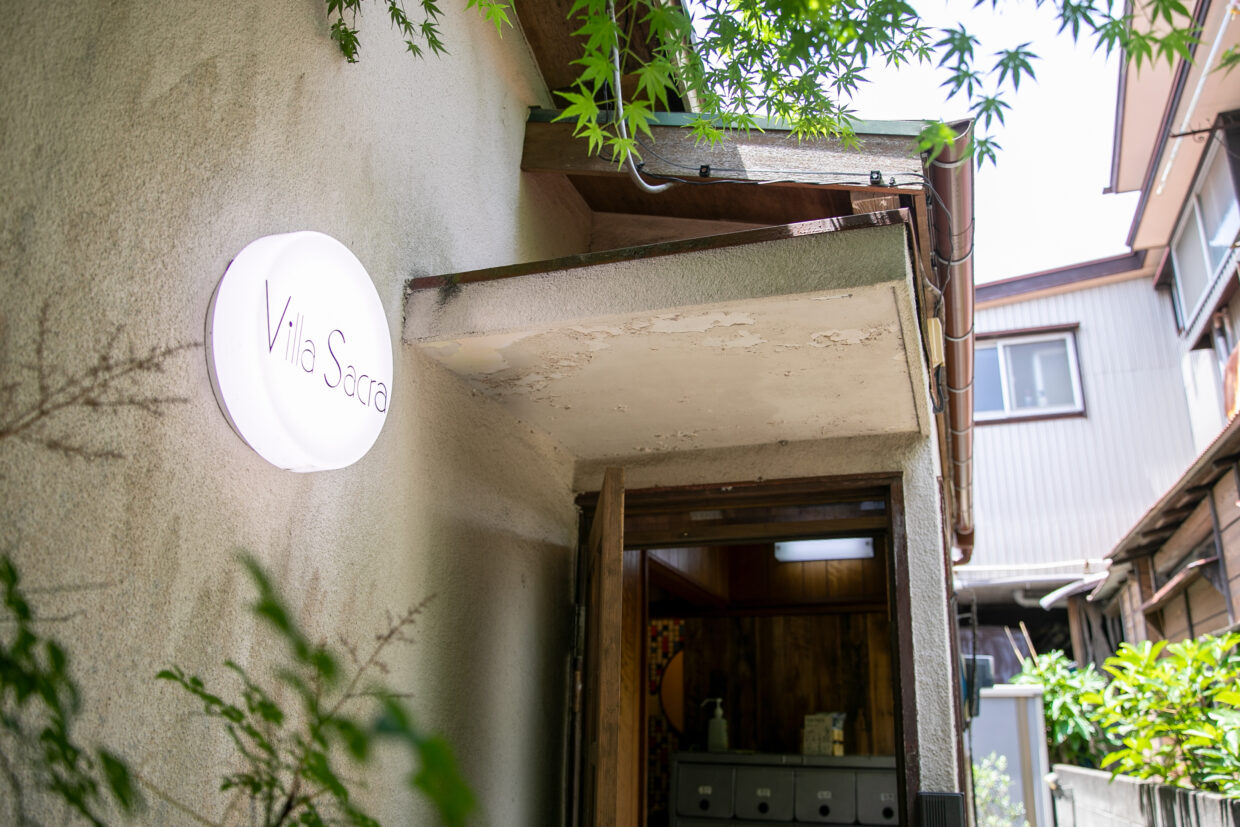 The area is located in a convenient area for tourists. It takes a 4 minute walk to Kamakura Station, one minute to Komachi Dori, 12 minute walk to Tsurugaoka Hachimangu, 16 minutes walk to Zeniarai Benten Shrine, and 19 minutes to Kamakura Yuigahama Beach.Villa Sacra was remodeled from using an 80 years old classical style home.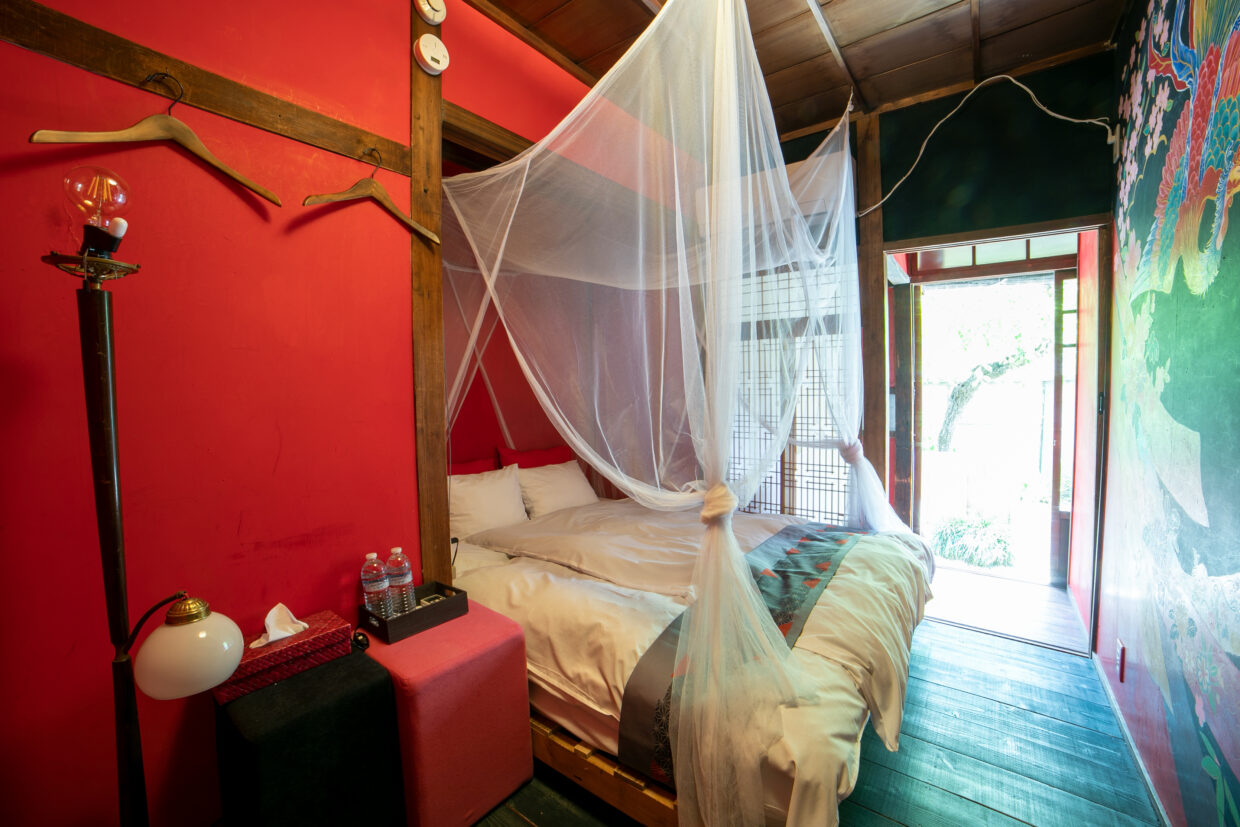 The room interior was carefully designed by artists. If you are interested in staying at a guesthouse different from others, we recommend this artistic style hotel.
There are rooms that are like an art gallery. You can feel the exciting vibe by staying.
The 6 guest rooms come with a free Wi-Fi and a hair dryer.
They have different types of room with unique names, such as Room Flower, Room Moon, Room Cranes, Room Tigers, Room Drips, and Room Rainbow that can fit between two to four people.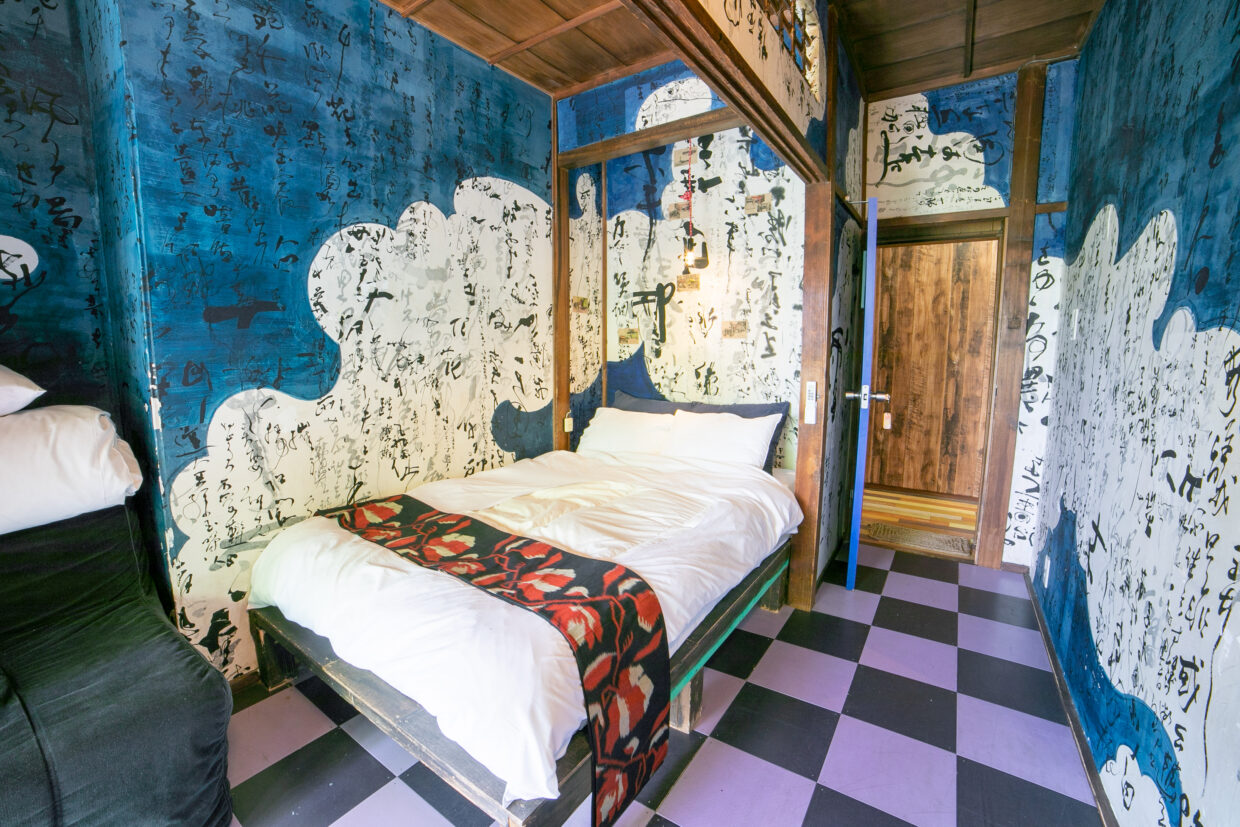 Each room has a different theme. Therefore, you will not feel bored visiting here every time. This guesthouse comes with a unique vibe.
The guest house is built with a community shower room with shampoo, body soap, and towel. Check in is between 4:00 pm to 10:00 pm and check out is between 8:00 am to 11:00 am.
The building also has its own laundry area. You can wash your clothes after a long day at the beach. They also have a luggage storage service.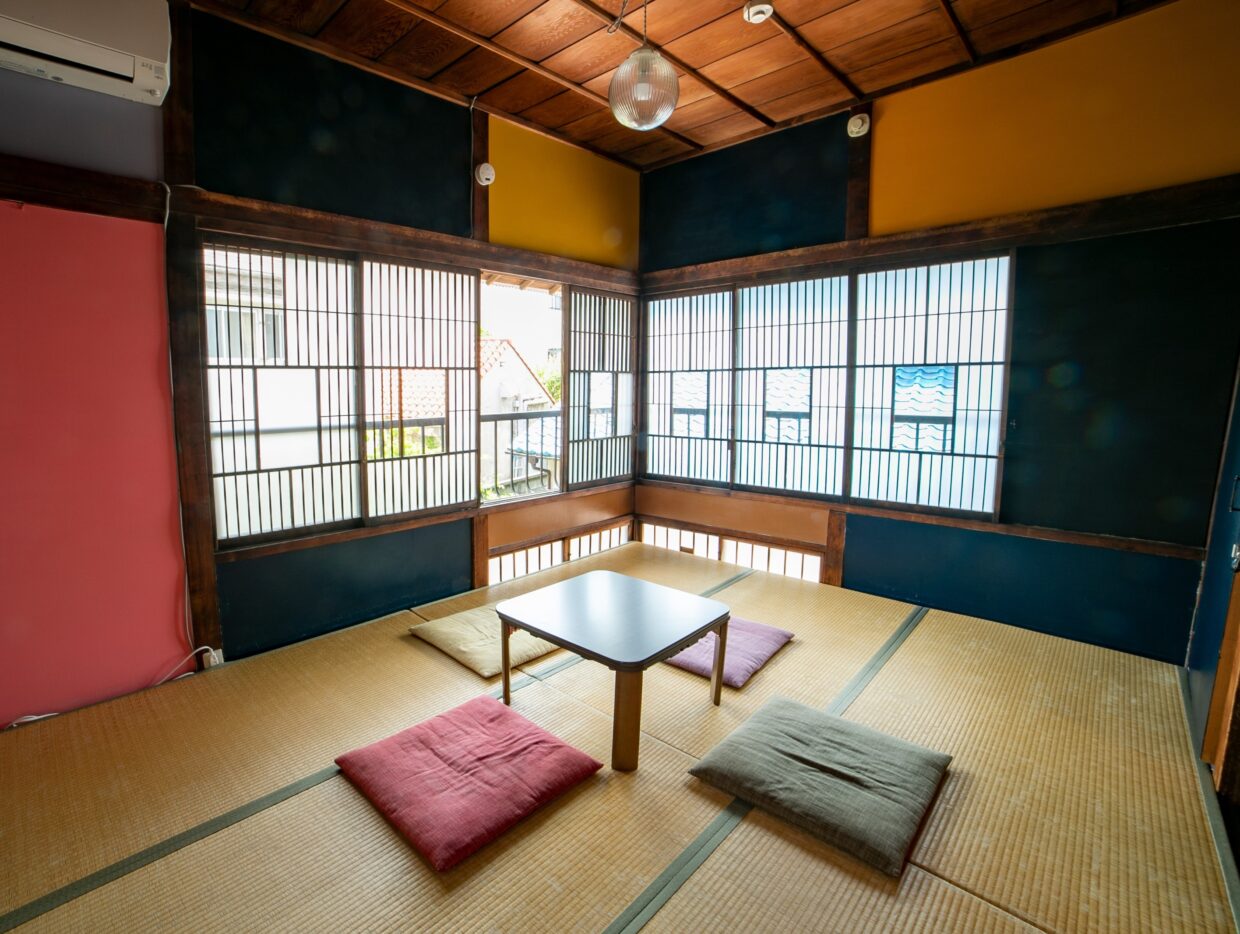 This is for those who want to stay in an artistic style room. Those who want to stay in a peaceful place away from everyday life. This guest house is that place.
The guest house is close to all the major tourist destinations. Therefore, you can enjoy Kamakura to the fullest.
This is a place for anyone that wants to stay at Kamakura differently.
Lantern Kamakura
The home is located within a 5 minute walking area of Kamakura Station. You can visit many tourist destinations such as Enoshima, Komachi Dori, Kamakura's Great Buddha Statue, Yuigahama Beach, etc.
Yuigahama Odori is filled with different restaurants, ramen shops, cafes, variety shops, etc.
The interior is designed in a modern Japanese style and filled with cleanliness and cuteness to the smallest detail.
The lush green wood terrance and Japanese style bedroom is what attracts guests to stay.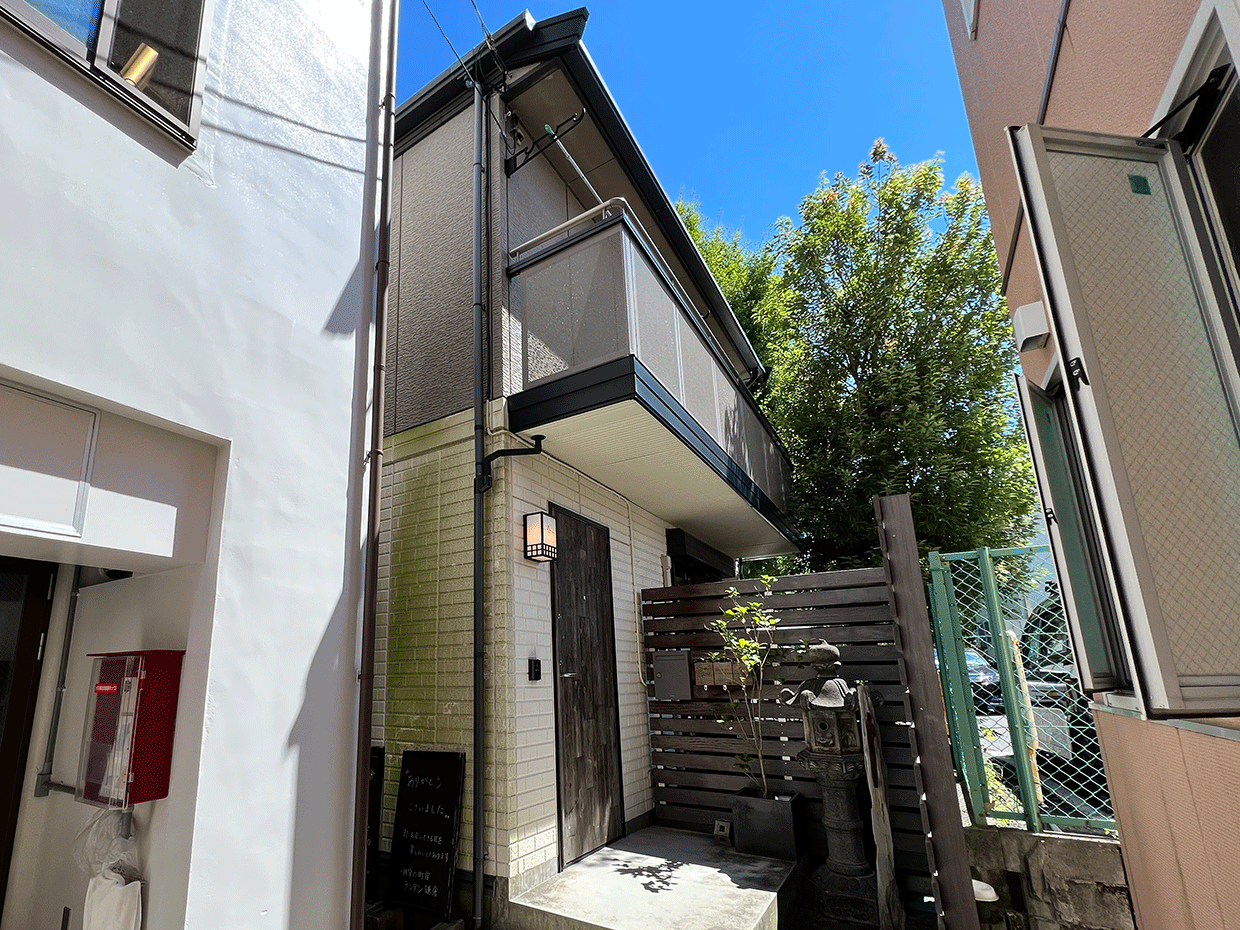 The house rental plan is perfect for families, couples, or groups to use without worrying about others. You can enjoy an excluded private area. Children under the age of 6 can stay for free as long as they sleep together with a family member.
There are two rooms you can use. Each room can have up to seven people and you can divide it up however you want.
The organic based amenities is what attracts many guests. The guest home has shampoos, basic moisturizers, dryers, cottons, hair brush, and others. Each person can use up to one bath towel and face towel.
The facility includes clean bathrooms and washlet toilets. They also have a free laundry room that is open for 24 hours. Additionally, they also have humidifiers and aroma diffusers are available for your relaxation.
Kamakura House
The guest house is located between the beach and station. It takes an 8 minute walk to Kamakura Station, 13 minutes to Yuigahama Beach. You can get there from Kamakura Station through a small path lush with greenery.
There are many food areas located within a five minute area. The guest home is also located inside a peaceful residential area.
Check in is at 3:00 pm and check out is at 10 am.
Depending on the room type, up to 9 people can stay. One can enjoy a country home here. Families and groups can enjoy themselves without moving around.
Each room comes with a dryer, bath towel, tooth brush, and hand towel. Furthermore, the building comes with free Wi-Fi.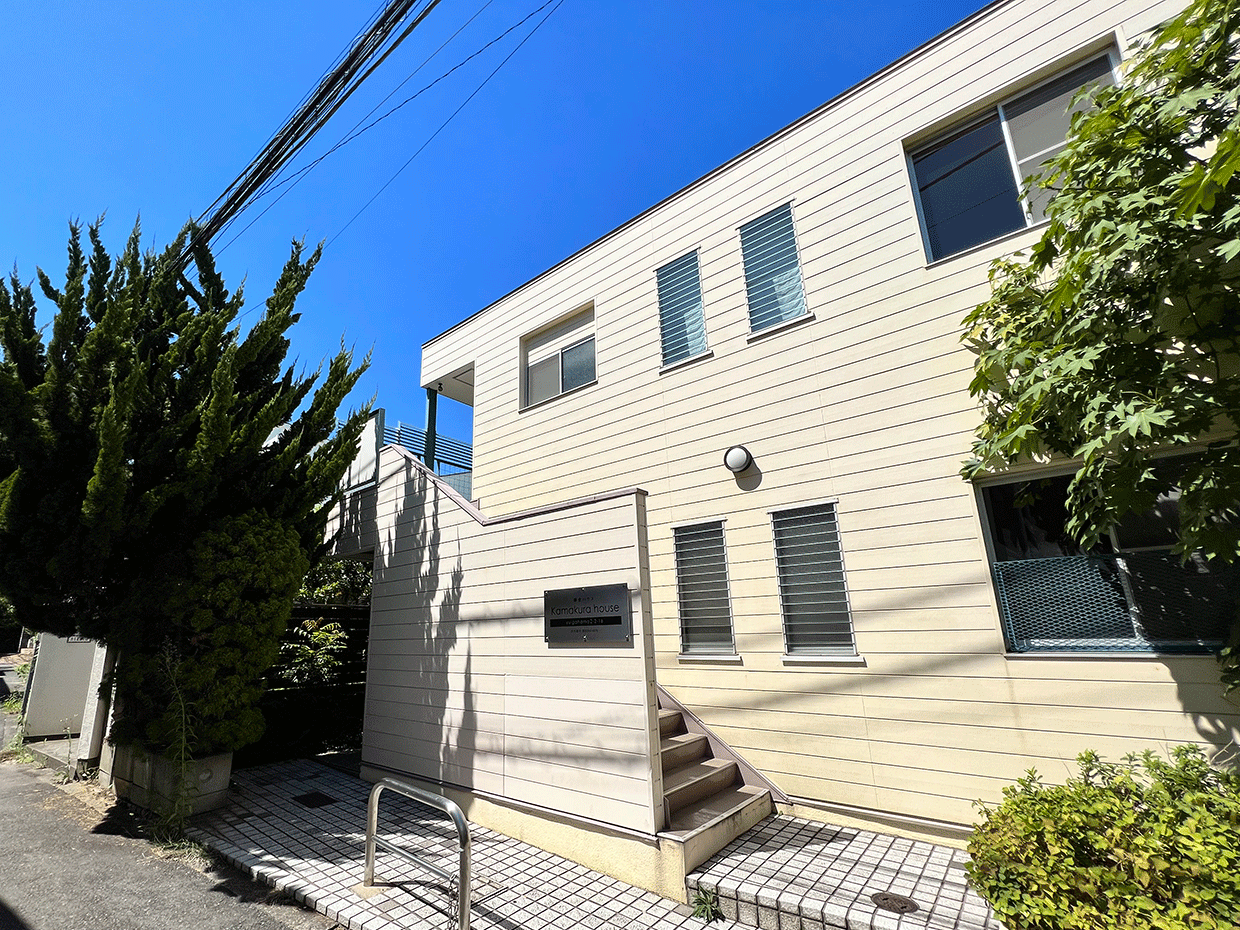 There are four kinds of guest rooms: family room, standard family room, deluxe family room, and deluxe family suite. Each room is prepared with its own bath, toilet, sink, and AC. Each room is filled with cleanliness and has enough space to relax in.
The area is surrounded by Kamakura Church, Yamaka Store, and Enoden's Kamakura Komachi Dori. If you walk further, you can find popular spots such as Great Buddha, Kotoku In, etc.
This is a perfect spot for a group to stay overnight, or for those who want to enjoy a meal around Kamakura.
Area③ : Away From the Busy Noises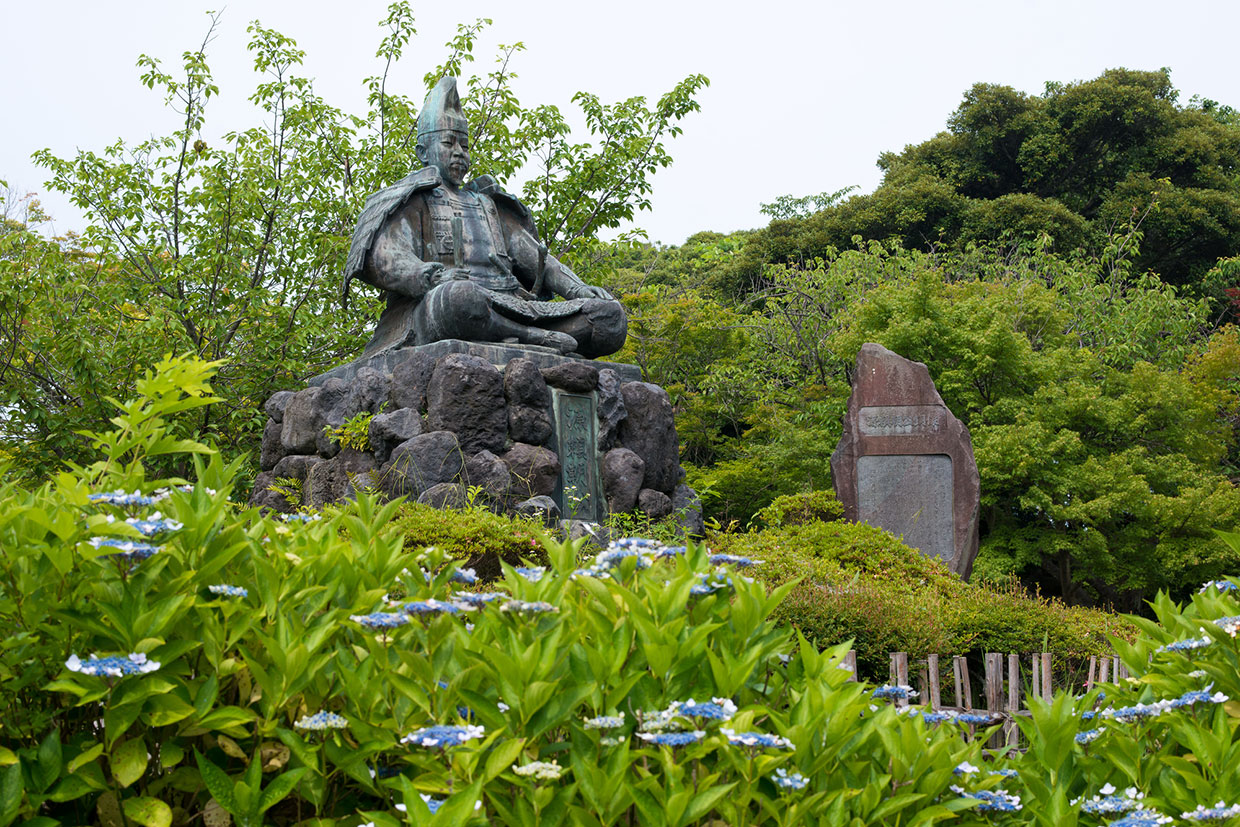 If you want to enjoy the quiet atmosphere of Kamakura, we recommend an area away from the station, downtown, and the coast.
This is a perfect area for nature lovers as it is filled with greenery and parks.
Despite being away from crowded area, you can still find cafes or restaurants. You can probably find hidden gems inside the peaceful and quiet area.
Kamakura Guest House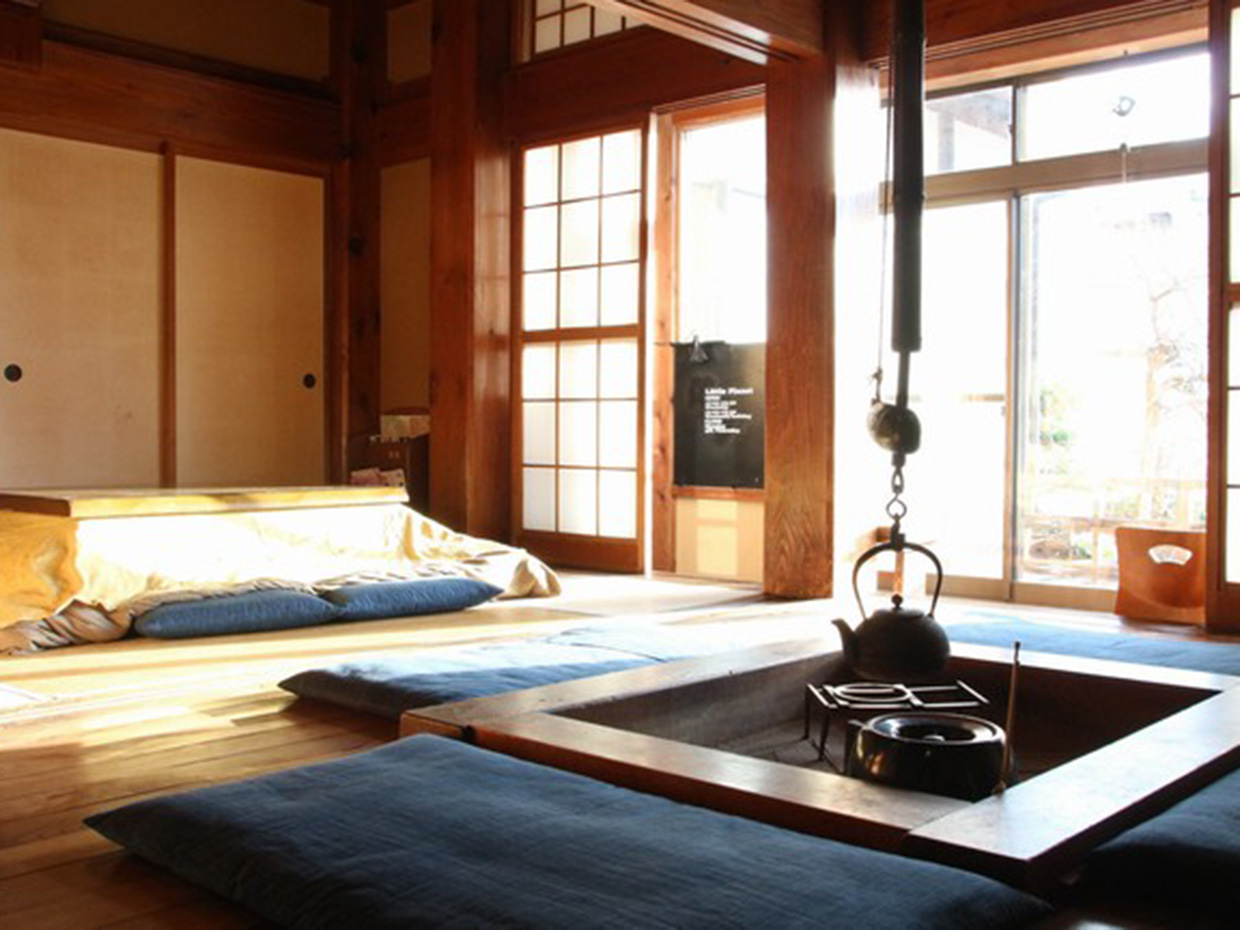 Kamakura Guest House is known for its large irori, located in the rear of the building.
The warm wooden house was built by miyadaiku, a special type of carpenters.
Why not surround yourself around the irori and enjoy the opportunity to meet new people? Why not start the conversation with how your trip is going?Enjoying local fish grilled over the charcoal fire or cooking in the kitchen, is one of the few ways to enjoy your trip here.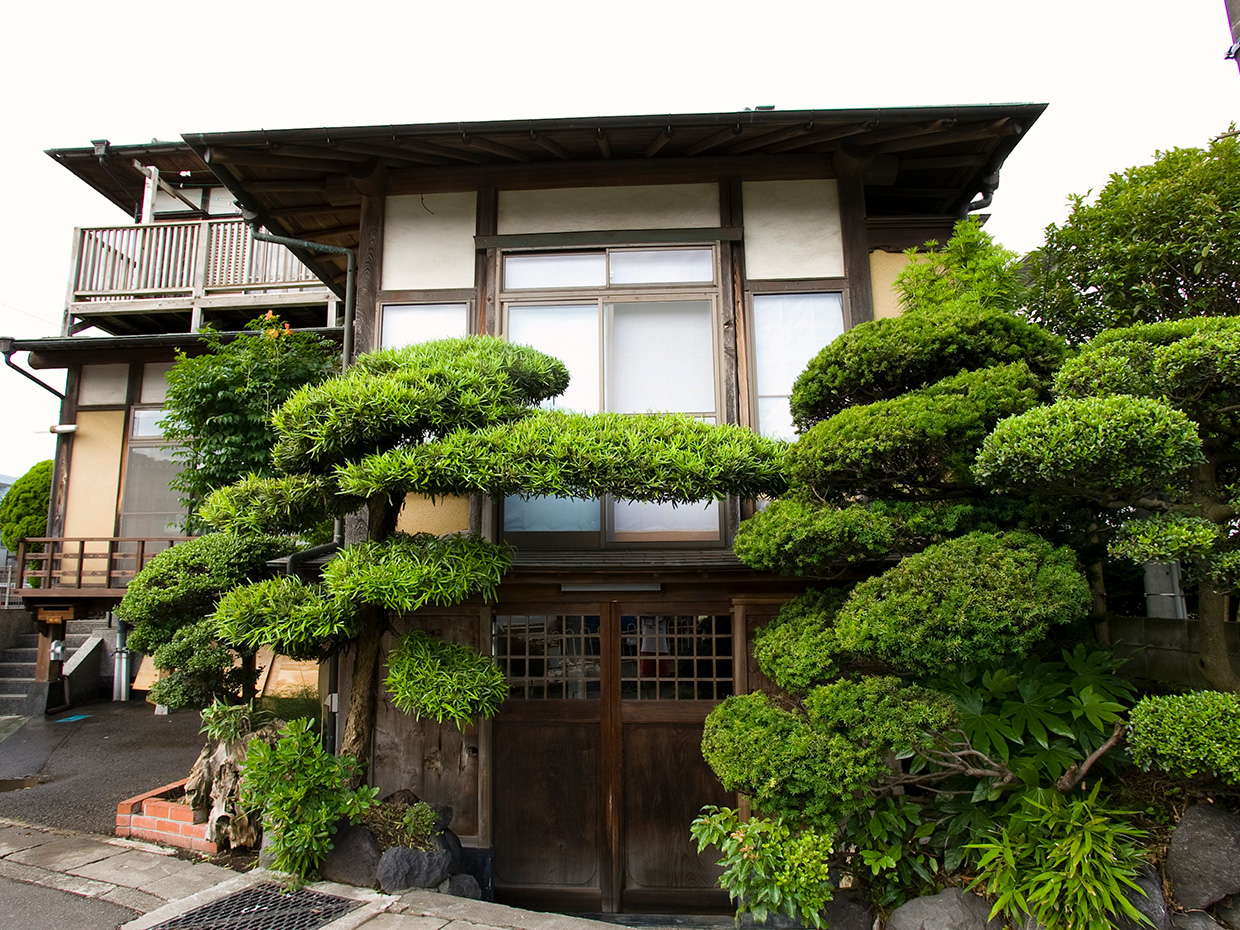 If you walk down the stairs of Kamakura Guest House, you will find a small bar.
The small bar has 10 seats. You can enjoy your alcohol with selected music playing in the back.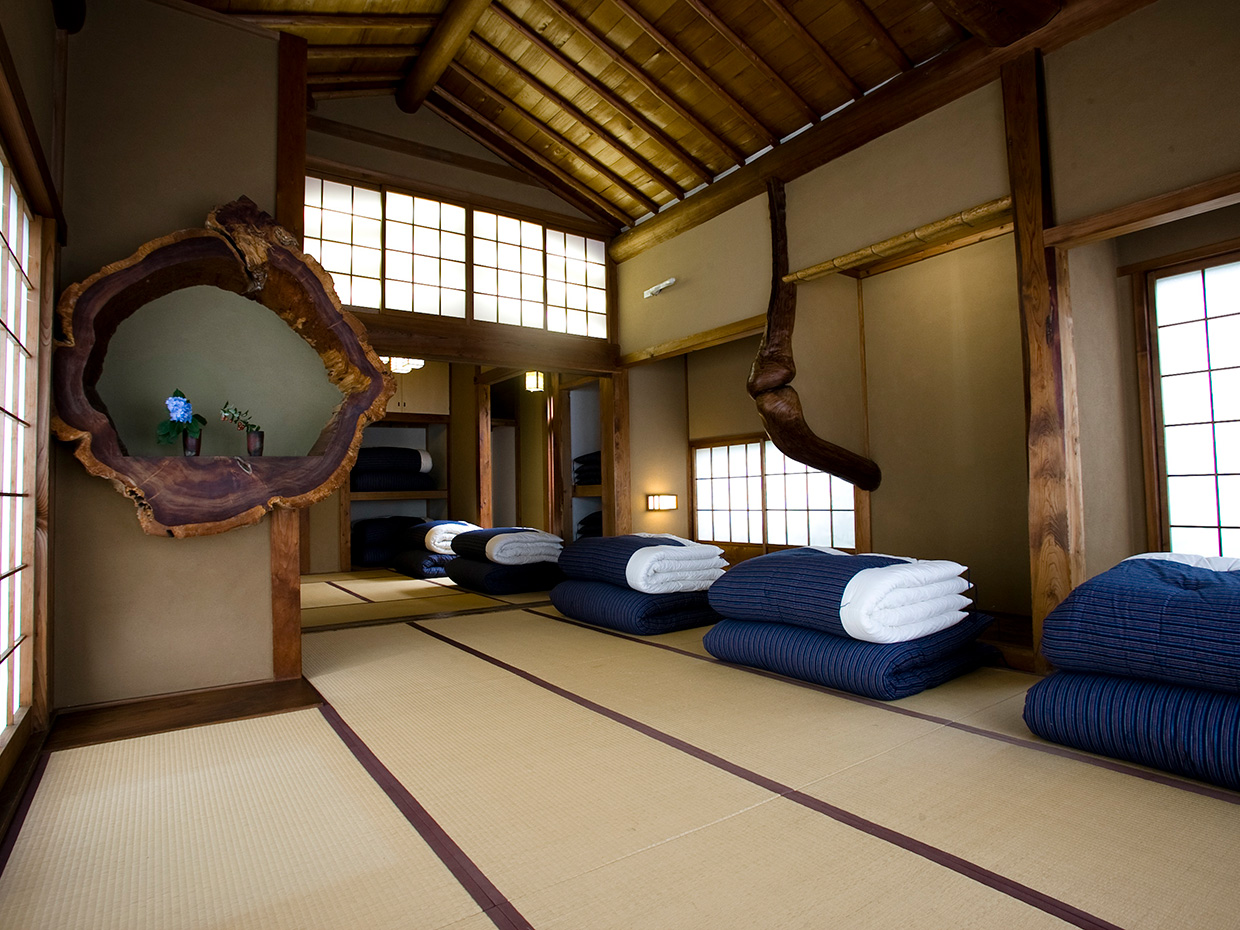 There are three types of guest rooms, male dorm, female dorm, and individual rooms. You can stay at the dorms for 3,500 yen per night.
You can sleep comfortably with the well crafted futon. We guarantee that you can relax with the wooden structure and the nice tatami smell.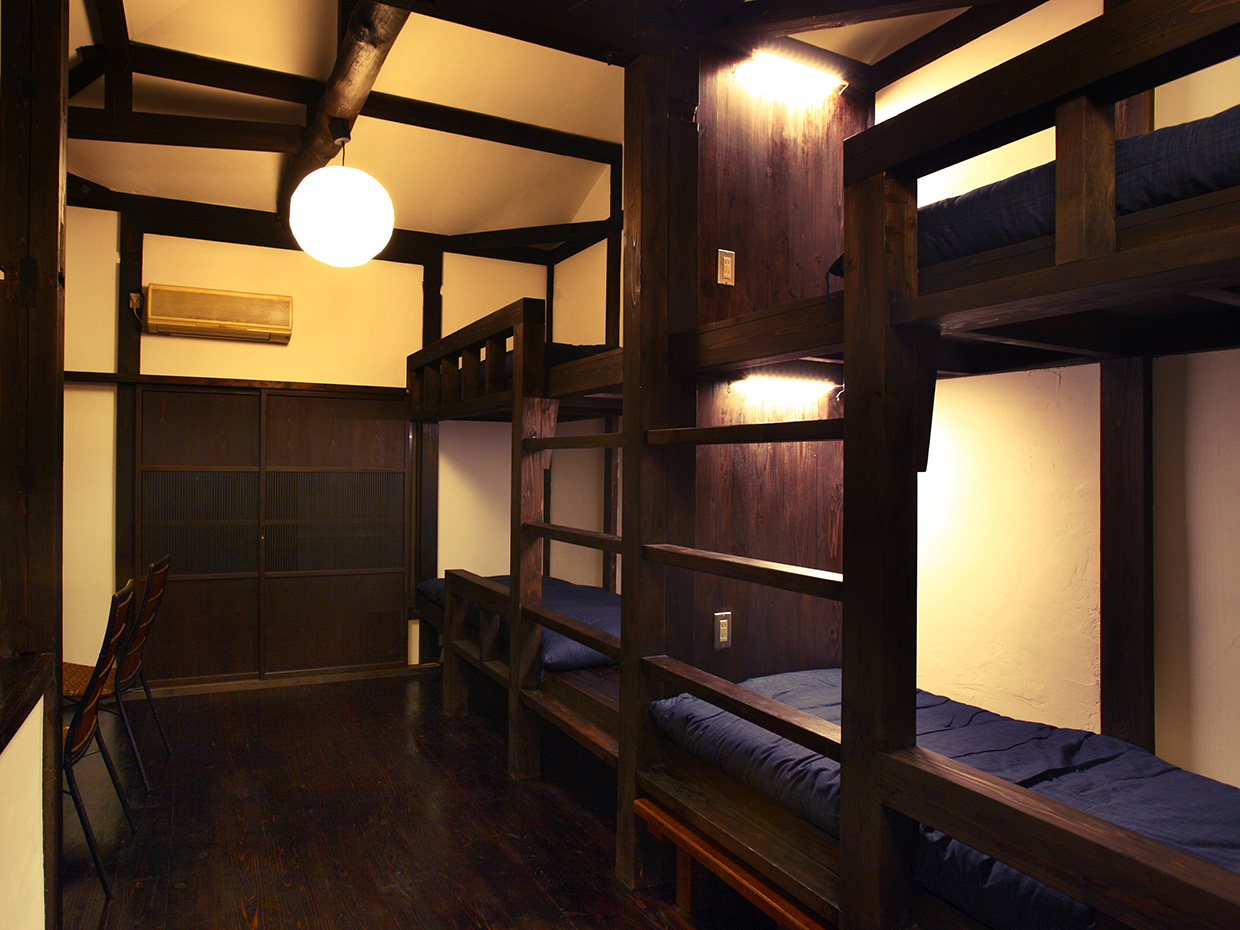 The individual room is a big modern Japanese-style room and can have 4 people staying. The room comes with a big wooden bunk bed. They have a rental bike service, so we recommend cycling around the beach area.
It takes 10 minutes to Great Buddha Statue, 15 minutes to Yuigahama Beach and Kamakura Station, 20 minutes to Kita-Kamakura, and 30 minutes to the Enoshima and Zushi area.
Bike rental starts from 800 yen per day. They have 10 bikes and rental service is first come first service basis.
Tokiwa – Kamakura Backpackers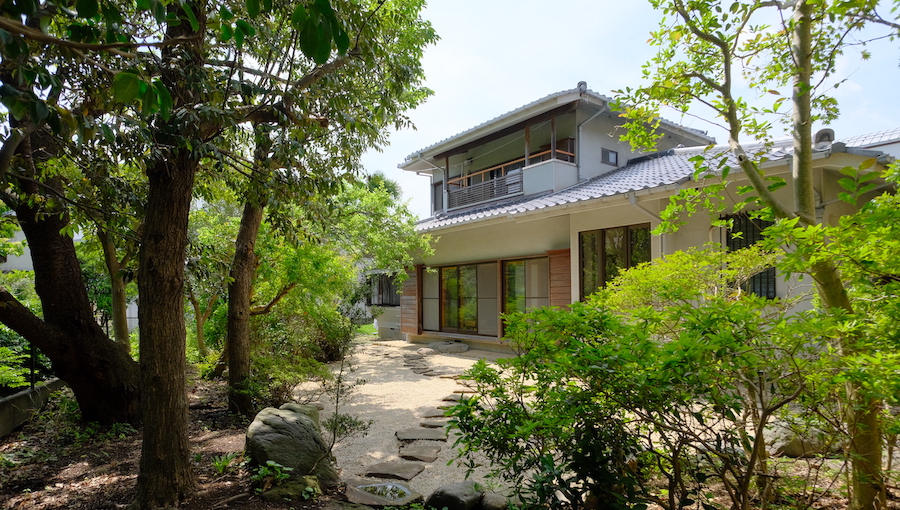 Tokiwa is located in an area that takes 12 minutes from Kamakura Station by bus and 15 minutes from Fujisawa Station. The large Japanese style home gives off a nostalgic vibe.
Tokiwa is known for its well refined and spacious garden. The garden is crafted by recognized Kamakura gardeners. The garden is also set up to light up at night. You can also enjoy a garden barbeque for 3000 yen.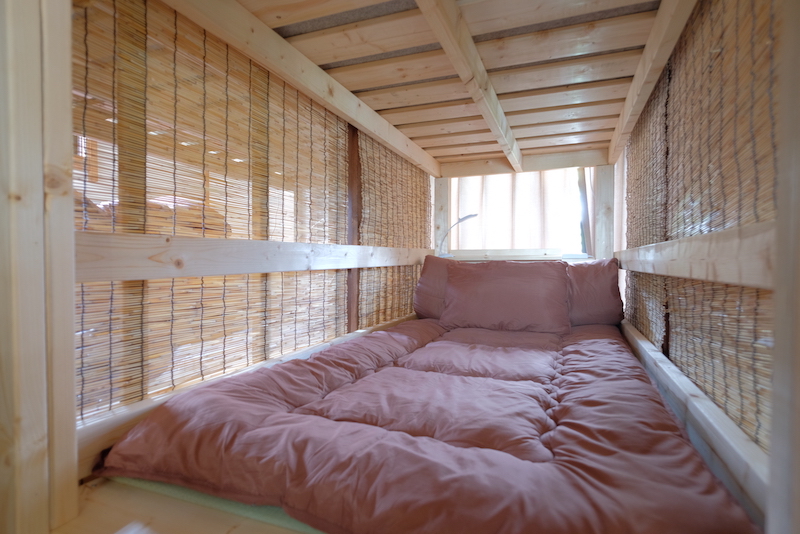 There are three types of room, one that fits four people, one that fits six, and one that fits the first eight. The bedroom comes with a handcraft bed and is covered with an order made tatami.
There is also a reading light and a power supply. The bed can be lowered to create a private Japanese-style space.
They have a Japanese-style room of 314 sq. ft. You can see the Japanese garden from here.
The great thing about this guest home is that they have a kitchen filled with different cooking spices, refrigerator, dryer, and toiletry for free of charge. For additional cost, they have towel rental service, tooth brush, washing machine, and a dryer.
B&B KAMAKURA
The guest house is a 10-minute walk from the JR Kamakura West Exit along the Shiyakusho Dori. Despite the quietness that comes from locating far from the station, it is a convenient spot to visit different tourist destination such as Tsurugaoka Hachimangu, Benzai Araiten, Great Buddah Statue, etc.
The interior and exterior are fashionable. The guest house has free wifi and a community lounge and garden.
There are 7 rooms for 2 persons in one room. Shampoo, conditioner, slippers, kitchen, microwave, refrigerator, dishes, electric kettle, hair dryer, etc. can be used freely. Also, bath towels, toothbrushes, shower caps, cotton swabs, cotton wool, and a washing machine are available as paid amenities for 50 yen and up.
There are 7 rooms for 2 persons in one room. Shampoo, conditioner, slippers, kitchen, microwave, refrigerator, dishes, electric kettle, hair dryer, etc. can be used freely. Also, bath towels, toothbrushes, shower caps, cotton swabs, cotton wool, and a washing machine are available as paid amenities for 50 yen and up.
Find A Guest Home That Fits Your Traveling Needs
Despite being the same guest home, there are various different kinds to it.
We recommend that you think about why you want to stay at a guest home, such as those who want to save money, those who want to meet new or international people, or just spend time away from busy life.
We hope you can find a guest home that fits you and have a fun time.
writer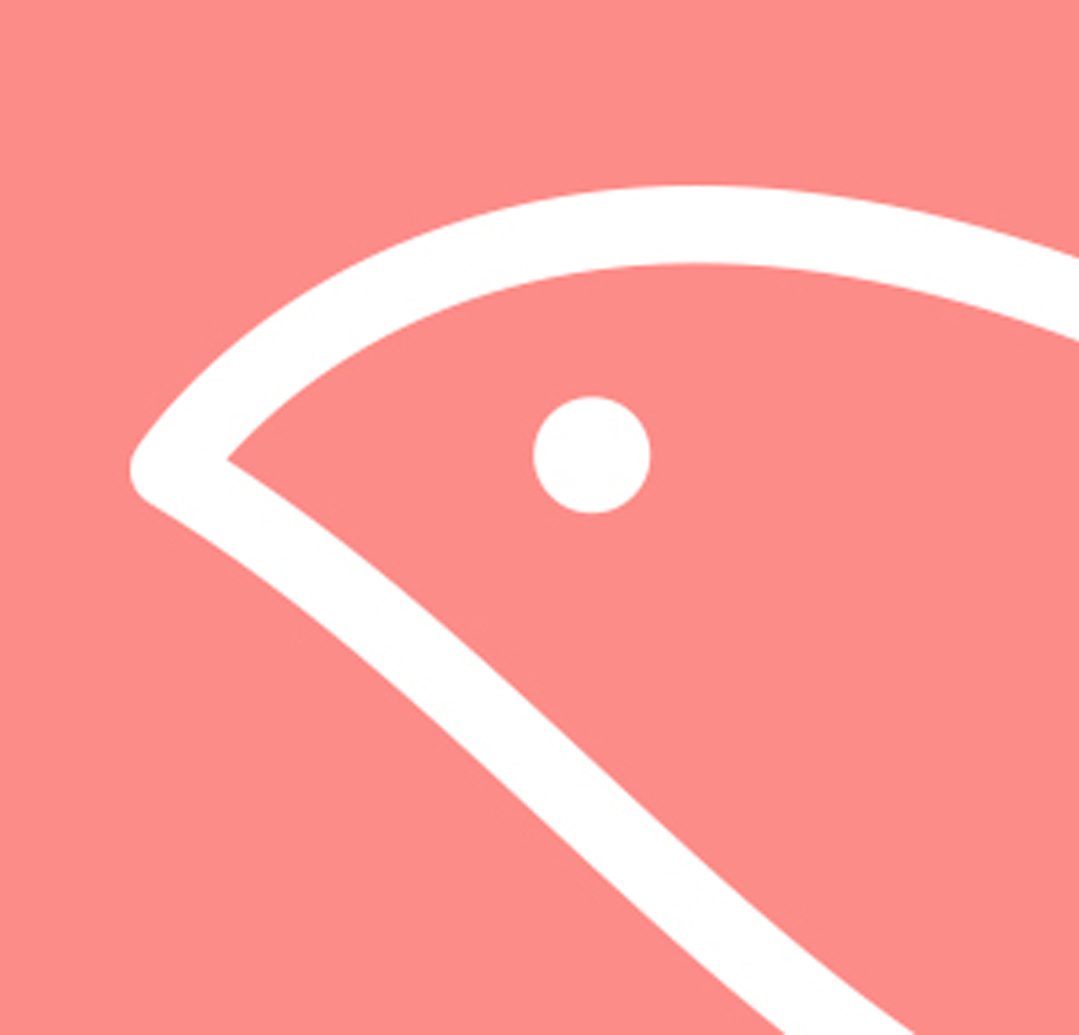 Buzz Trip Kamakura is an information site about Kamakura based on the concept of "spreading the joy and beauty of Kamakura to people in Japan and around the world. It is operated by BEEP Corporation, a web consulting company in Kamakura.
Our goal is to help not only tourists from Japan and abroad, but also all visitors to Kamakura to make their time and experience in Kamakura even more wonderful, and we hope that you will become a fan of Kamakura. We hope to make Kamakura a favorite among all visitors to Japan.
For more information about BEEP Corporation.