Trending on Social Media! The Large Buddha Statue Cookies that are Always Smiling at KANNON COFFEE Kamakura
KANNON COFFEE is a Osu, Nagoya-based coffee stand. The Kamakura store opened in Hase in 2017.
The Kamakura store was opened as a local cafe near Hase-dera in March 2017. Since the building of the café was originally built as a kimono shop with a great traditional Kamakura-esque interior, you can still enjoy the atmosphere of the kimono shop and it is easy to drop by.The coffee comes from the Kyowa Coffee, based in Nagoya. The café serves espresso and original coffee blends alongside perfectly matched homemade baked goods.
Their specialty, of course, is their crêpes, which can be topped with a cookie shaped like a Buddha statue, similar to the Great Buddha at Kotoku-in. It comes in two flavors depending on the season. The crêpe itself is chewy and it's full of seasonal fruit and cream. With its generous size, it's the perfect treat for taking a break from sightseeing around Kamakura.
The Buddha cookie peeking out from the crêpe is unspeakably cute!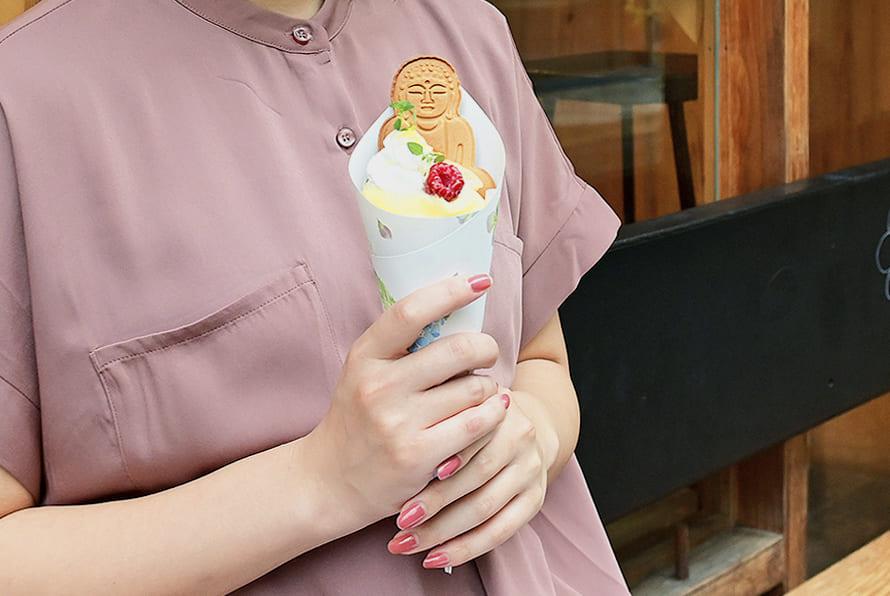 The Buddha cookie can be added to a crêpe for an additional 120 yen. The artwork in both the indoor eating space and the benches outside make for the perfect spot to take uploadable pictures. You should definitely have a crêpe and post it on Instagram! Since the cookies are sold separately, they would also be a great omiyage souvenir.
KANNON COFFEE KAMAKURA