Kamakura Is Overfilled With Curry Choices! Introducing 20 Different Curry Spots and Tourist Spots
Kamakura is known for its tourist destination and great delicacies. However, did you know Kamakura is filled with great curry stores?
Currently, Kamakura is one of the cities participating in the curry battle. Here, we will introduce the different curry areas and the tourist spots near them.
~Kamakura Station and Kanazawa Kaido Area~
"Caraway" – Kamakura's Classic Restaurant, Popular For Its Old Style Curry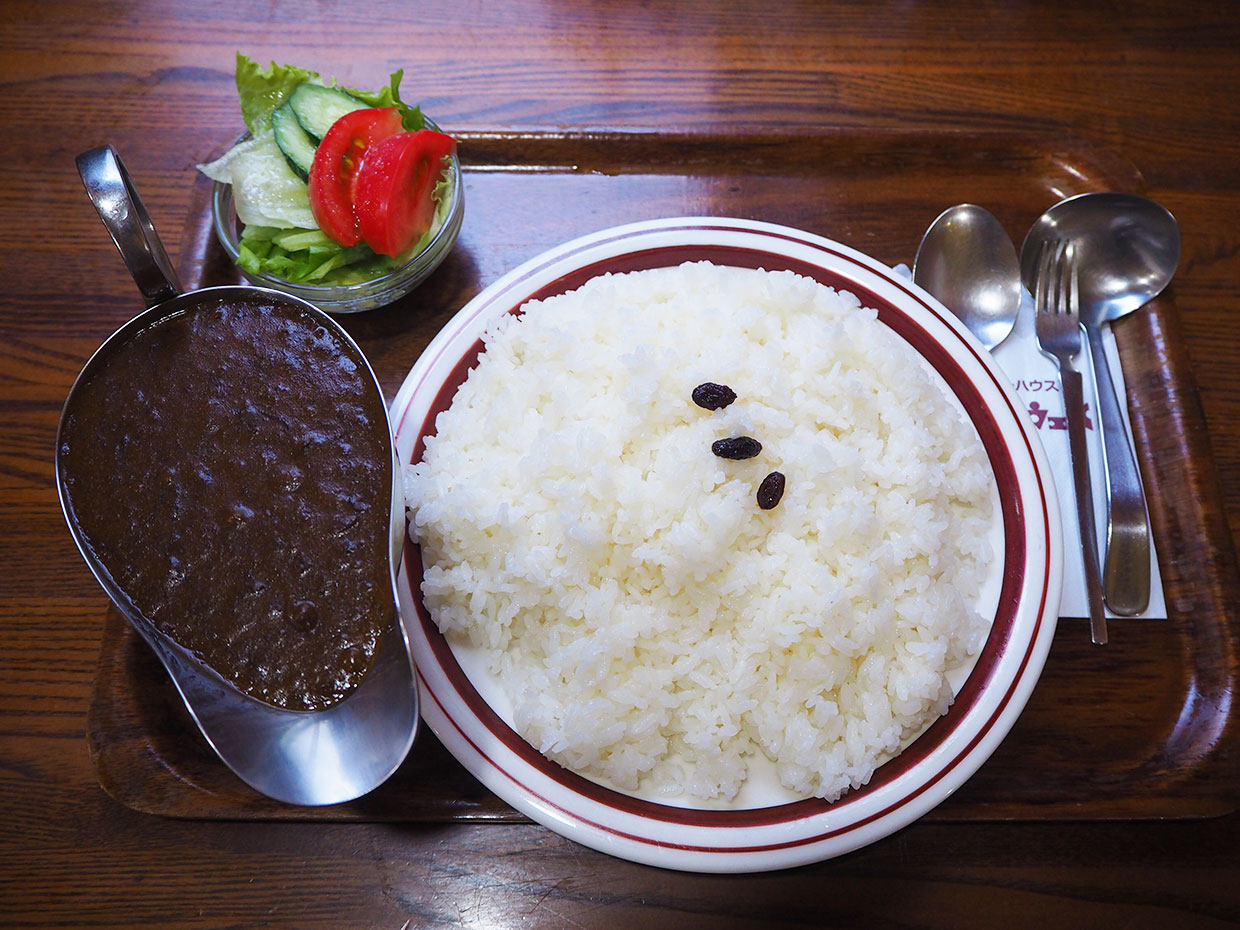 When you ask a Kamakura local for a curry shop, they will most likely respond with "Caraway." Go through Komachi Street and follow the curry scent filling the small street by Wakamiya Oji. If you see a long line of people, it is probably for Caraway. Caraway opened in 1977 and is loved by the locals and curry fanatics. There will always be a long line during lunch. You will feel great nostalgia for its retro exterior and classic cafe interior.
The slowly simmered European-style curry served here is full of the flavor of vegetables and meat and has a rich taste. The taste of the curry is definitely worth the long line wait.
Additionally, the popularity also comes from its great proportion but reasonable cost.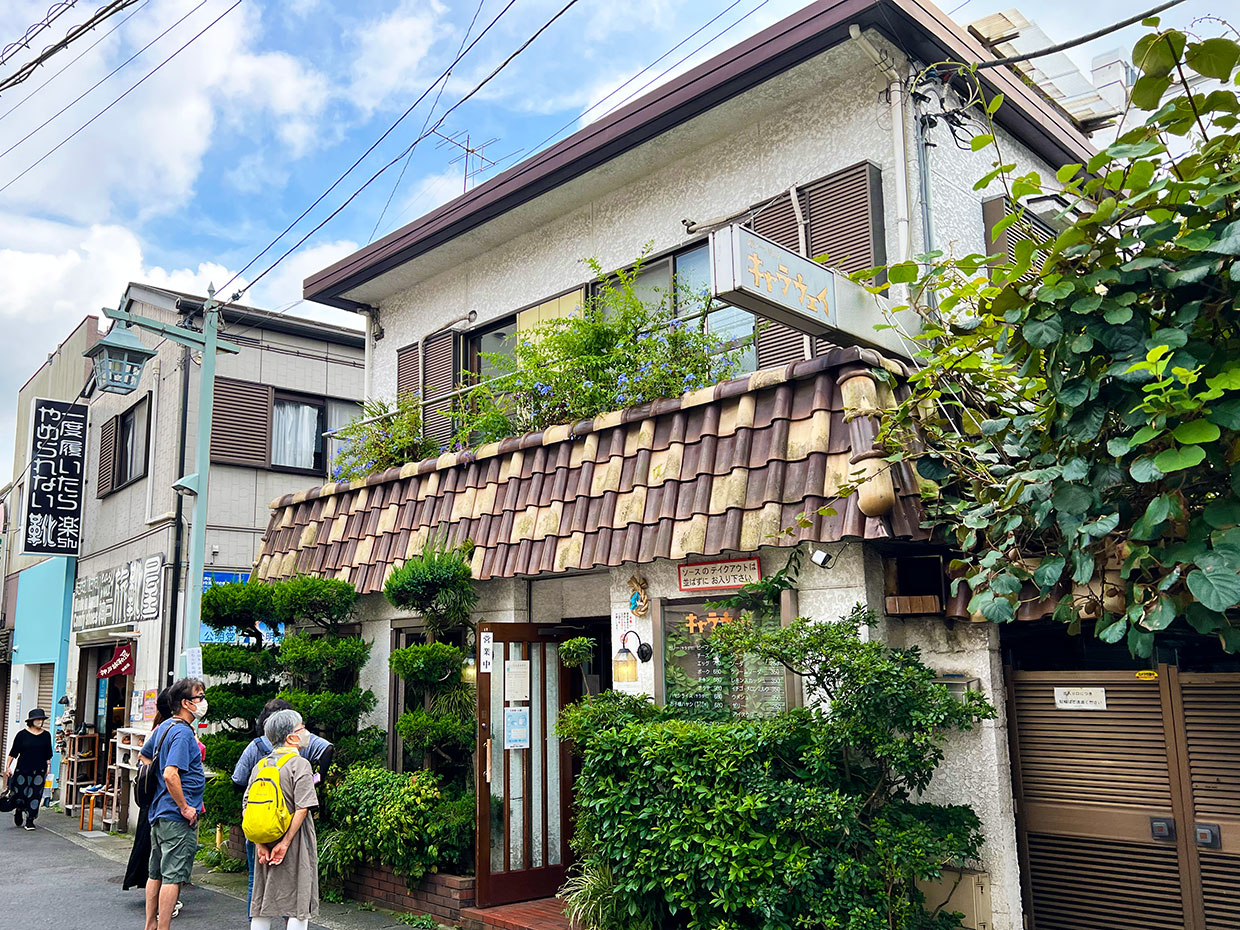 The menu here is simple. They have classic curries like beef, cheese, egg, pork, chicken, and the most popular, scallop. They also have hayashi rice. They also have four kinds of fukujintsuke (pickles) to choose from.
Furthermore, they also have a takeout option. Their regular portions are big for small eaters. Thus, we recommend asking for small scoops of rice. For those interested in large size of curry, we recommend visiting Caraway.
Enjoy A Delicious Soup Curry At Kamakura – "Rojiura Curry Samurai"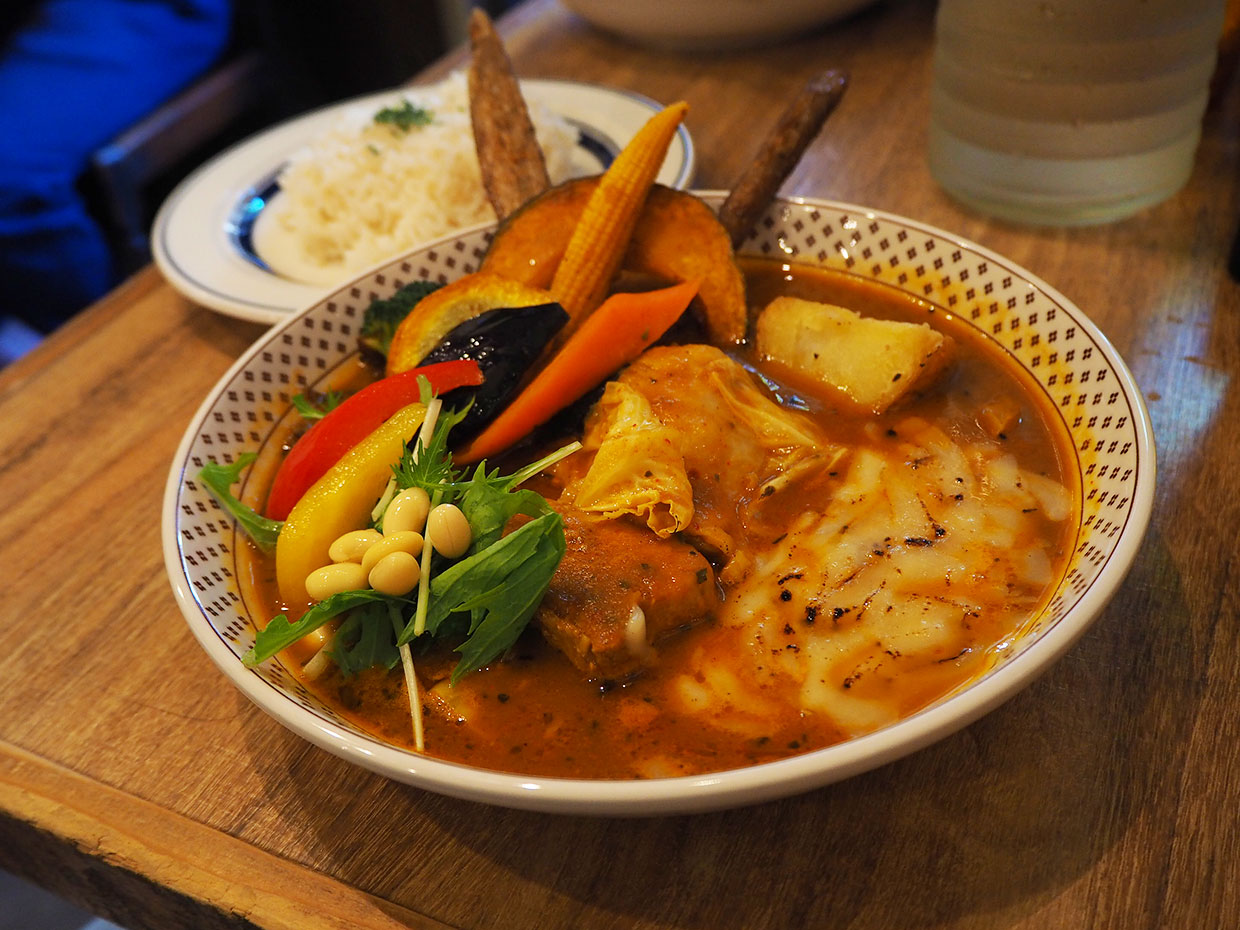 At "Rojiura Curry SAMURAI," you can enjoy a curry soup great for the body. The curry soup served here was simmered for two days with plenty of vegetables, chicken broth, pork broth, dried bonito flakes, and fish broth. They also do not use any artificial ingredients, flour, or oil.
The Kamakura store is the only one in Kanagawa prefecture. At this store, they use vegetables made locally at Kamakura.。
Walk along Komachi Street toward Tsurugaoka Hachimangu Shrine, and when you see "Kamakura Mameya Komachi Dori Store," turn left, and you will see an old private house, which is "Rojiura Curry SAMURAI. The store is a renovated old private house with a stylish wood-grain atmosphere. It is the only restaurant in Kamakura specializing in soup curry.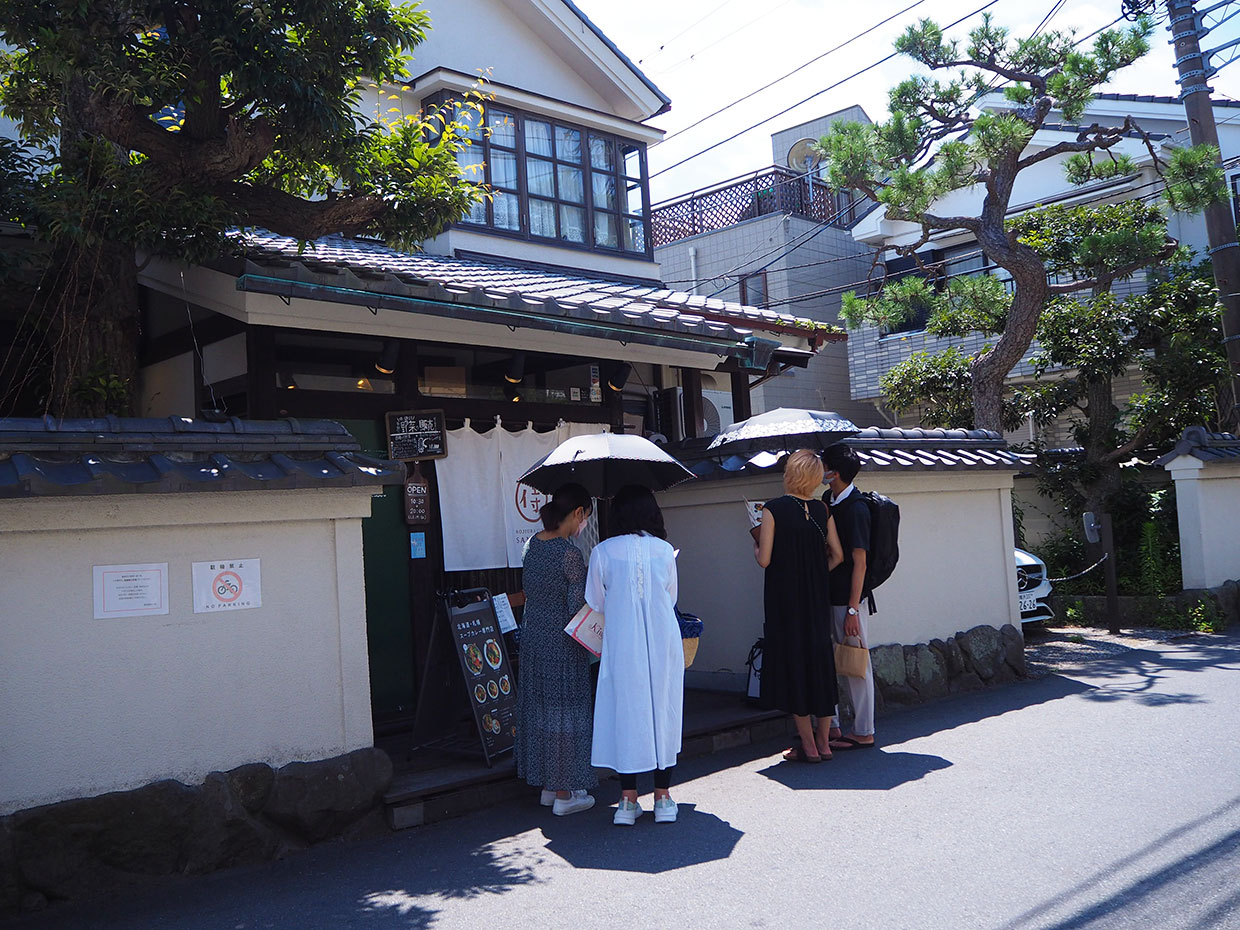 The curry is made on an order basis. Therefore, you can fully enjoy the vegetable's flavor. You can choose the base of your curry soup. The choices include regular, mild, coconut, and mild coconut. Additionally, you have 10 levels of spiciness to choose from.
Enjoy Specially Fermented Curry Oku-Kamakura Orize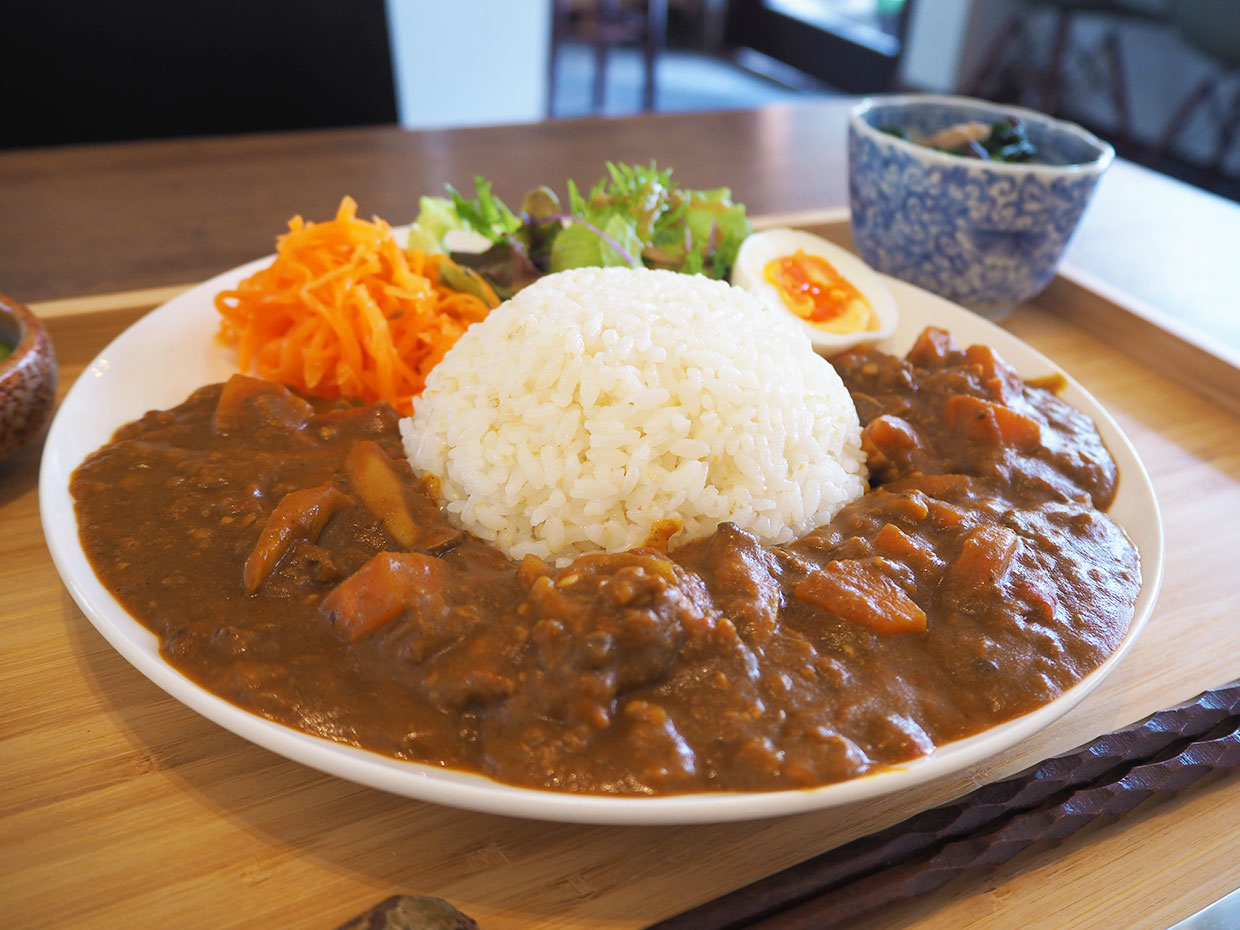 The idea of "Oku Kamakura Orize" came from creating a store where a person can enjoy lunch and amazake during the day and enjoy appetizers and alcohol at the night. Their concept is, "a store when you can enjoy fermented food and moss, and a cafe where you can enjoy sake and wine."
Oku Kamakura Orize is located near Egara Tenjinja Shrine in Nikaido, on Kanazawa Kaido Road from Tsurugaoka Hachimangu Shrine.
It is a restaurant where you can enjoy various events such as an art exhibition and a hands-on experience of making miso, while having a healthy meal.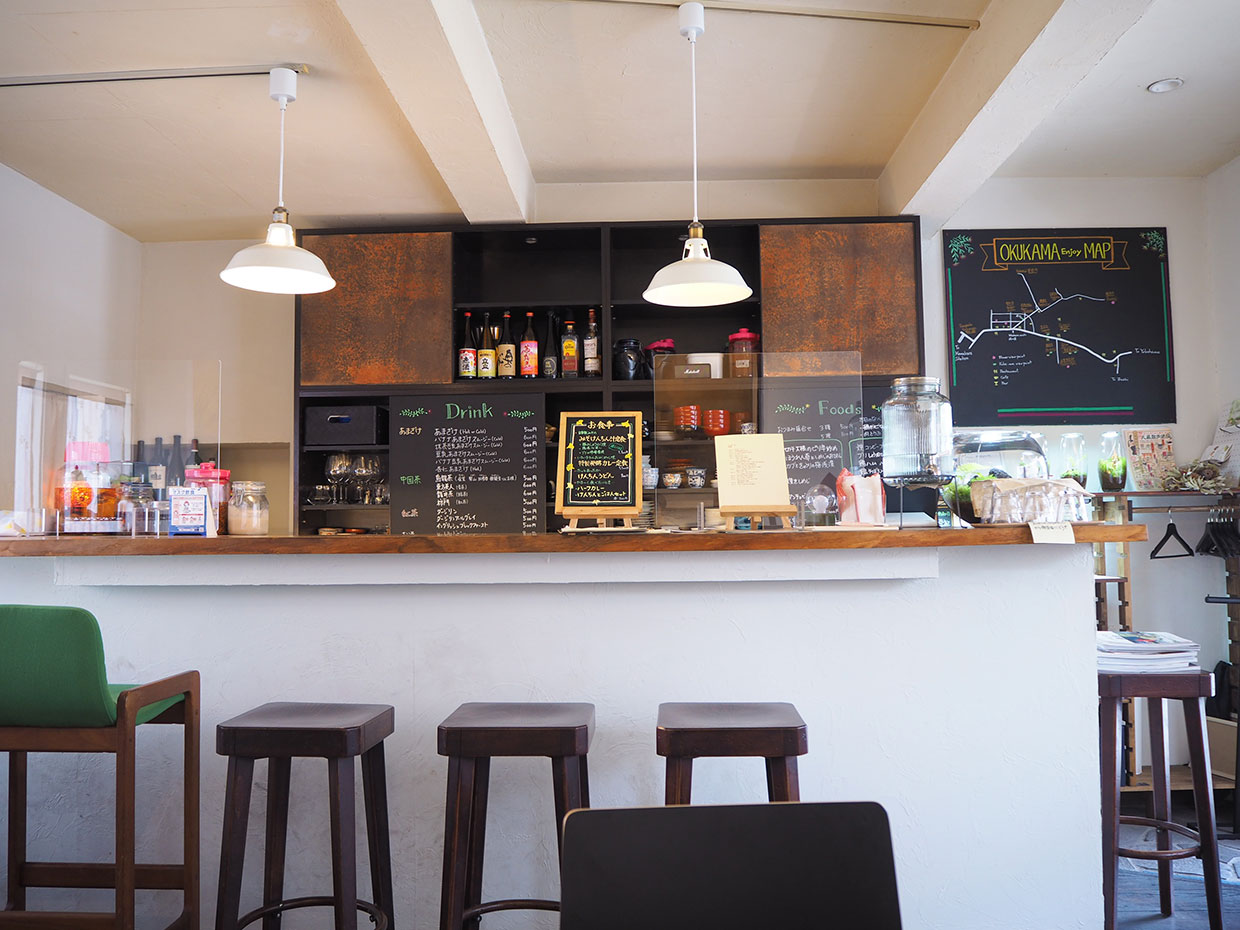 In recent years, the attention to fermented food has increased because of its health benefits. The food sold here will ignite your interest in health and beauty.
The interior of the restaurant conveys the owner's wish that the body be regulated from the inside with fermentation and that healing be brought in through the eyes with the greenery of the moss.
The area is decorated with moss creating a healing atmosphere. Located in the center of the shrines and temples of Oku Kamakura, please stop by if you are a little far from Kamakura Station and visit the shrines. Why not try a heart-warming curry and boost your immune system while being healed by the moss?
Popular For Its Ethnic Style Curry – Oxymoron Komachi
When you walk down Komachi Street toward Tsurugaoka Hachimangu Shrine, you will see a line for Oxymoron, a curry shop at Kamakura popular for its ethnic style curry.
There are lines even before the opening of the restaurant. Their go-to choice is ethnic soboro (ground beef) curry. This is perfect for ethnic food lovers.
Furthermore, you can also enjoy dry curry filled with fragrant aromatic vegetables or "Sri Lankan-style mutton curry," which is rare in Kamakura.
They also have "Japanese Style Keema Curry" for those that are not fans of ethnic food. The curry is a mild dry curry topped with a thick boiled egg. We guarantee that you will like this.
Every curry comes with a caramelized and spiced walnut. This is a rustic, crispy, and tasty service that anyone will enjoy.
They also sell walnuts in cute bags which will make a perfect souvenir.
Enjoy five different kinds of curry, sweet and tasty drinks at Oxymoron, which emphasizes the importance of care, such as curry prepared in a small pot one dish at a time and coffee dripped and brewed one cup at a time.
The Fancy Spice Curry – "Curry Lemon"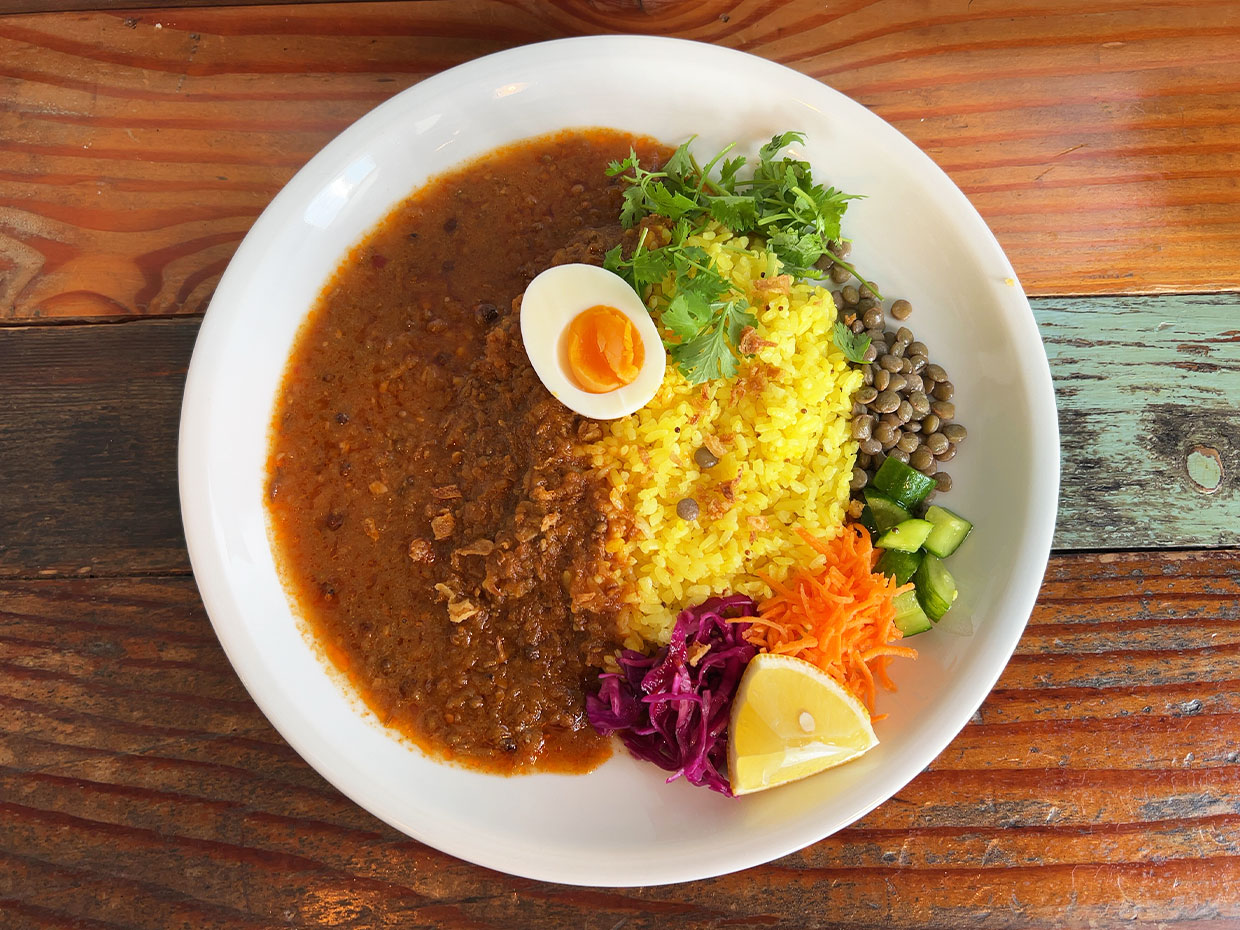 Leave Kamakura Station East Gates and turn right at the Tokyu Store towards Yuigahama, then you will see a shop named "Lemon," located on the second floor of the left building.
They have a bar counter filled with a fancy atmosphere. They serve curry during the day, and they also work as a wine bar known as "Rendez-Vous des Amis." Here you can have a curry filled with pickled rappe of carrots, purple cabbage, etc.
They have classic curries such as spicy chicken curry and rare curries such as "Shirasu Hanasansho Curry."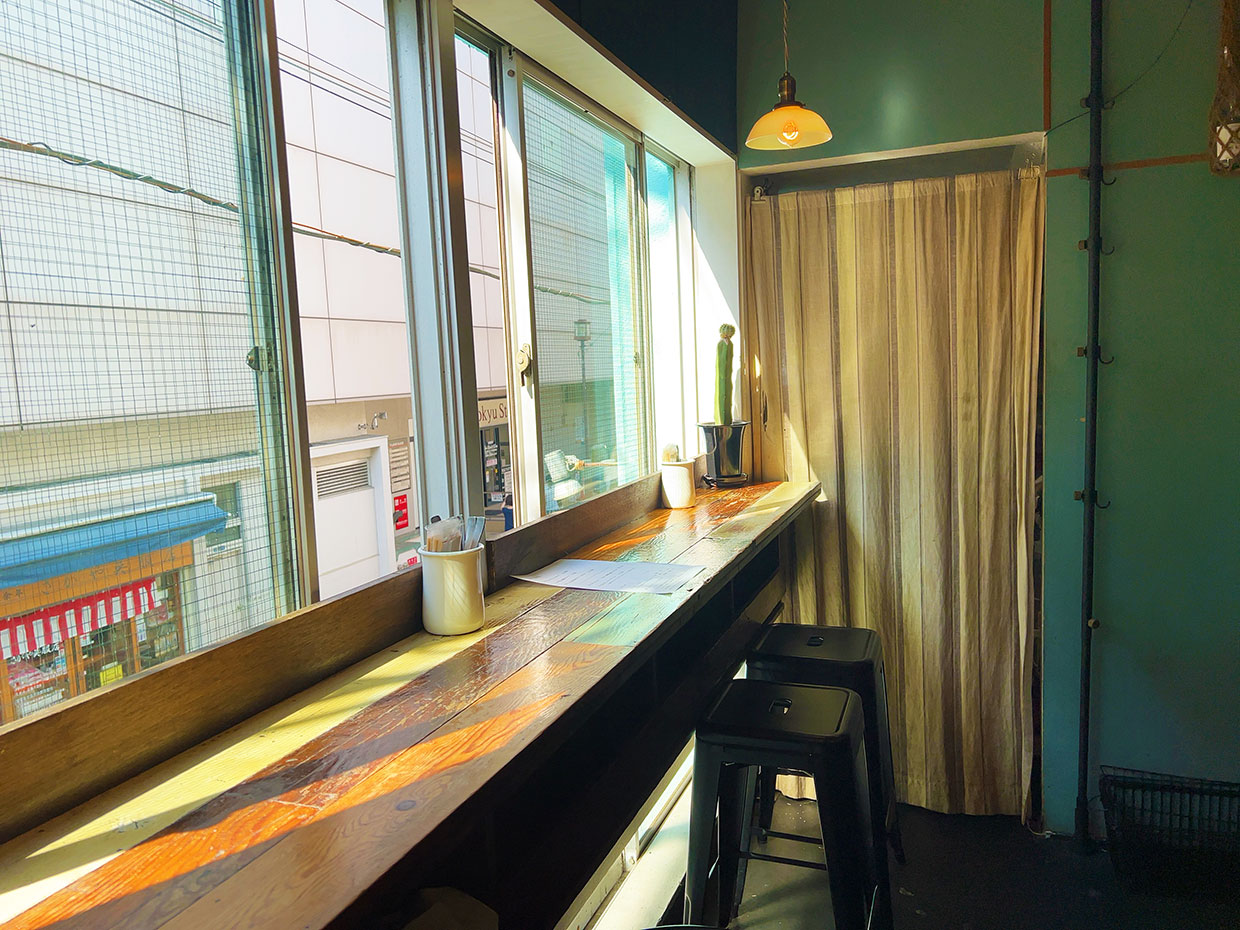 Their signature menu is their "two type curry." They have two choices that change on a bi-weekly basis. We recommend it for those who like change. Despite the spices used in it, the curry served here is not spicy. Their citrus-based curry is something that you cannot try anywhere else.
You will also enjoy a lassi filled with grated lemon.
The curry is beautifully color-coordinated making it Instagram-worthy. You can have the curry for lunch or enjoy it as a finale after your alcohol at the bar.
Recommended Tourist Destination In Kamakura and Kanazawa Kaido Area
The go-to tourist spot near Kamakura Station is "Tsurugaoka Hachimangu Shrine," which is famous as a shrine associated with Minamoto no Yoritomo, the first shogun of Kamakura.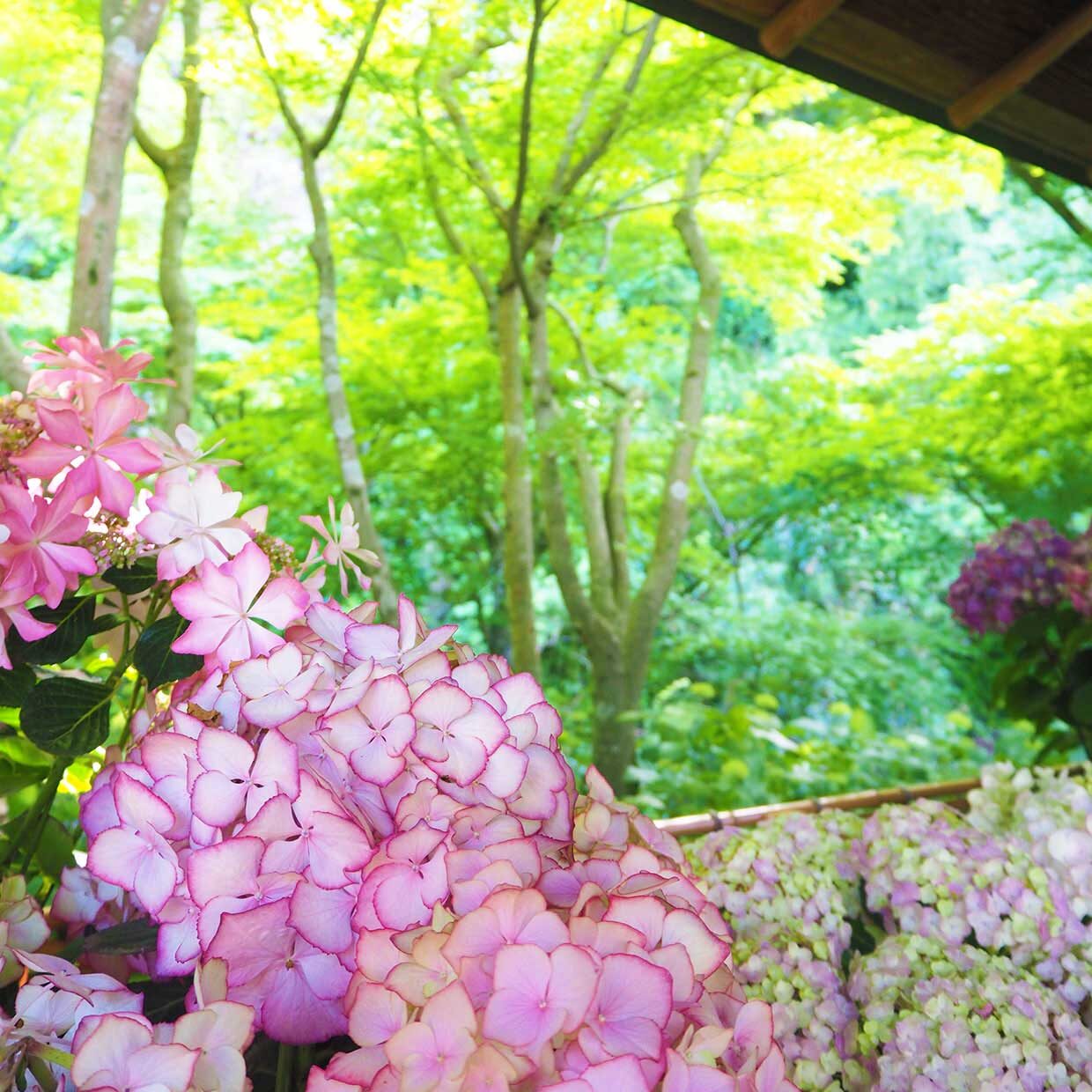 If you continue on Kanazawa Kaido Road, where Okukamakura Orize is located, you will find "Egara Tenjinsha Shrine" dedicated to Sugawara Michizane, the god of learning, "Houkokuji Temple" famous for its bamboo grove, "Ichijo Ekan Sanso," a historical building designated as a national important cultural property that was built approximately 370 years ago in the early Edo period and was a villa of the royal family, "Jomyouji Temple" ranked fifth among the five mountains in Kamakura, and so forth. The area is also home to "Jomyoji Temple," the fifth largest temple in Kamakura.
It is also good to take a walk a short distance away from Kamakura Station while feeling the seasons, such as the seasonal flowers.
~Yuigahama Main Street Area~
A curry shop here you will feel nostalgia – "woof curry"
"Woof Curry" is an eye-catching fancy cafe-style restaurant located five minutes away from either Hase Station or Yuigahama Station of the Enoden Line.
Their motto is "making nostalgic curry where you cannot try at home." The owner uses his experience from training at "Mamezou," a popular curry shop located at Kichijōji, Tokyo.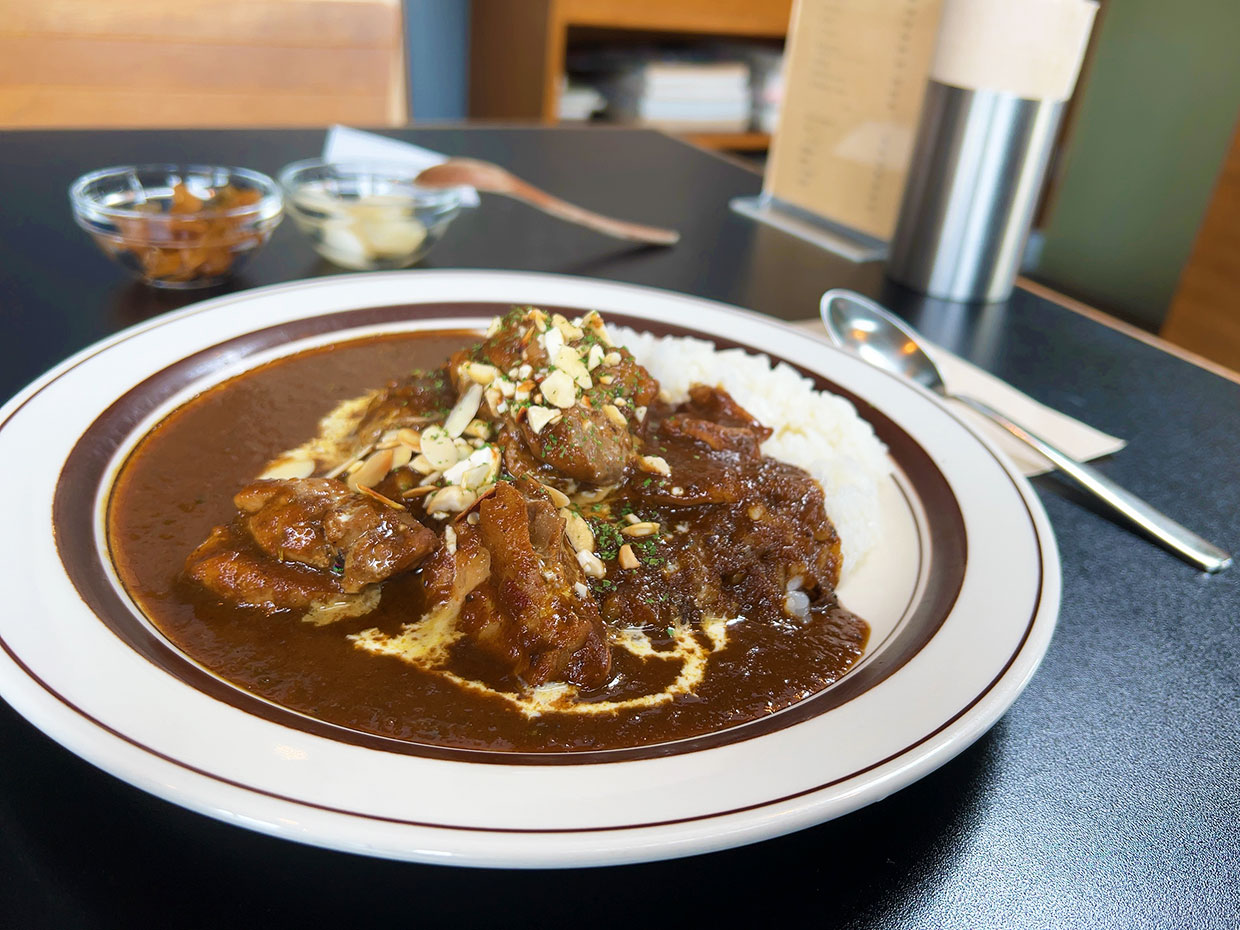 The curry here is simmered for four days and served in a calm cafe-like atmosphere. The mild flavor curry is a guarantee for any children and adults.
Almond slices top the curry creating a fancy appearance. The menu here is simple as the lineup includes chicken, beef, pork, mushroom, and vegetable curry. Woof Curry is loved by the local people. We recommend visiting when you are in the Hase Station area.
The Popular Japanese Style Spice Filled Curry – Kyuyam Kamakura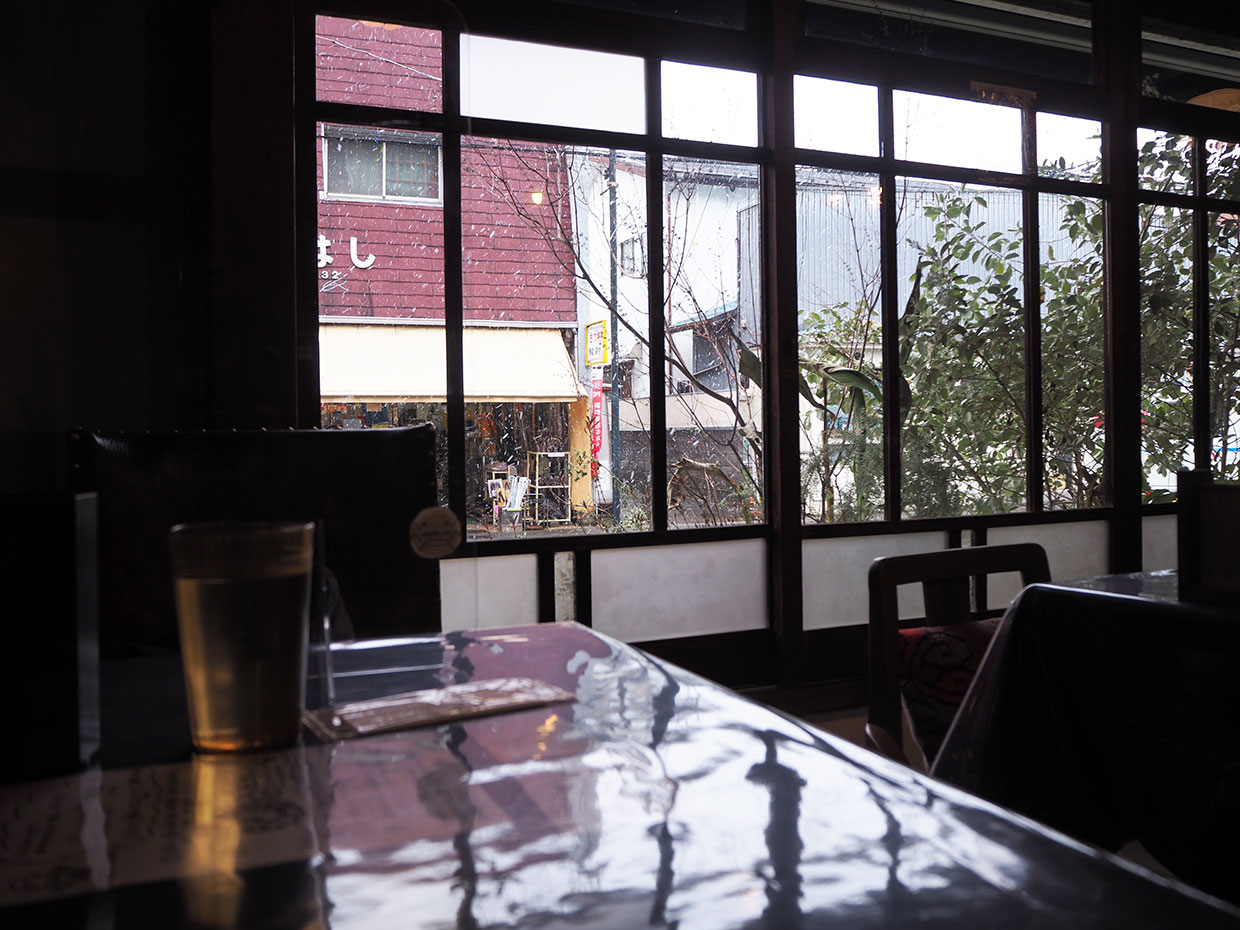 "Kyuyam Kamakura," originating from Osaka opened its stores in Kamakura in July 2021. Head towards Hase Temple from Hase Station and turn right at the intersection by Hase Kannon.
The exterior is surrounded by nature, and the interior is filled with a retro vibe similar to Osaka's Kyu Yamutei.
Once you enter the old home, you are welcomed by the beautiful setup. They have monthly curries that take advantage of the different seasons and also have weekly curries that take advantage of the Kamakura-grown vegetables. You can also choose the plate with your order.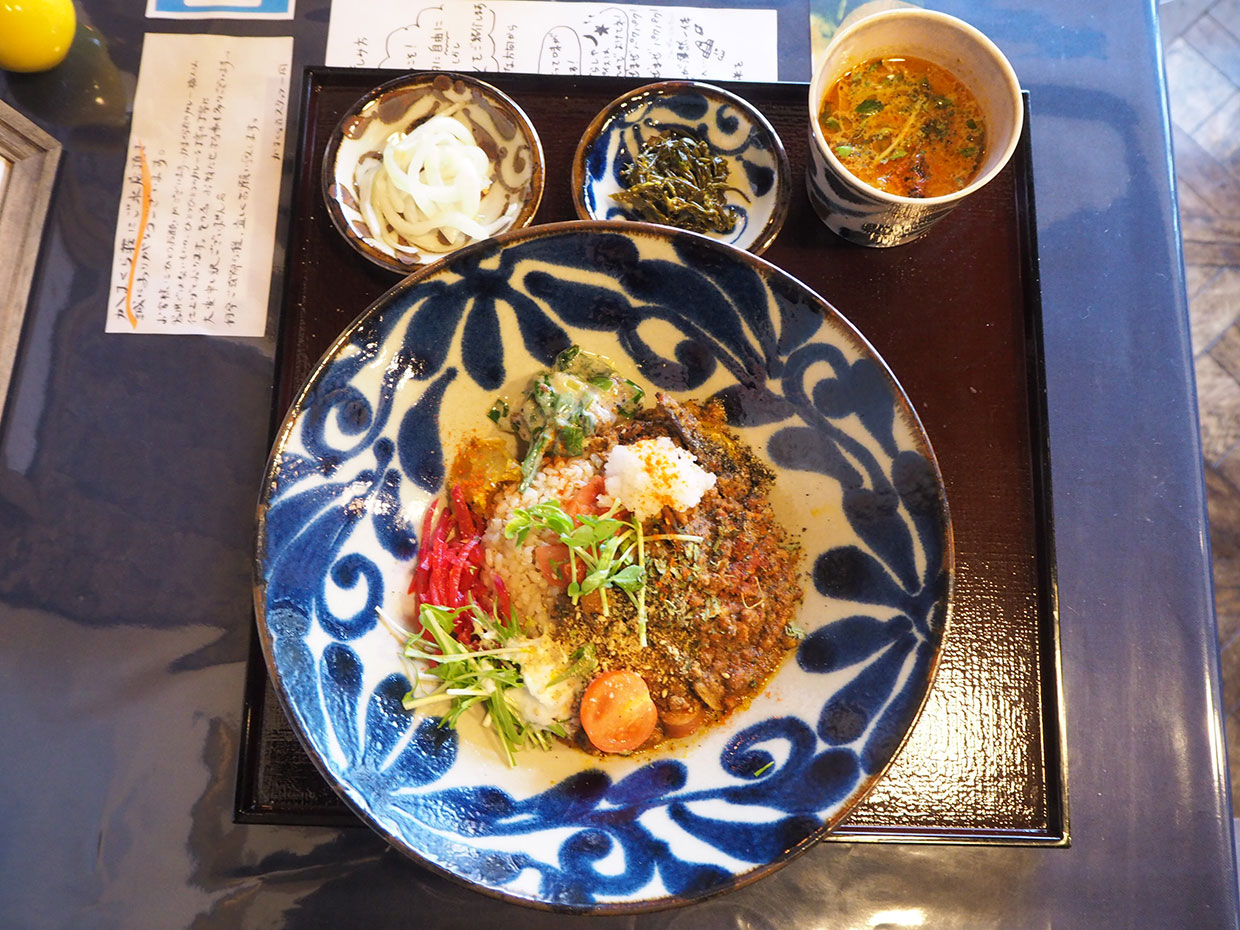 You also have three choices of rice – "white rice," "brown rice," and "basmati rice" (rice common within Indian families).
They also have "Kamaage Shirasu Archard Curry", a topping style unique to Kamakura. The colorful curry is a stylish dish that you will forget that this is a curry.
The spice curry cannot be compared to an average curry. First, we recommend trying the curry as it is. Then, add some toppings or mix it with other curry sauces to enjoy the chemical reaction created by it.
The restaurant's lovely space and colorful atmosphere create an Instagram-worthy moment.
Enjoy Authentic Butter Chicken Curry & Beers From Around The Globe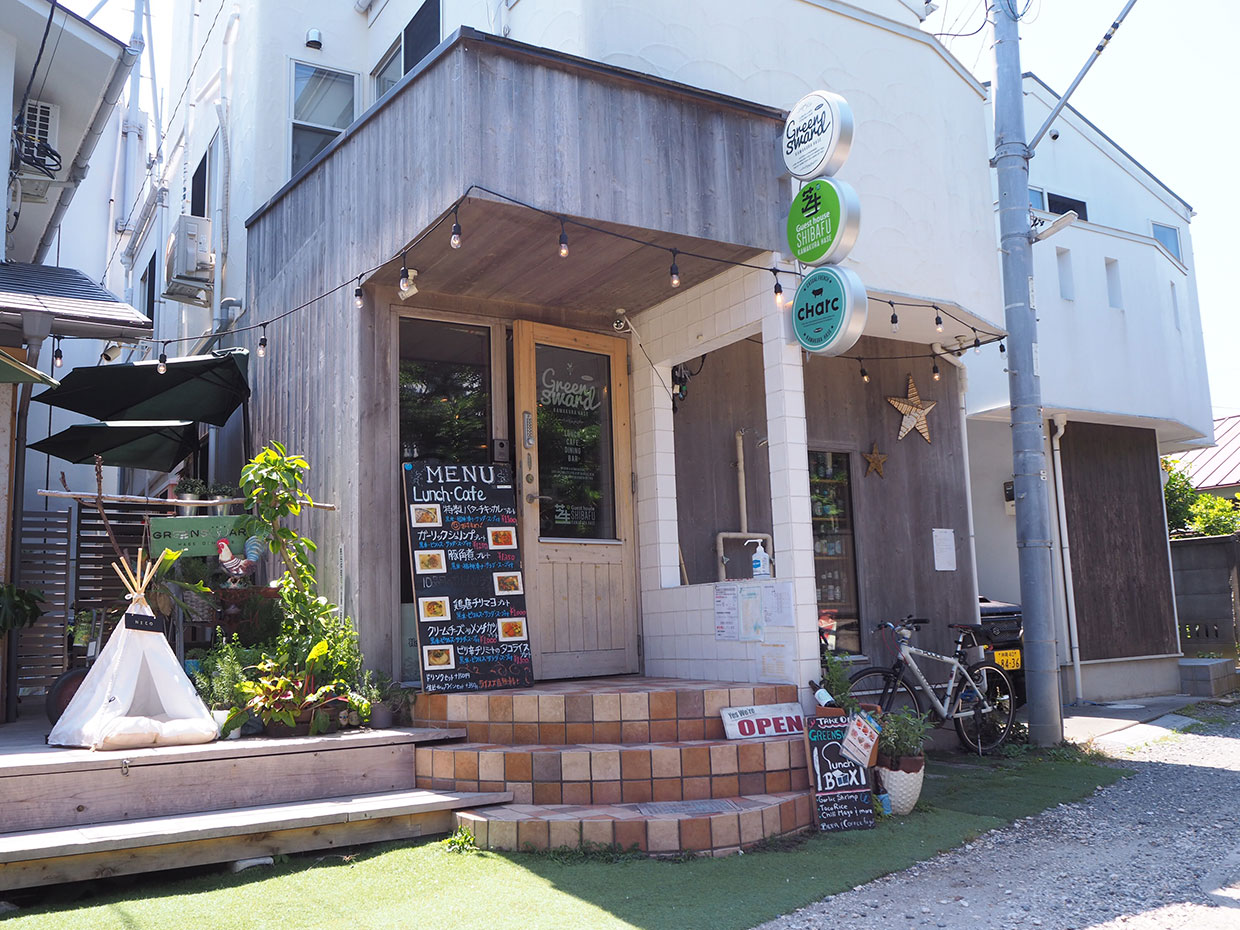 The store is located five minutes away from Hase Station on the rear streets of Hase. "GREEN SWARD" is a shop where you can enjoy a large plate lunch and beers from different countries.
The curry served here is an authentic butter chicken curry using over 15 spices. You can also top the chicken curry with a big fried chicken.
Additionally, you can enjoy other lunches like Kamakura vegetable-filled salad, garlic shrimp, taco rice, pork kakuni, and other lunch plates for a reasonable price.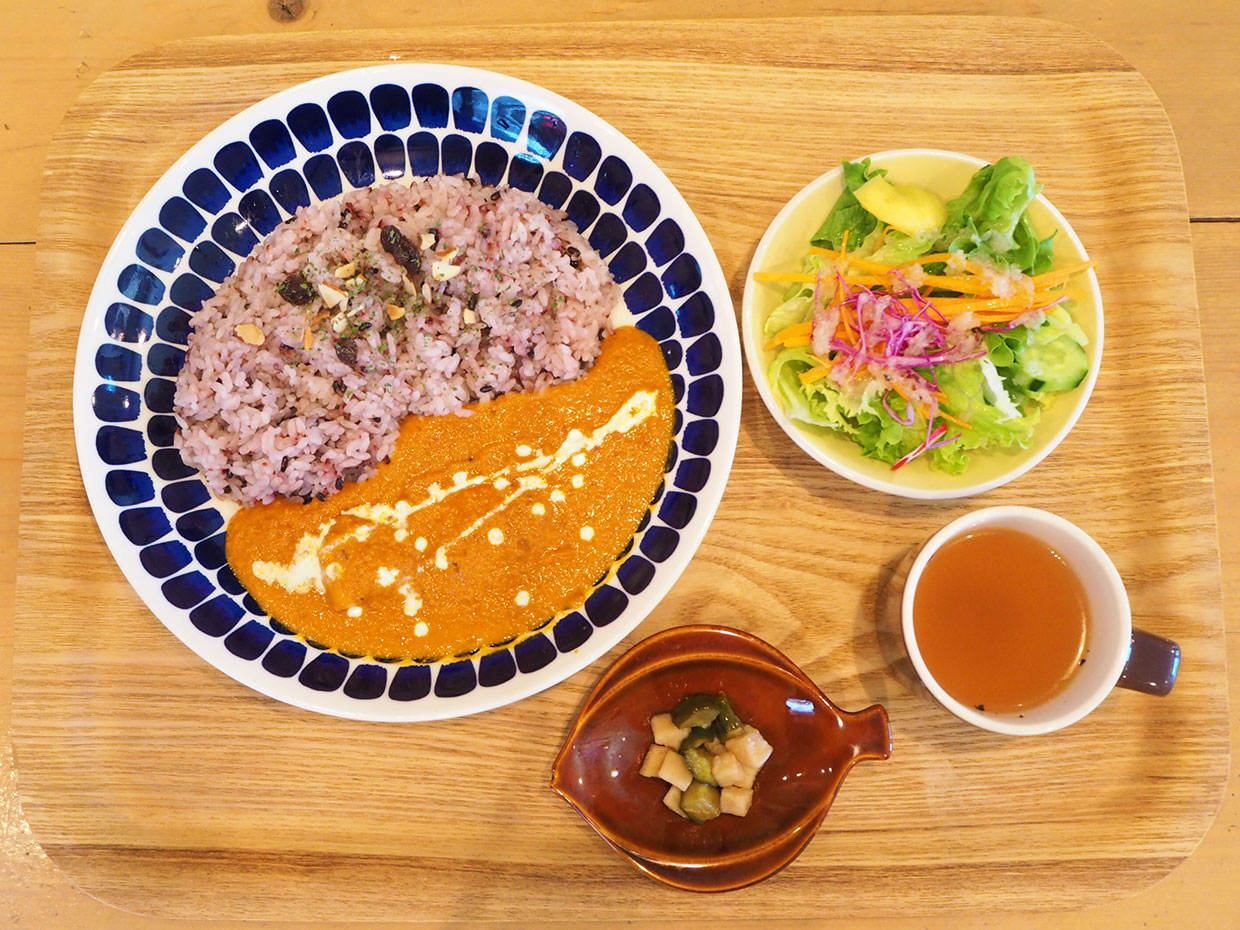 We recommend "GREEN SWARD," if you desire a large hearty-size butter chicken curry plate in a calm atmosphere.
We also recommend it if you want to enjoy beers from around the globe with your curry.
"Zushi Curry" – A Original Spice Curry Based From Northern Indian Curry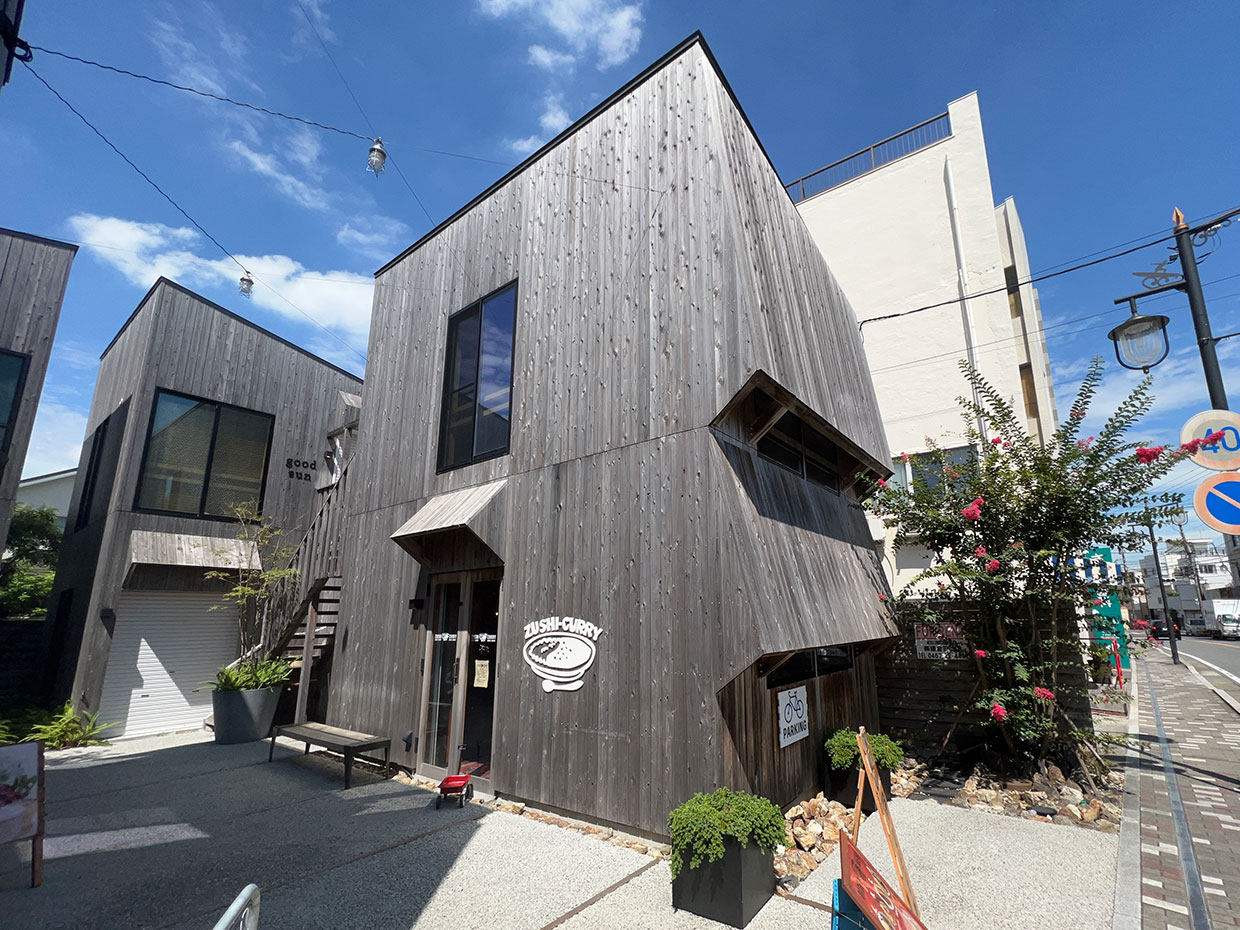 ZUSHI-CURRY is a curry specialty store located on Yuigahama Street, five minutes away from Enoden's Yuigahama Station. The spicy curry served here is based from the Northern Indian Style and was modified for Japanese tastes.
The restaurant is located in one of a complex of four buildings with a stylish modern wooden exterior, but once inside, the atmosphere is very relaxing.
With the concept of, "enjoying delicious curry with calm music," the inside is filled with background music that blends well with both Kamakura and the curry.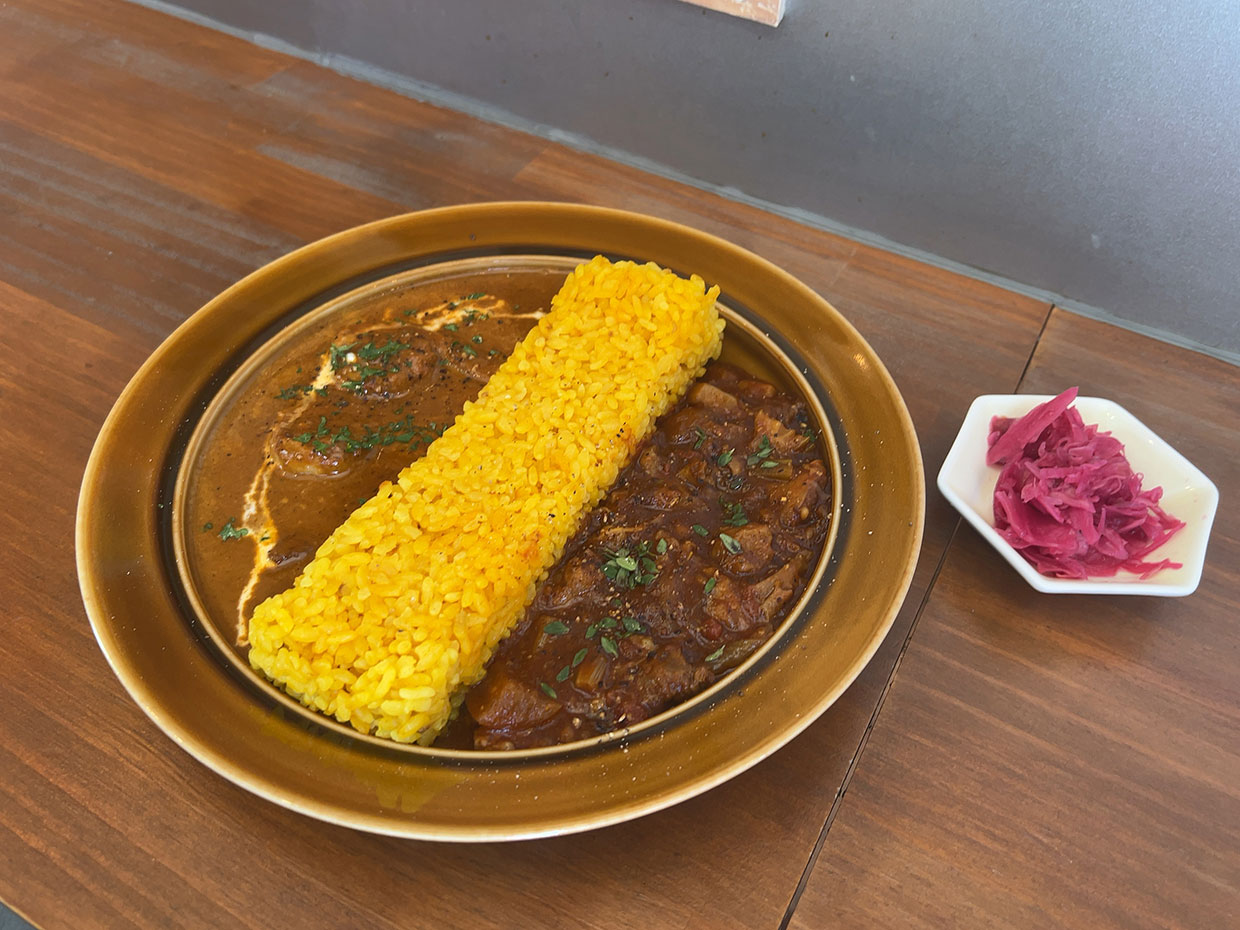 Their reasonably priced lineup includes Spicy Chicken Curry, Butter Chicken Curry, Lemon Keema Curry, Pork Ginger Curry, Gyusuji (Beef Sinew) Tomato Curry, Shrimp Cream Curry, Vegetable Curry, and Two Kind Double Curry.
They also have a kid's curry, therefore, making it a great place to bring your children. Furthermore, they have a terrace area for two. You can also bring your dog to the terrace area. Since it is a complex, after enjoying curry, you can stop by a Japanese tea store or a wine bar.
Go To "Kamakura Bhavan" – For Authentic Southern Style Curry
Did you know there exists a popular curry shop by Wadatsuka Station that serves authentic Southern Indian Style curry? They are so popular that there is a long line along Yuigahama Main Street.
The owner of "Kamakura Bhavan" traveled to India with one back bag. You can enjoy "meals," an authentic Southern Indian meal that comes with curry and vegetables on a single plate.
Additionally, you can enjoy Biyani, a popular Indian dish. The food here is so good that you cannot stop having another bite. The store is filled with many returnees.
Furthermore, they also serve vegetarian options. The store is popular with both Japanese and International visitors.
You can also enjoy Indian beer and wine. Most people think of Nan when they hear about Indian-style curry. However, did you know that Nan is from Northern India? Southern India mainly eats rice with their curry and not Nan. Papad, a crunchy bean cracker, is served along with your curry. For those interested in authentic Southern Indian style meal, we recommend Kamakura Bhavan.
Tourist Spots At Yuigahama Main Street
Speaking of Yuigahama, the Yuigahama Beach, which stretches out in front of you in a 6-minute walk from Yuigahama Station on the Enoshima Electric Railway, is a famous spot.
Nearby is the Kamakura Literature Museum, which is often used for filming TV dramas.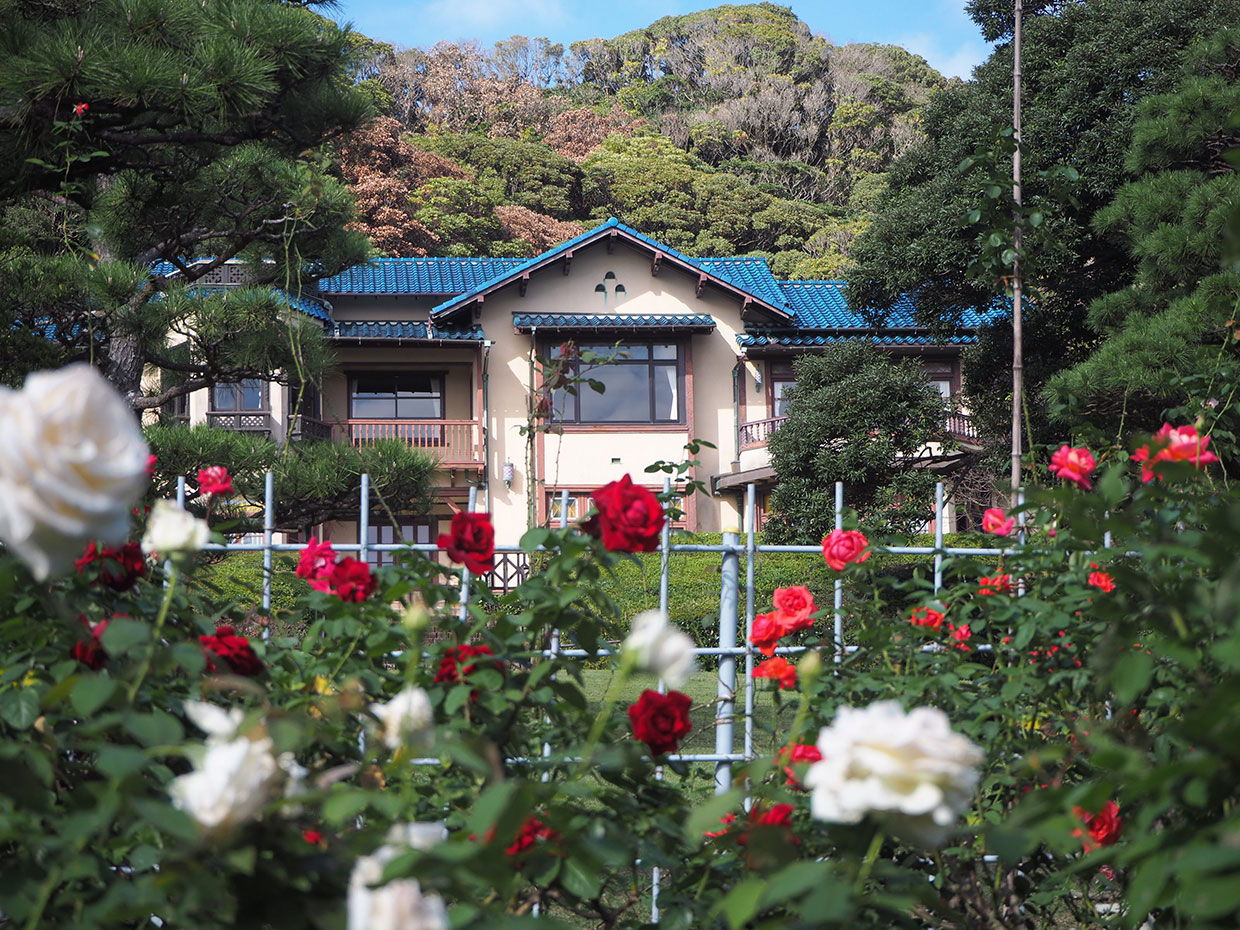 It is a building with a long history visited by literary figures from Kamakura and has a wonderful retro atmosphere. The spacious garden with a rose garden is one of the sightseeing spots that you should definitely stop by.
There are also other famous tourist spots near Hase, such as Hase Temple, famous for the lighting up of hydrangea and autumn leaves; Goryo Shrine, a great spot for photographing Enoden and hydrangea during the hydrangea season; and Kotoku-in Temple, famous for the bronze statue of the Great Buddha sitting outdoors.
~Onari Street (Kamakura West Gate) Area~
"SPICE HOUSE PePe" – Enjoy The Scent Of Spice Filled Curry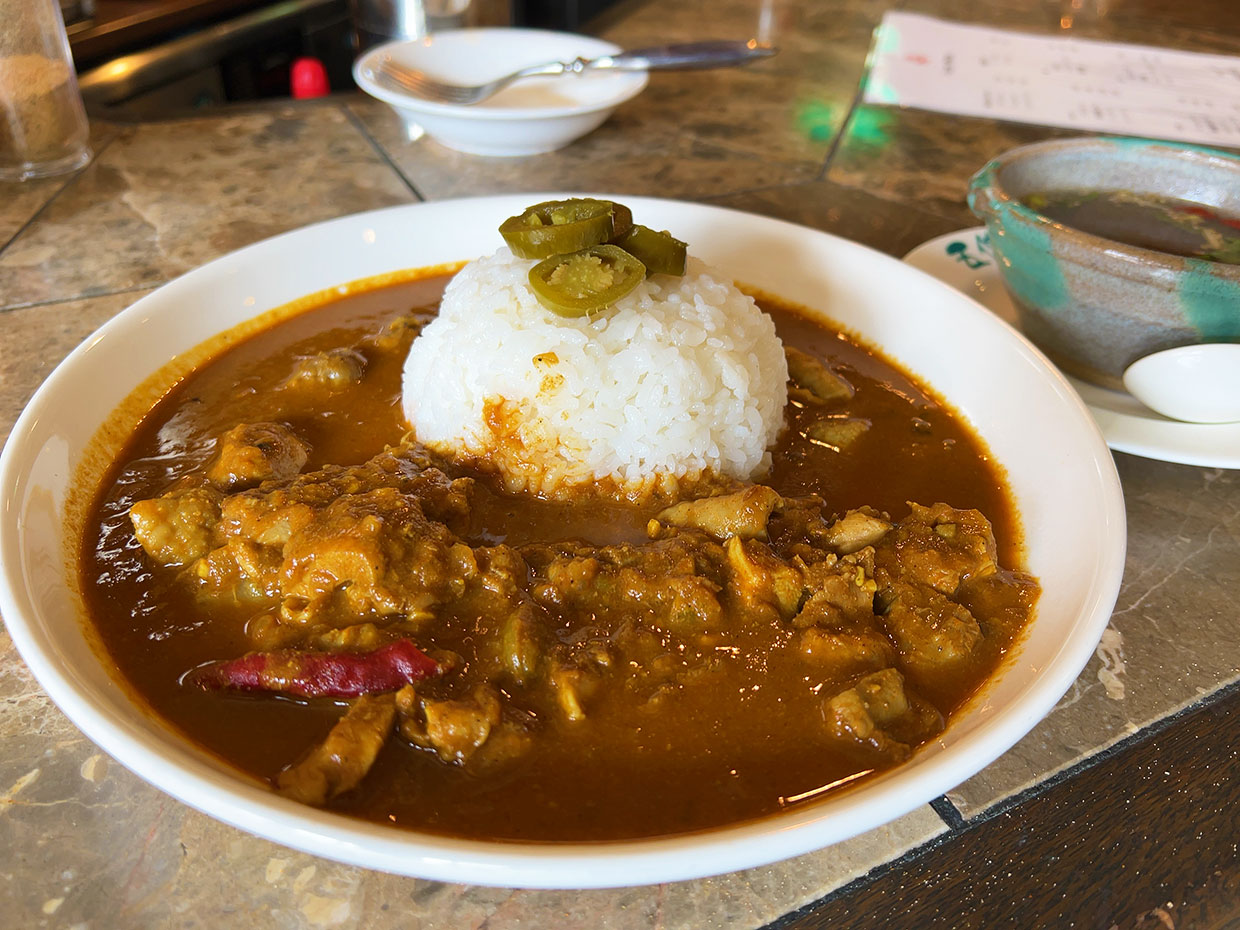 Walk through Onari Street and turn right at the thin street by the end of Yuigahama Main Street.
SPICE HOUSE PePe is a curry house in a European Style building. The concept here is "to deliver a nice scent and flavor of the world through spices." Among their spice-filled dishes, curry is very popular. The restaurant used to be in Shimbashi, Tokyo. However, they moved to the Kamakura area. The store is popular with their long-time fans, thus, creating a long line before opening.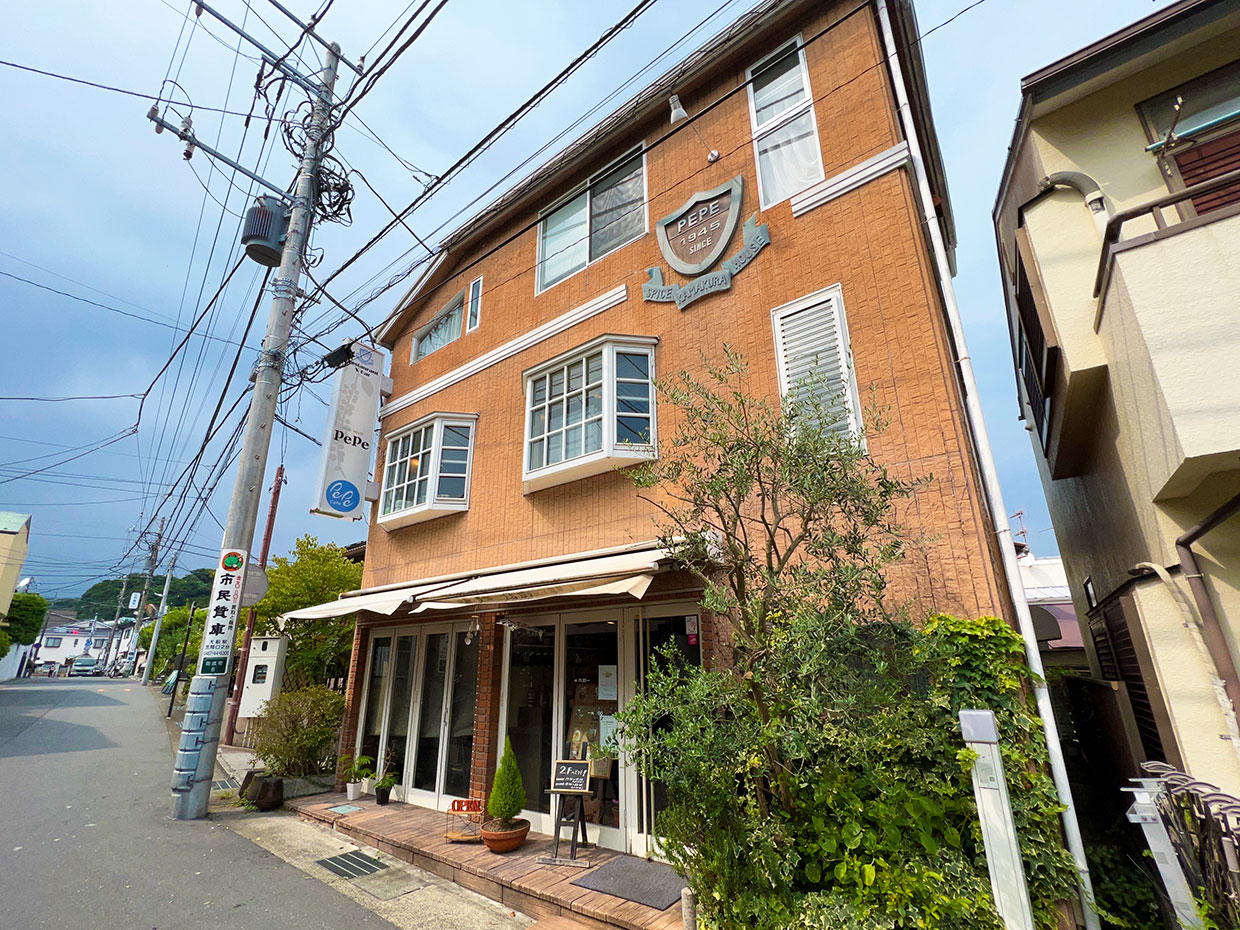 Their popular menu is the original masara curry. Rather than adapting the taste for Japanese people, they actually use authentic spices making it for those who like spicy food.
You can purchase their original spices here too. Many customers purchase the spices after trying the curry.
You will be amazed by the detail expressed by the chef with his curry and spice filled meal.
Besides masara curry, they have beef curry, pork curry, and Kamakura vegetable curry too.
Enjoy "Diversity-Filled" Curry At "WanderKitchen"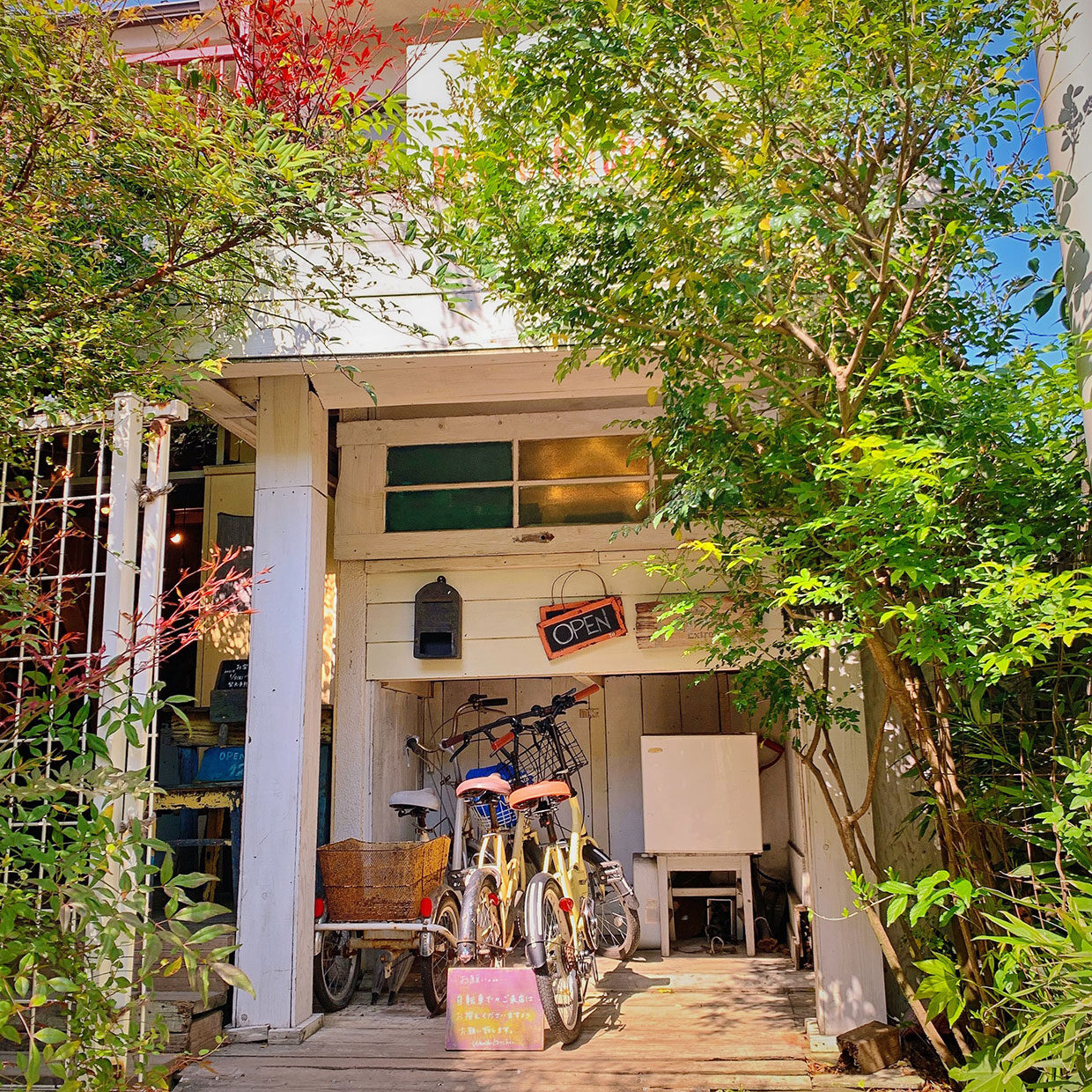 "WanderKitchen" is a store on Onari Street known for its multi-diversity meals. Walk along Onari Street and turn right by "Kamakura Ogawaken." Look for a white residential home hidden within the streets. At this restaurant, they serve different curries from different countries daily. The owner decides the curry from over 400 different kinds based on his mood. However, they have a curry that they serve regularly. Corymbata, a Southern Indian-style curry is a coconut chicken curry. "Cory" means chicken, and "bata" means stir in Tamil. Hence, the word "Corybata."
The coconut chicken curry is an enduring favorite, with the onions confited in plenty of oil adding to its sweet and deep flavor.
You can also enjoy other curries from around the world, such as North Indian keema curry, Thai green curry, British-style Indian curry with vegetables from England, and Cambodian curry.
The menu changes daily, so the curries you can encounter at that time will also change, which is unique to this restaurant.
In addition to curry, the menu also includes Australian, Italian, Portuguese, Tanzanian, and other cuisines. You can also enjoy Australian, Italian, Portuguese, Tanzanian, and many other cuisines, so please visit us.
Tourist Spots By Onari Street (Kamakura West Gates)
Take the west exit of Kamakura Station, turn right at the traffic light in front of the city hall, walk straight, and you will find the Kamakura History and Culture Exchange Center, the best place to learn about Kamakura history.
Currently, an exhibition on the Hojo Clan is held in conjunction with the airing of the Japanese historical drama, "The 13 Lords Of Kamakura."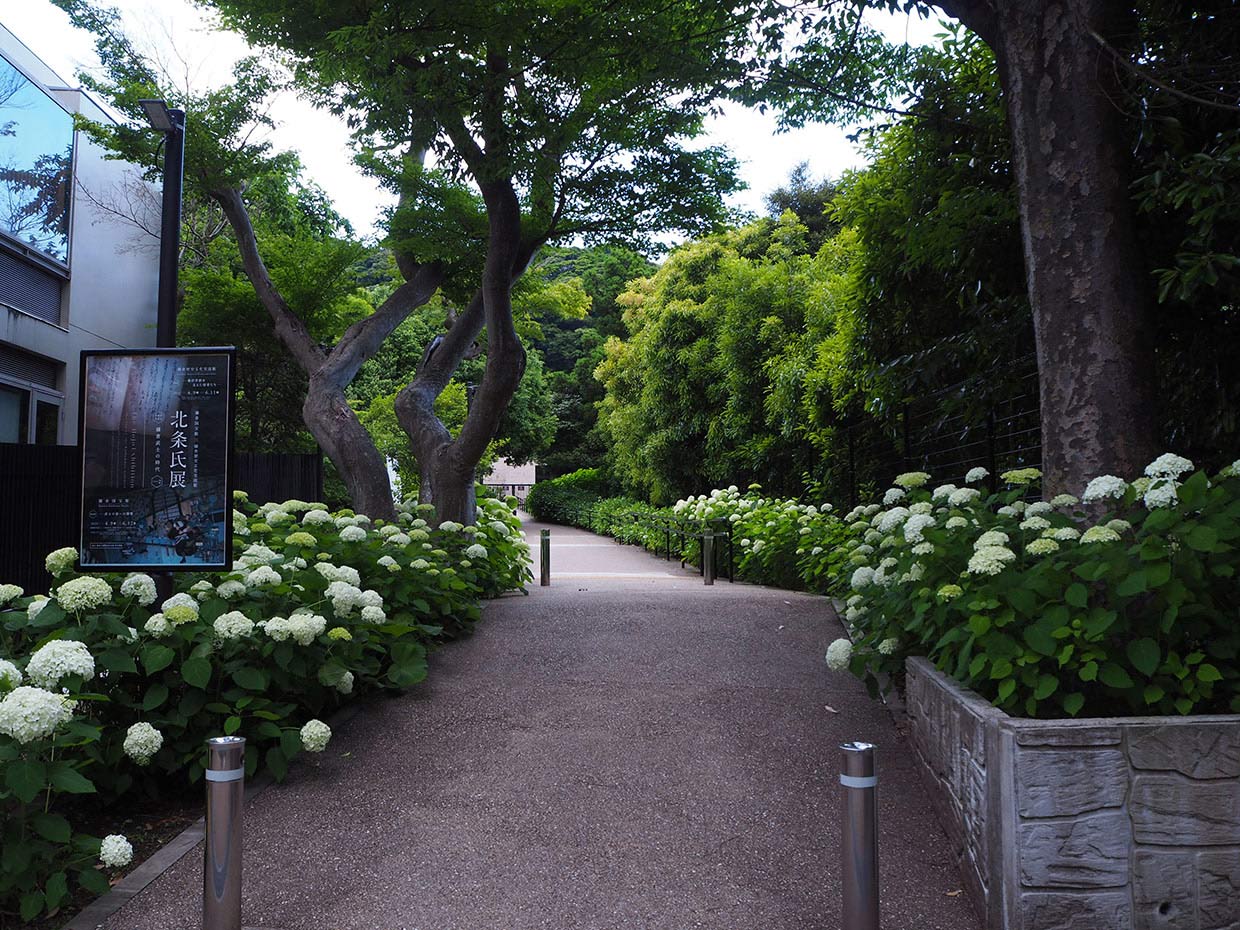 Sasuke Inari Shrine, famous for its many vermilion torii gates and foxes, is located close by. Also, Zeniarai Benzaiten Ugafuku Shrine, where washing your money in the spring water within the shrine grounds will increase one's wealth, is also located.
Why not take a walk after eating a big bowl of curry?
Also, on the way to these three tourist spots, there is "Tea House Kirara (Sabo Kirara)," which is very popular for its shiratama (white mochi balls). If you have a craving for sweet food on your way back to Kamakura Station after visiting shrines and other places of worship, please visit there. The large, soft shiratama are superb. However, there is often a long line of people waiting to get in, so be prepared.
~Shichirigahama & Koshigoe Area~
Enjoy Authentic Indian Curry – SHIRISH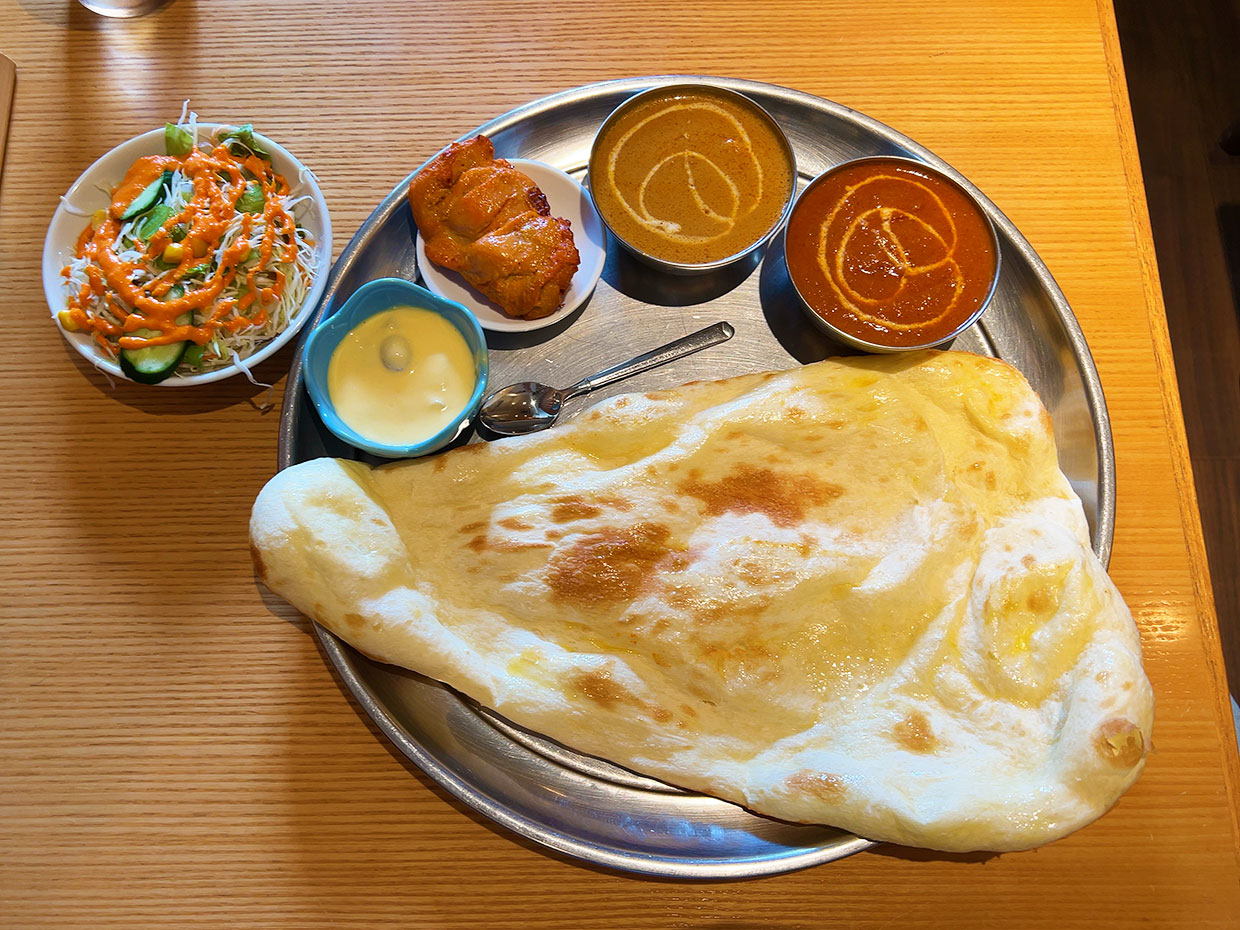 SHIRISH is an authentic Indian, Nepal-style curry located 15 minutes away from Enoden's Koshigoe Station and six minutes away from Shonan Monorail's Nishi-Kamakura Station (West Kamakura Station). Lunch is a reasonable cost of 850 to 1100 yen. Despite its reasonable cost, you can still enjoy authentic Indian curry.
The Indian Nepal-style curry shop is secretly popular, such that people from afar come to visit. You can expect that seats are filled up on weekends or holidays.
They also have bottomless nan and rice for lunch. You also have four levels of spiciness to choose from for your curry.
We recommend visiting here if you love spicy curry. This is the best place if you want authentic Indian curry and nan in Japan.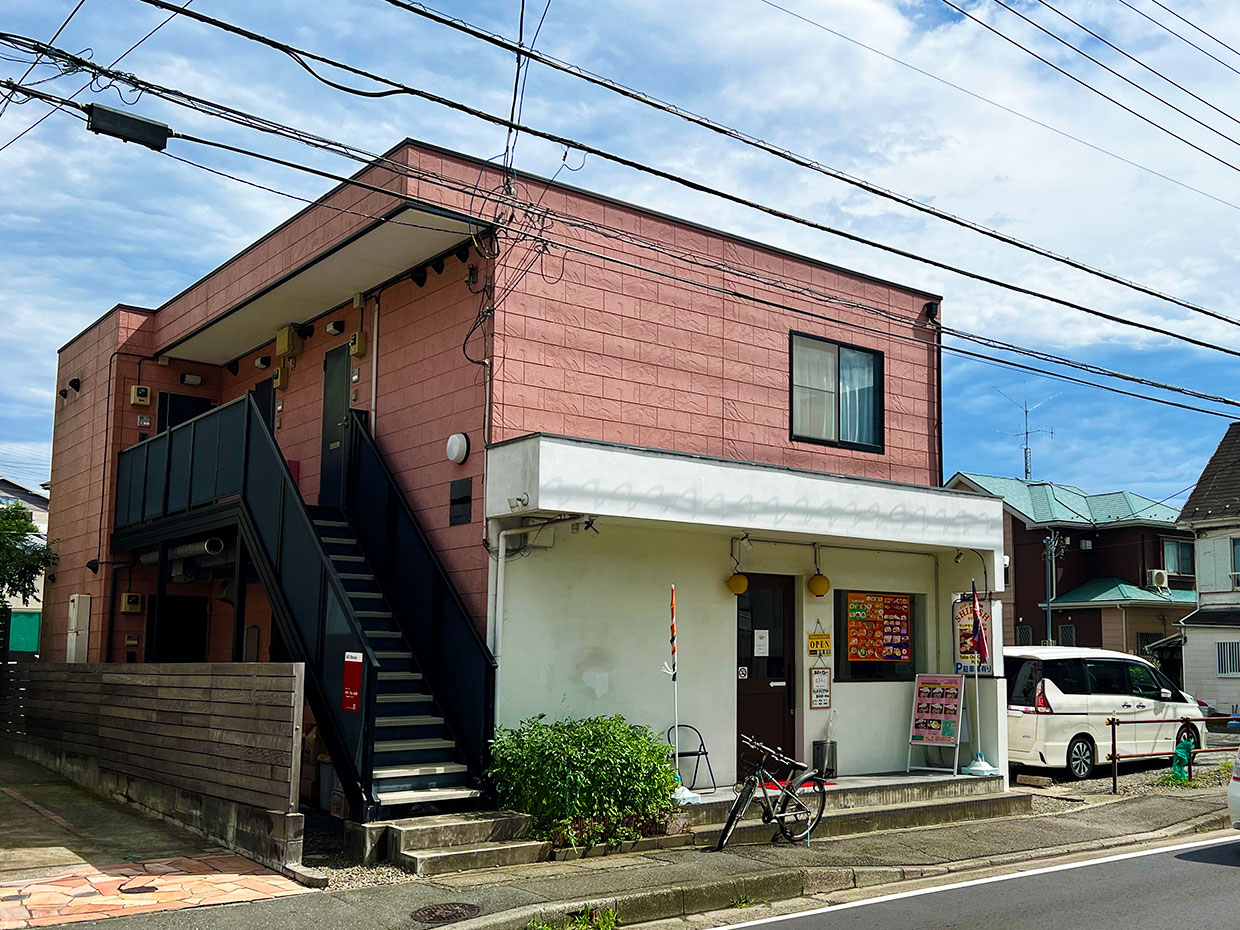 Their menu includes chicken curry, vegetable curry, keema egg curry, mutton curry, shrimp curry, curry of the day option, and a kids option for the young ones.
They also have tandoori chicken and biryani. If you want to feel the Indian vibe without leaving Japan, why not visit SHIRISH?
This store has parking space available and also has a take out option. Why not have a house party with your favorite Indian food?
The Popular Store [Sangosho Main Store/ Sangosho Moana Makai]
Similar to Carraway, some might also respond with "Sangosho" as the store representing Kamakura for the curry war. They have two stores nearby Enoden's Shichigahama Station. At the Moana Makai Store, you can enjoy a curry in front of the vast beach.
The main store can be seen from the top of the slope located by the Kamakura Prince Hotel. Both stores are always filled with lines.
While the rich curry roux and the large rice proportions will grab your attention. Therefore, for those with a small stomach, we recommend asking for small scoops of rice beforehand.
Both the main store and the Moana Makai store have varying selections such as the "Three Pork Curry" at the main store and "Bay Pork Curry" at the Moana Makai. However, both stores have great and tasty selections of dry, mushroom, seafood curries.
Furthermore, we recommend getting the garlic potato. The potato is so popular that they sell it as a regular snack.
We hope you enjoy the large serving curry at Sangosho.
"Koshigoe Coffee" Enjoy A Spice Filled Curry At A Classic Home Style Cafe
"Koshigoe Cafe" is a classic home style cafe located one minute away from Koshigoe Station. It is a cafe located in the rear streets as if it is hidden from the world.
The interior is filled with counter seats, antique furniture, and wide tables.
You can also bring your dog inside too. They also have a kiddie space for your children to enjoy.
The menu is filled with their popular coffee and curry. Their coffee is bottomless meaning you can get free refills. You have two curries to choose from: the spice scented curry rice with chicken thigh and mushroom or minced pork curry topped with yolks. We recommend enjoying their curry and coffee as you will lose track of time due to its deliciousness.
Other than curry, they also have warm sandwiches, gooey omelet rice, and other options.
Tourist Spots At Shichirigahama and Koshigoe Area
Shichirigahama and the Koshigoe area is known for its ocean side view street. This is perfect for a drive. If you are riding the Enoden, you will have a nice view of the ocean.
From time to time, crowds of people gather at the railroad crossing in front of Kamakura High School on the Enoshima Electric Railway.
The crossing attracts a steady stream of fans who visit because of its appearance in the opening of the anime version of the basketball manga "Slam Dunk," which is still popular not only in Japan but around the world.
The view of the blue sea in the background is an irresistible sightseeing spot for those who know the story of Slam Dunk.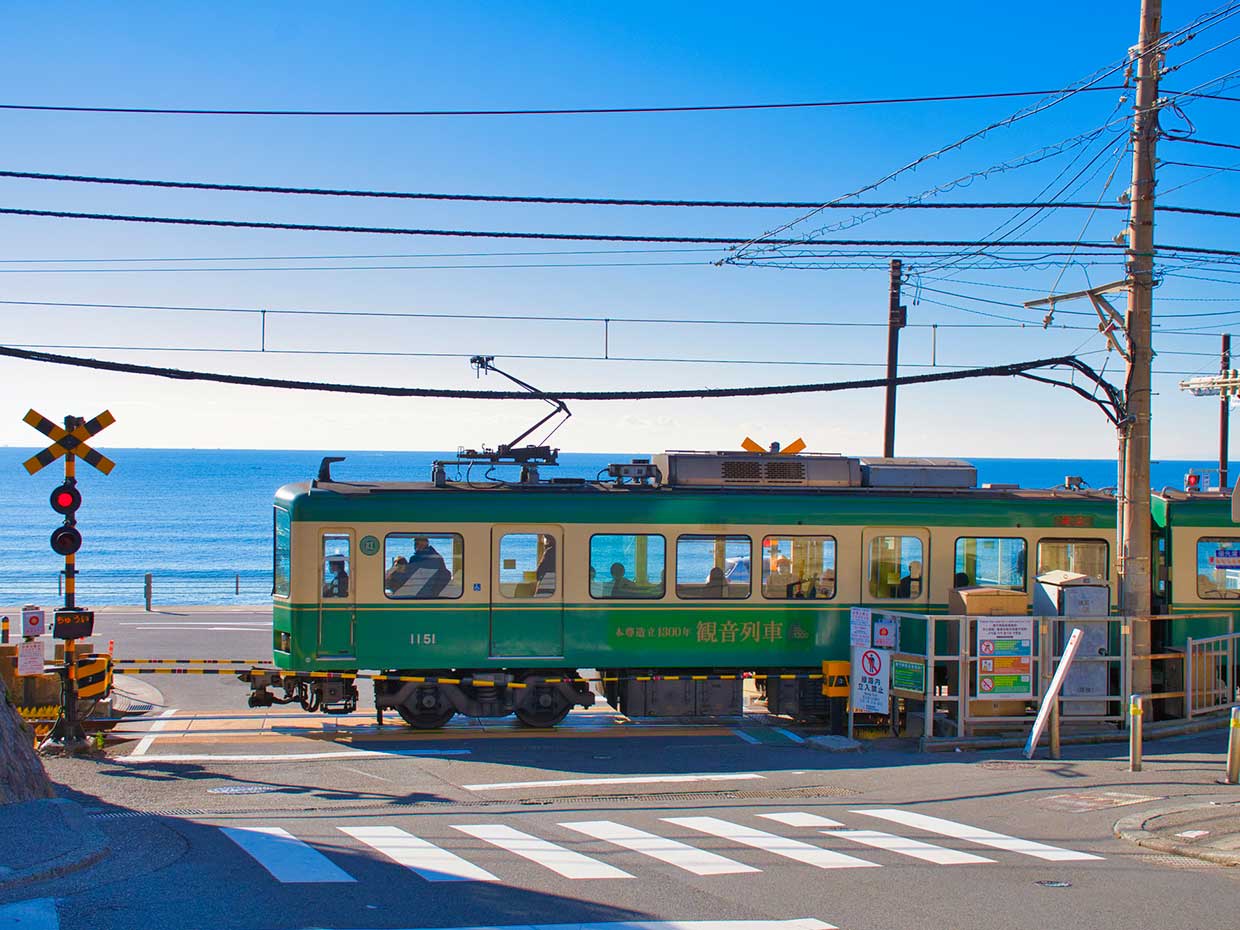 The slope next to Kamakura Prince Hotel on Shichirigahama leading to the Sangosho's Main Store is the same road used in the music video for Yuzu's "Summer Color," and is also a tourist spot visited by fans.
Around Shichirigahama Station are popular eateries, including bills and Amalfi, known for the world's best breakfast, and Triangle Shichirigahama, a tenant facility that will open in 2022 with stores all with ocean views.
After eating curry, why not stop by for cafe time while strolling along the seaside?
~Zaimokuza and Omachi Area~
Shikalab – A Fusion Between Singapore Cuisine & Spice Curry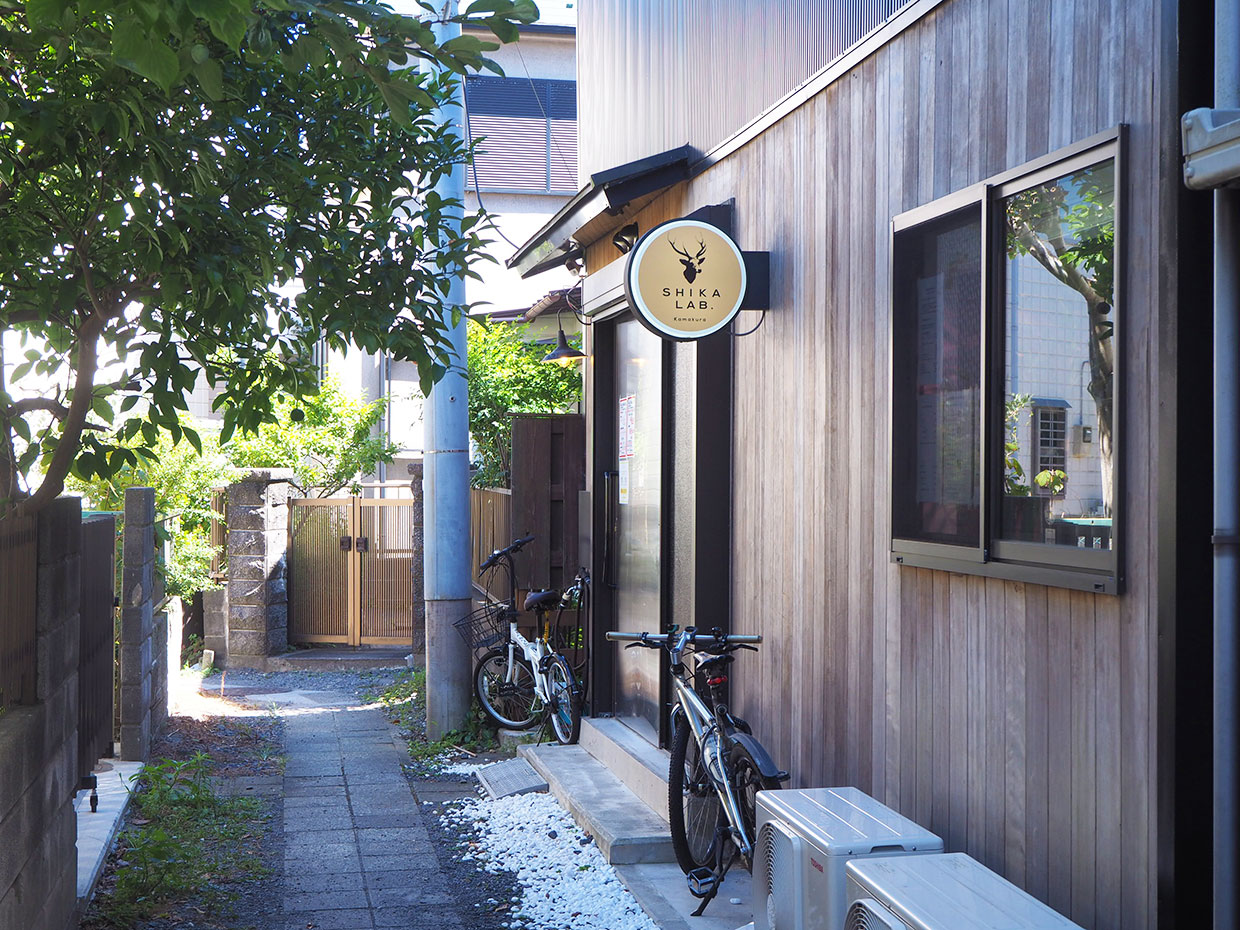 Shikalab is located secretly in the rear of Zaimokuza's residential area. The fancy-looking shop's logo is a deer.
They are known and famous for serving the Singaporean cuisine, "bak kut teh."
Additionally, they also hold cooking classes and other events. Dining for bak kut teh is only available on Thursdays, Fridays, and Saturdays.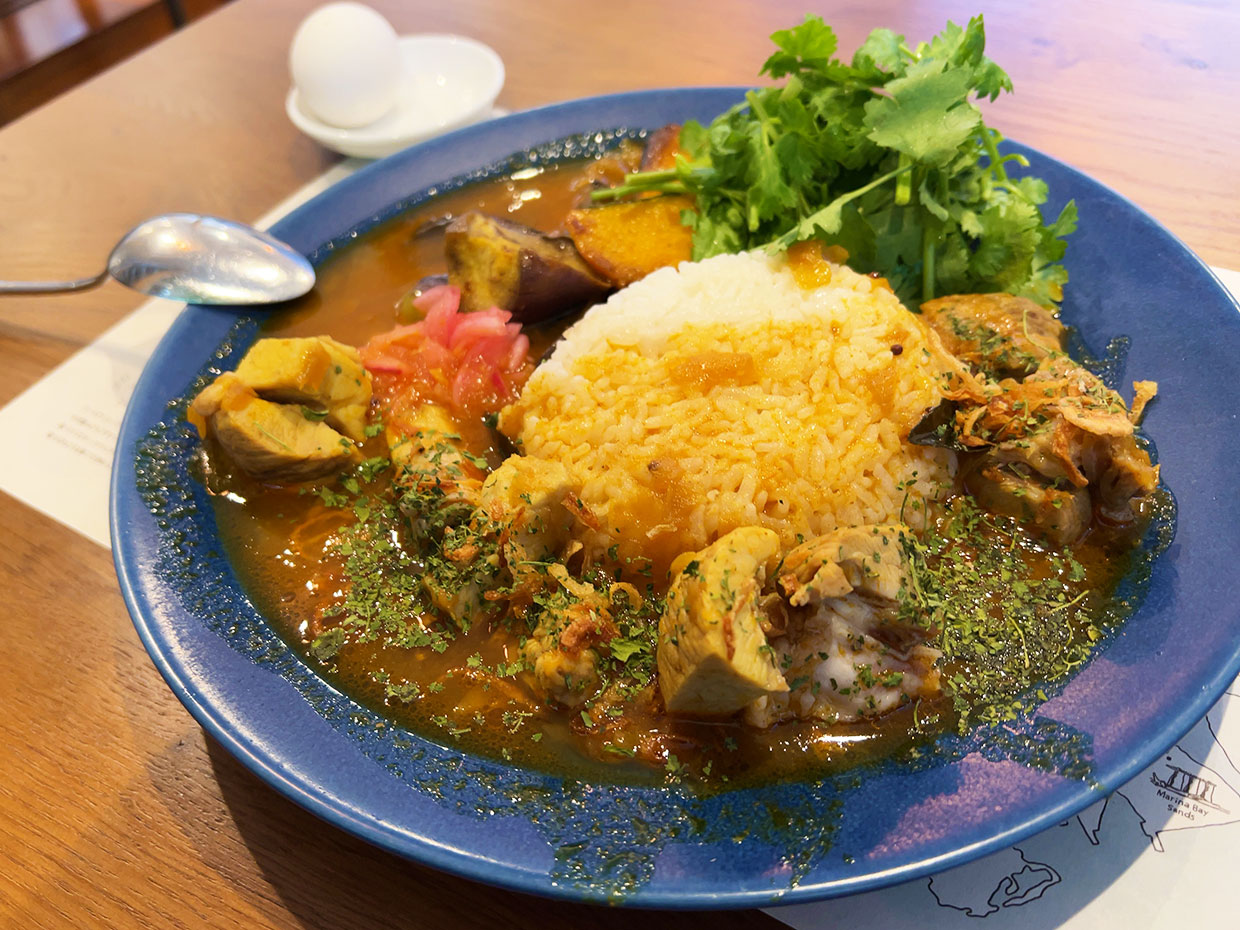 The curry you can have here is a merge between "bak kut teh" and "spice-filled curry" known as "bak kut teh curry."
With spice curry as its basis, this famous healthy curry is topped with seasonal vegetables and achar, bak kut teh, and boiled egg.
However, only a limited amount is available.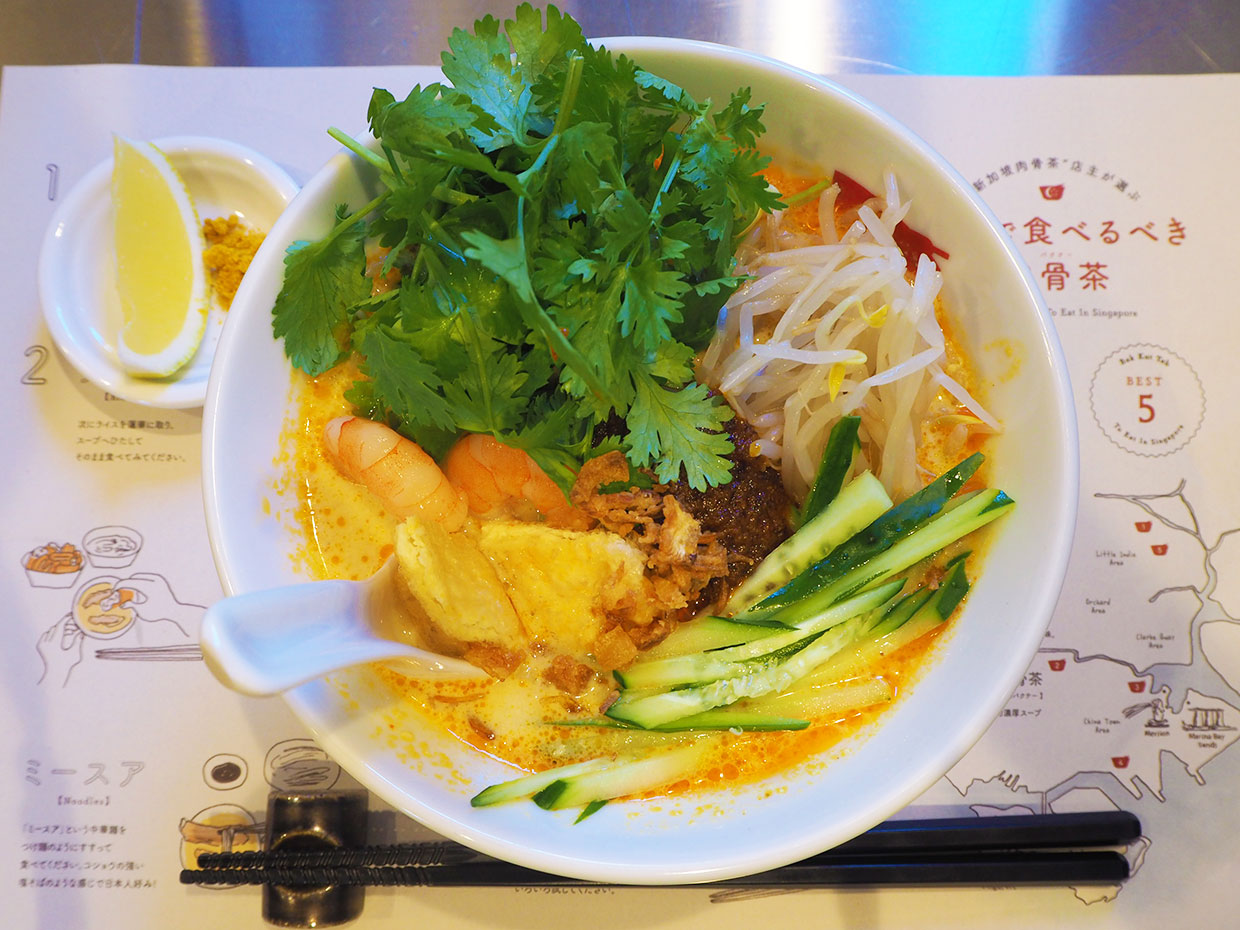 The bak kut teh is a bone-in pork stewed with spices, Chinese herbs, and garlic in a collagen-rich broth that brings out the flavor of the pork. At Shikalab, they use more than 10 kinds of herbs based on the season.
Furthermore, bak kut teh is known as a medical dish. It is created by using different kinds of spices and is effective against intestinal function and immunity. It is also popular among women for its beauty effect.
Bak kut teh store is rare, so finding it in Kamakura is interesting. Why not gain strength by treating your body with spice and bak kut teh?
Enjoy Specially Made Spice Curry – Gokuraku Curry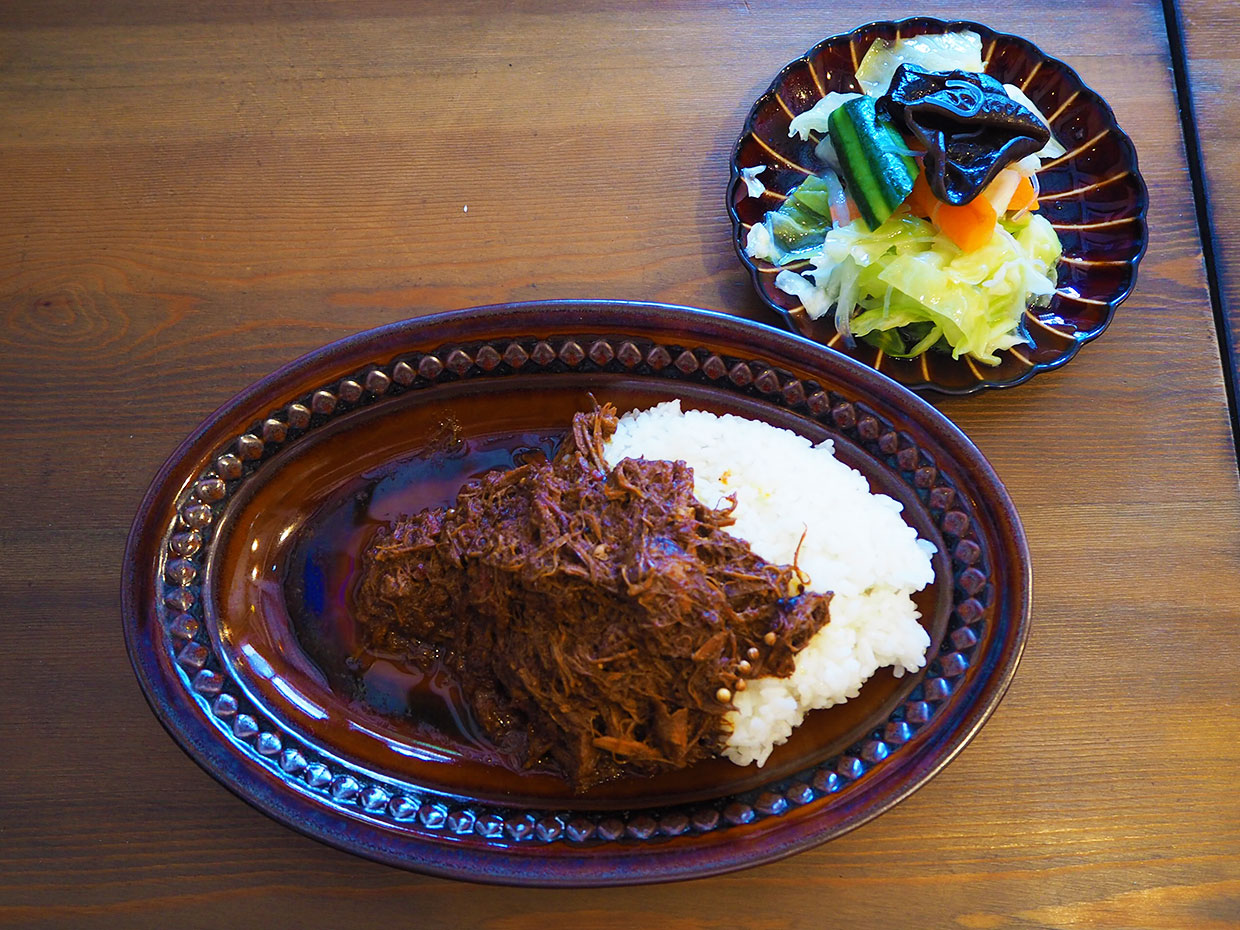 They only season it with salt and simmer it for three days with chicken, vegetables, and spice without water. Gokuraku Curry's recipe originates from Punjab, Pakistan. The curry here is filled with tender meat with an addictive taste.
The curry is located in Zaimokuza Direction from Kamakura East Gate at Oomachi Street. They only have chicken curry. The inside is decorated with Buddhist paintings and large bottles of spices creating a foreign vibe. Every meal comes with a delicious chai.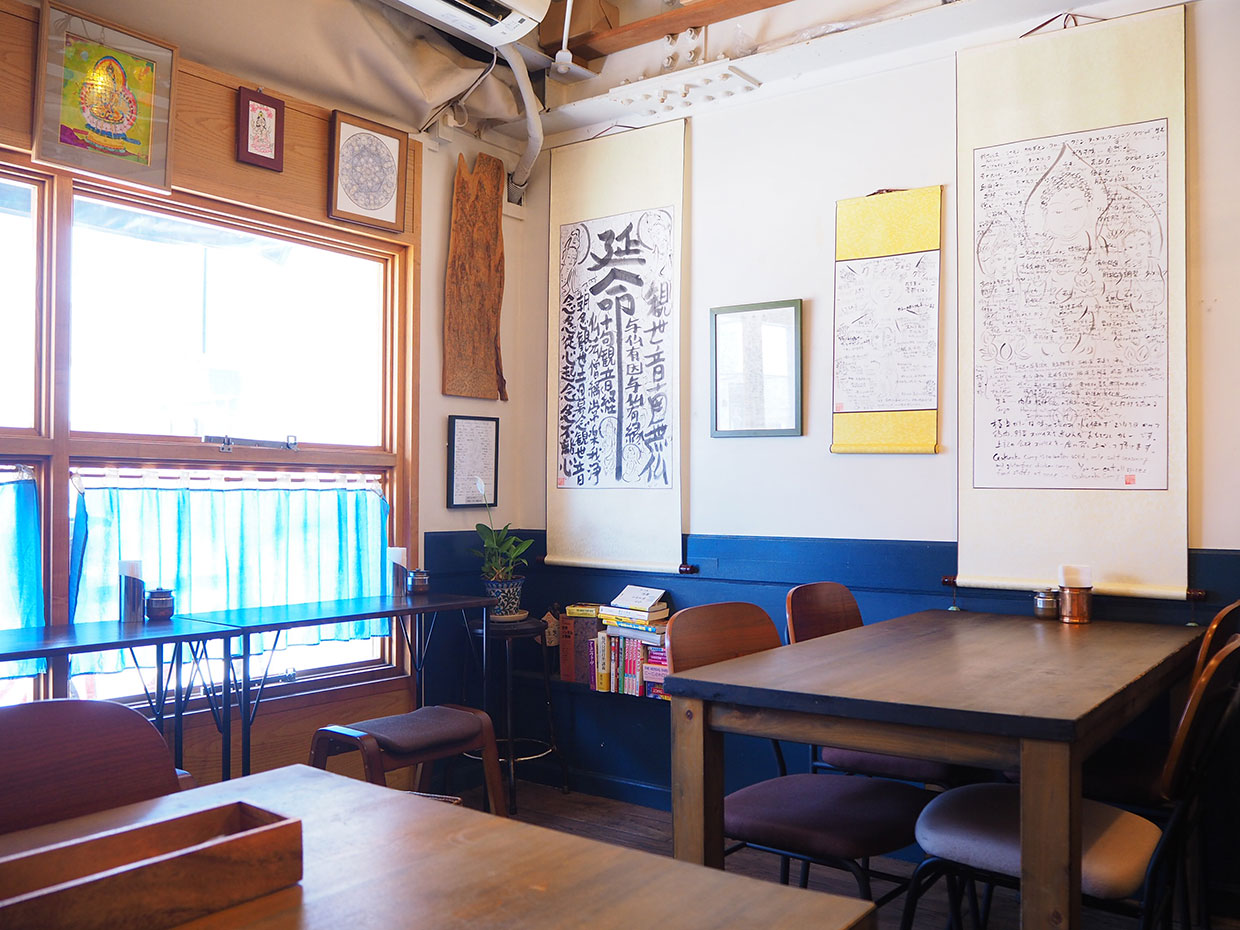 Many visitors are captivated by Gokuraku Curry's unique spice and tender meat-filled curry. If you are in the mood for a spice-filled chicken curry, we recommend visiting Gokuraku Curry.
Gokuraku Curry also has a website where you can purchase frozen chicken curry, spices for medical purposes, and others. You can enjoy their curry at home. If you are interested, we recommend taking a look at it
[Copepe] – A Curry Shop Giving An At Home Vibe
The shop is located five minutes away from Kamakura Station East Gates towards the ocean.
The shop is remodeled from the owner's home. This creates an at-home vibe.
The shop was opened by Fumiyo Sako, a former gourmet reporter. Here you can enjoy beef, salad, grilled cheese, cream mushroom curry, etc.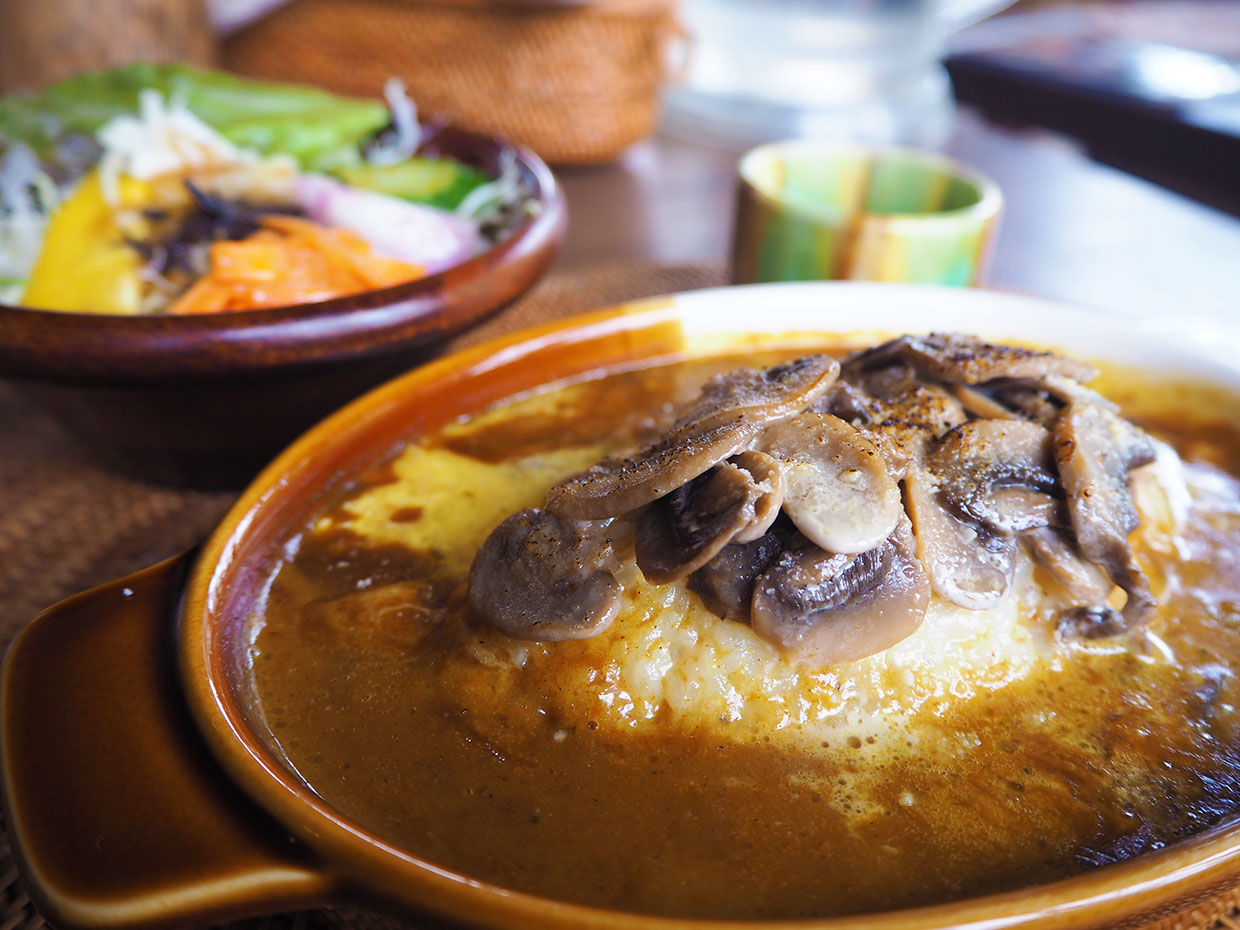 The most popular choice is the grilled cheese curry. The curry is simmered until vegetables and meat are melted, and the flavor is concentrated, creating a mild flavor fitting for everyone.
All the curry comes with a salad using Kamakura-grown vegetables. This adds to the joy of visiting Kamakura.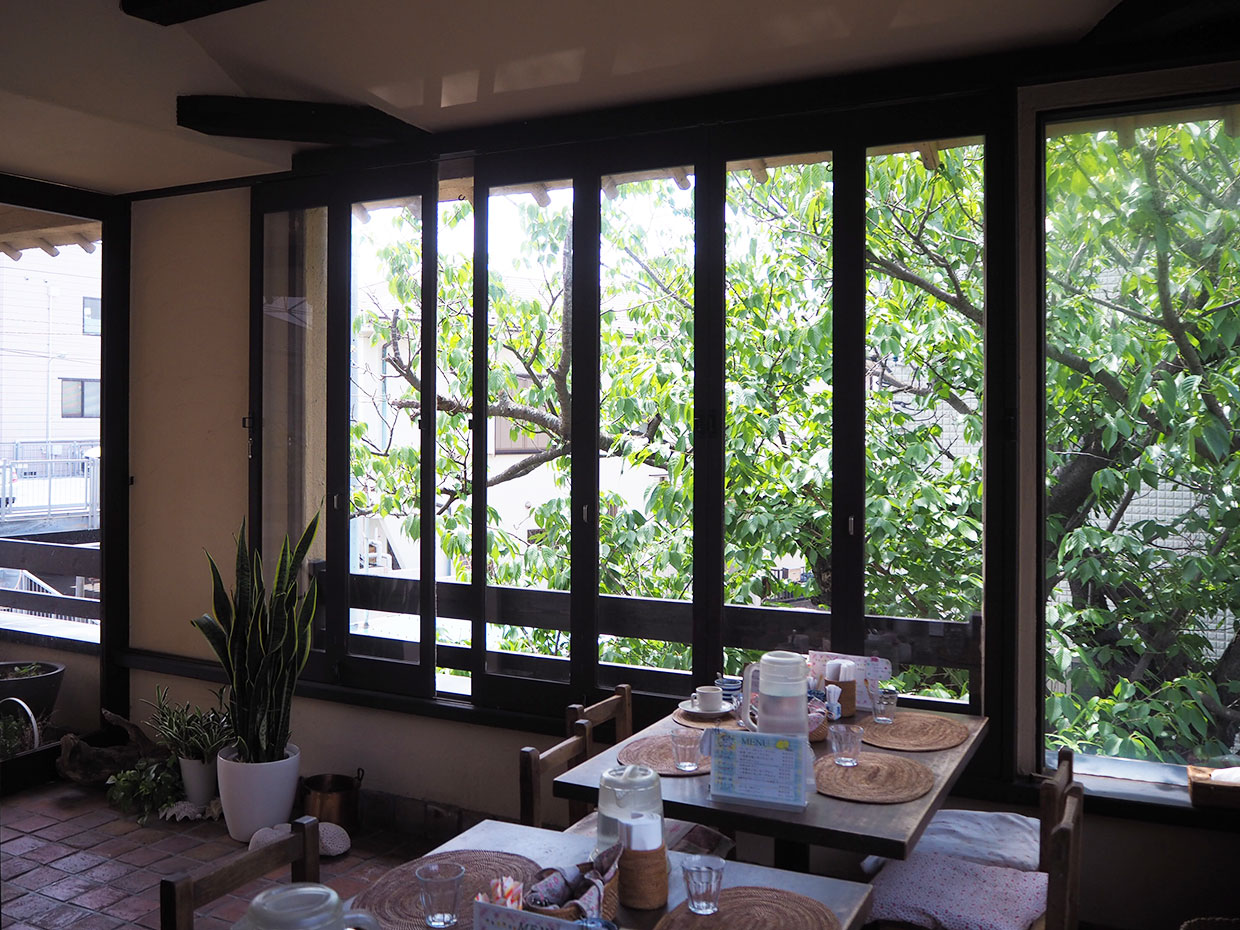 "Copepe" derives from the fact that Ms. Sako loves the Copepe beach in Ogasawara Islands.
In the honor of Ogasawara, they have deserts using Ogasawara lemons. Why not spend a relaxing time with coffee and a refreshing dessert after your curry?
Tourist Spots At Zaimokuza and Omachi Area
Copepe is located next to Renbai, the Kamakura Agricultural Cooperative Union vegetable stand.
Every day different farmers sell fresh Kamakura-grown vegetables. This is a popular spot between locals and tourists because you can purchase seasonal and fresh vegetables.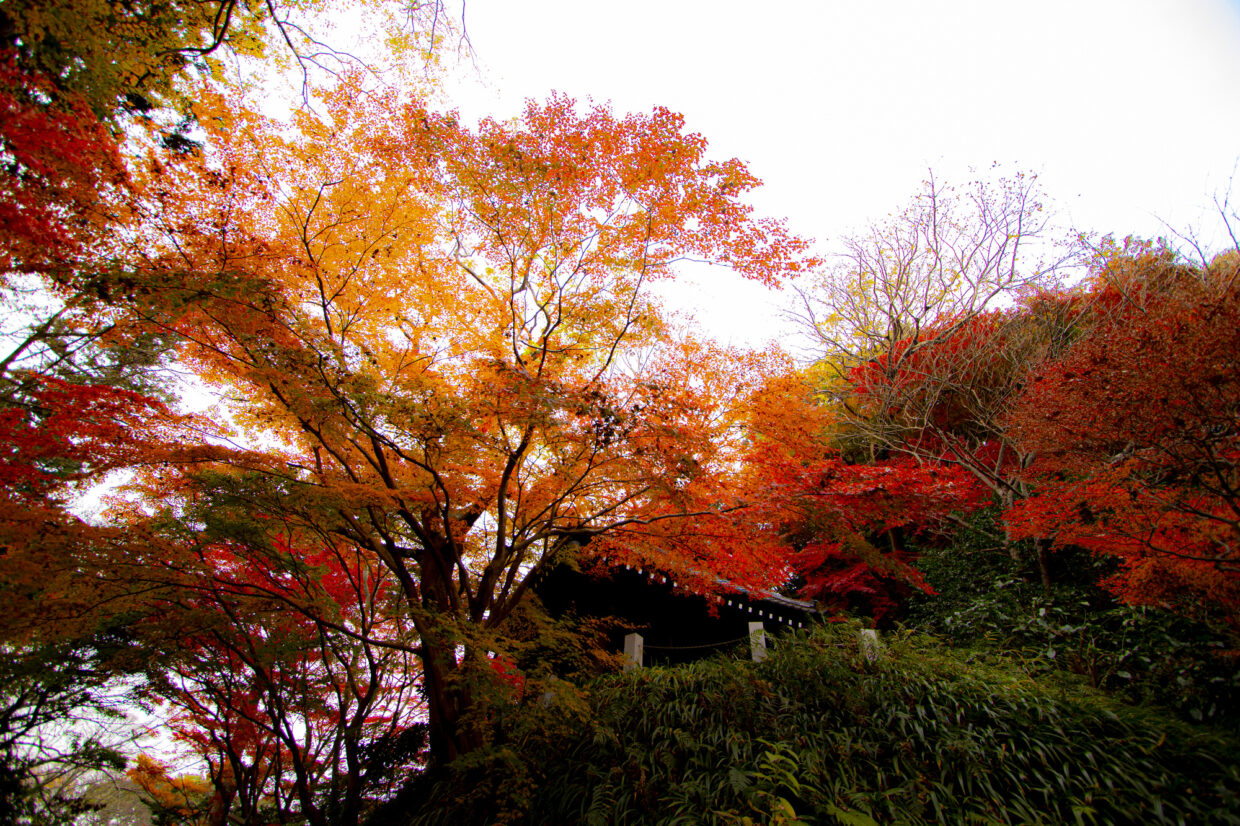 In Omachi, there is Myohonji Temple, which was built after the Hiki clan was destroyed. The temple is also featured in the drama "The 13 Lords Of Kamakura."
At Myohonji Temple, the maple trees in front of the Nitenmon Gate and the ginkgo trees, which are designated as natural treasures, turn beautiful colors during the fall season, providing a spectacular view of the collaboration of wooden architecture and falling leaves.
Also located in Zaimokuza is Komyoji Temple, the head temple of the Jodo sect, which has one of the largest gates in Kamakura. Opened by the fourth regent Hojo no Tsunetoki, Komyoji Temple is the head temple of the Jodo sect, and is popular as a spacious and relaxing temple with the sea in front of it and a tranquil garden.
Also, near Shikalabo is Zaimokuza Beach, a calm and serene beach.
~Kita-Kamakura Area~
Try A Spicy Keema Curry At A Old Home – Mamiana Cafe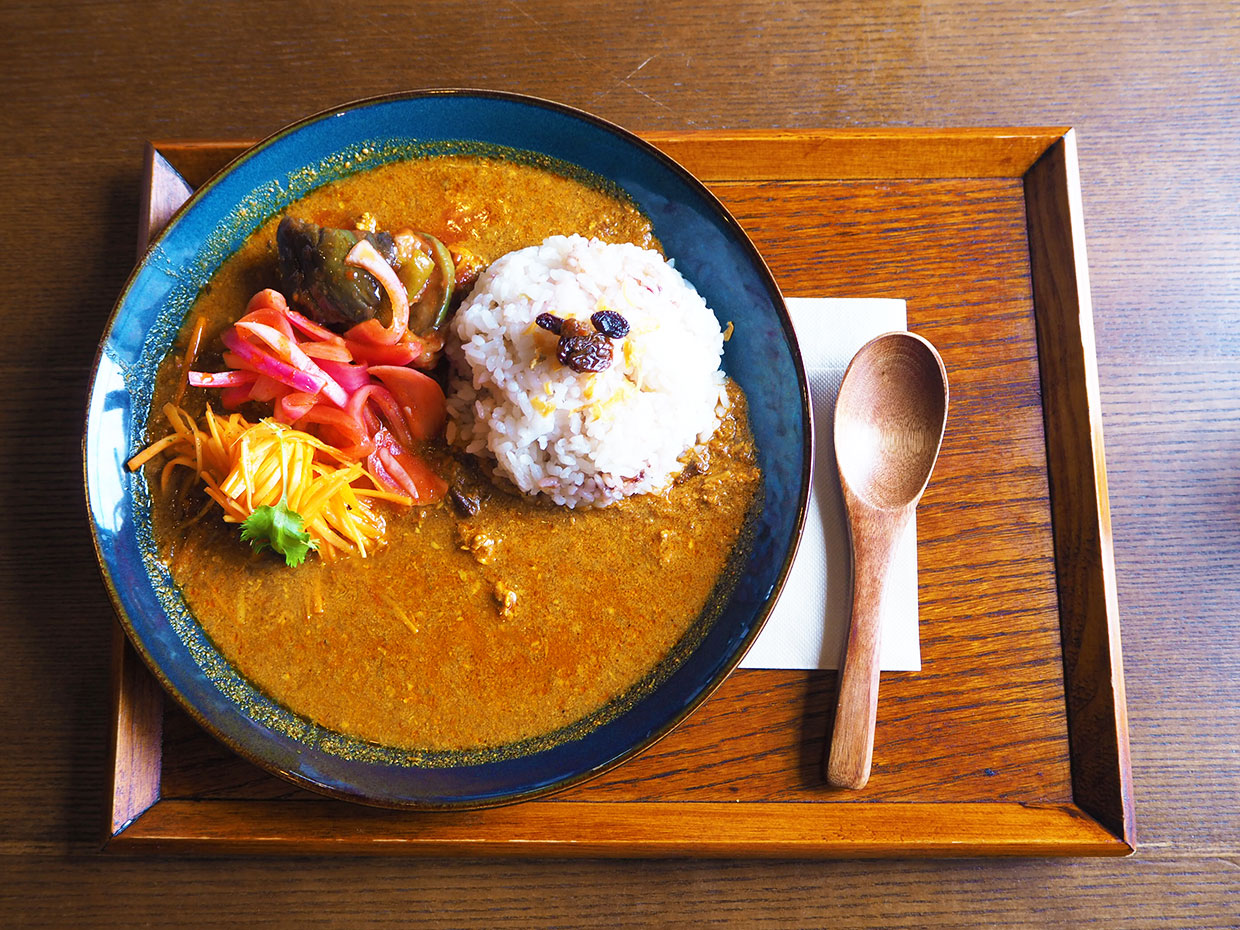 Mamiana Cafe, a fashionable cafe at an old Japanese-style home with a retro vibe, is located by JR Kita Kamakura Station.
The inside is filled with an antique atmosphere and is organized with low tables. This classical-style cafe is popular with many.
At this cafe, you can enjoy a "spicy keema curry." Despite the spices used, the curry is not as spicy. Besides curry, they have other options such as "Bourgogne-style beef stew" and "Peter Pan Sandwich."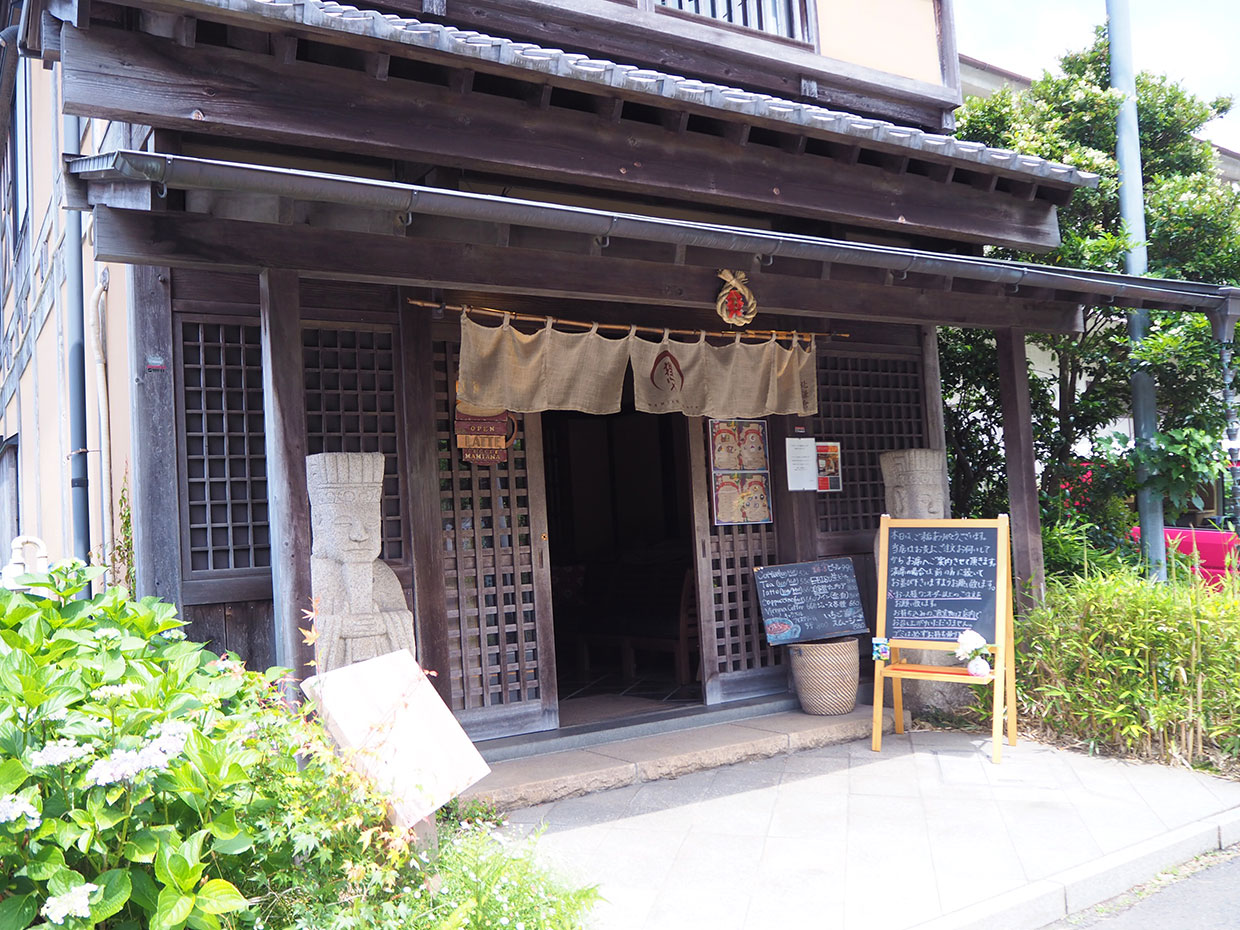 Popularity on Instagram for this cafe grew because of the "Hydrangea Lemonade" and "Hydrangea Cream Soda," available only during the hydrangea season.
The purple-colored drinks use butterfly peas, creating an Instagram-worthy moment. These drinks and the classic-style home create the best match too.
Besides meals and drinks, they have desserts such as coffee jelly or parfait that uses seasonal fruits. For those who enjoy classical-style home, why not enjoy a spicy curry here?
Original Spicy Curry – MICOCO CAFE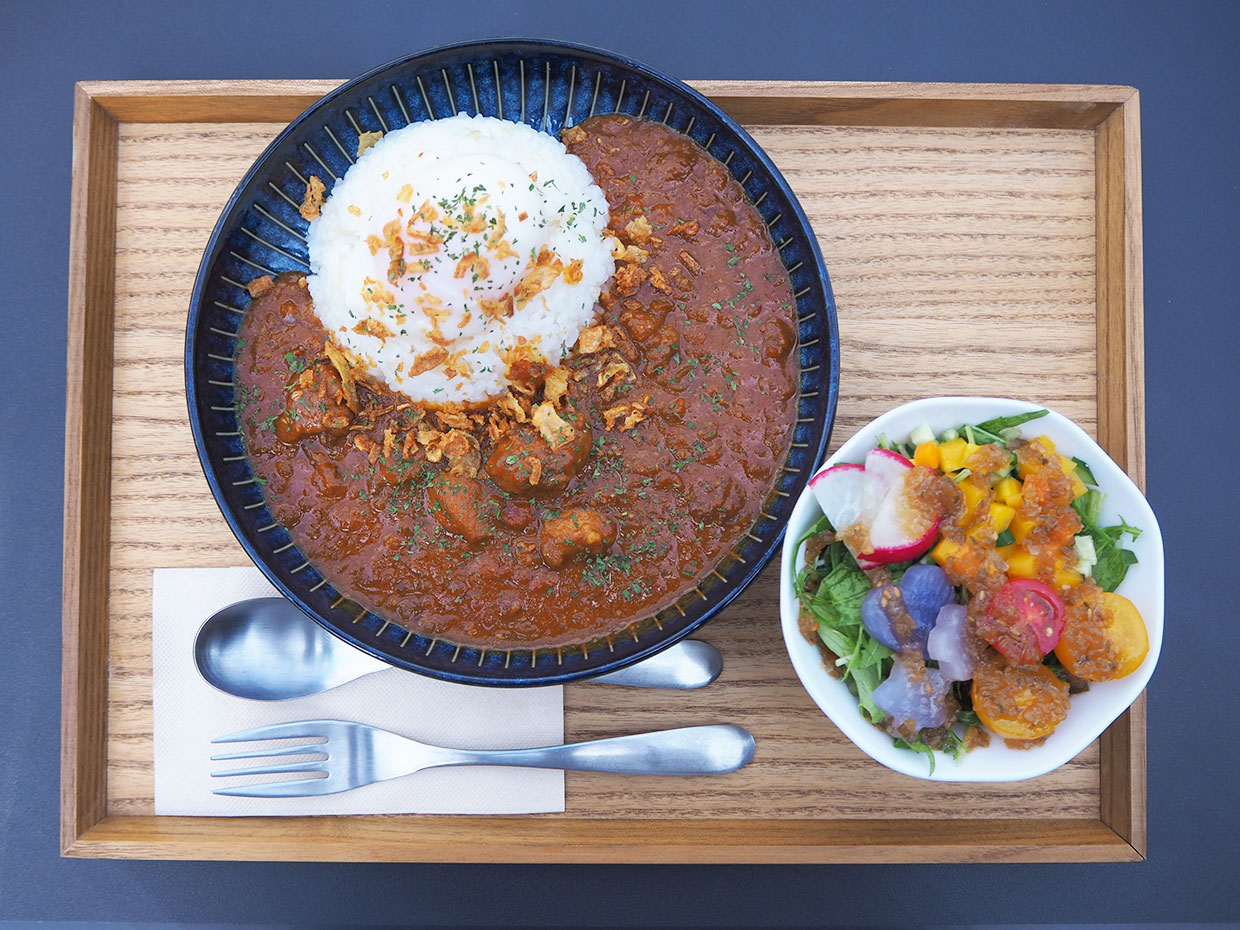 MiCOCO CAFE is located on the way to Kenchoji Temple from JR Kita Kamakura Station. You can try their original spicy curry. The curry comes with a Kamakura vegetable-filled salad. The store creates its own spices. The mild flavor curry is topped with a boiled egg creating a delicious curry.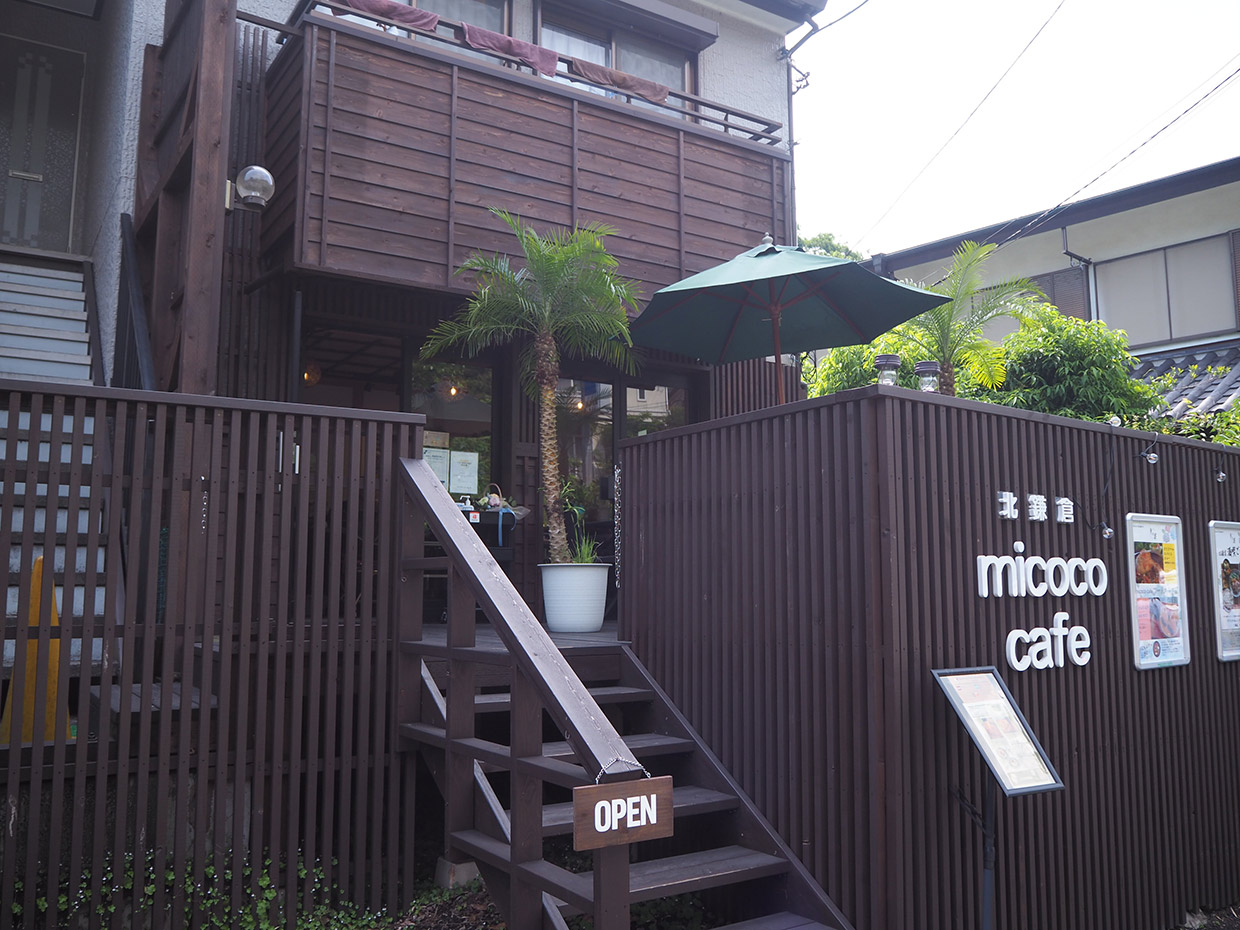 Their menu selection is relatively simple. Besides their spicy curry, they have "Kita Kamakura Full Meal," which is good for the body. They also have a musubi set and a kenchin soup set.
You can enjoy a basque cheesecake and coffee after your curry too.
At Micoco Cafe, they have a terrace seat area with a great view of Kita Kamakura's nature.
Tourist Spots At Kita Kamakura
Kita Kamakura is known for its famous hydrangea season. Meigetsuin Temple is the number one spot for hydrangeas.
Meigetsuin Temple is also known as the "Hydrangea Temple." The blue hydrangeas that fill the slopes of the garden are breathtaking. The color, called "Meigetsuin blue," is very beautiful.
Meigetsuin Temple is also known for its beautiful autumn scenery with its leaves. The circular window at the main hall is known as the Window Of Enlightenment. The garden, which is not open to the public, changes its appearance with the seasons and offers a beautiful view from this window. During the season of autumn leaves, you can catch a glimpse of the beautifully colored trees through the round window, making it a superb photo spot.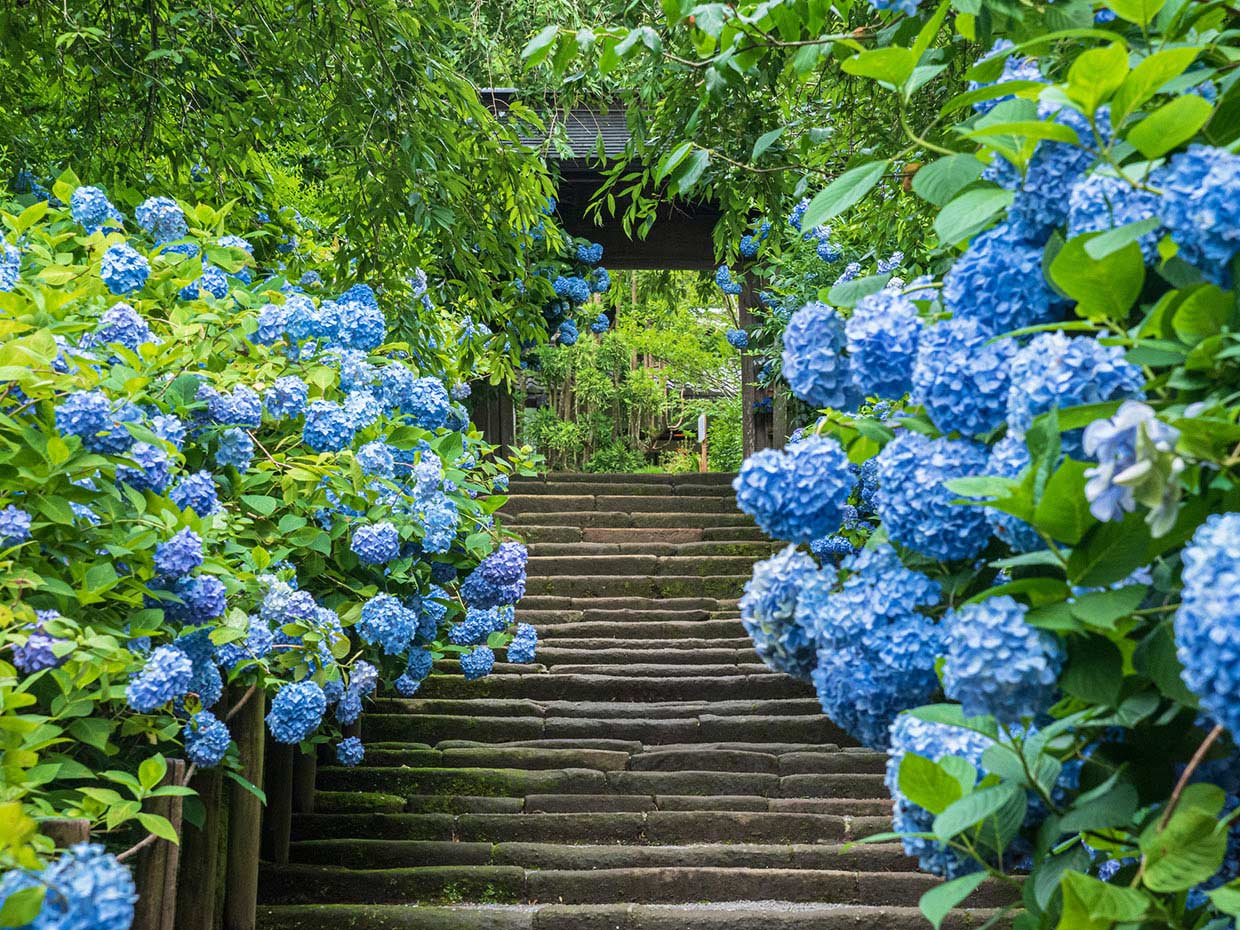 Located just off JR Kita-Kamakura Station is Engakuji Temple, the second largest temple of the Rinshu sect of Buddhism in the Kamakura Gozan (Five Temples of Kamakura), and another famous tourist attraction in Kita-Kamakura.
This zen temple represents Kita-Kamakura and was founded by Hojo Tokimune, the 8th regent of the Kamakura Shogunate, who invited Muhaku Sogen, a high priest from China (Song Dynasty).
This temple has one of the most beautiful scenery in the fall.
Furthermore, if you head toward Kamakura Station from JR Kita Kamakura Station, you will see Kenchoji Temple, the No. 1 of the Kamakura Gozan. Kenchoji Temple was founded by the fifth regent of the Kamakura Shogunate, Hojo Tokiyori, who invited a Chinese (Sung Dynasty) high priest, Rankei Doryu. You can also see beautiful cherry blossoms and autumn leaves at Kenchoji Temple.
Kamakura – Find Your Favorite Curry Shop From Many
In this article, we have showcased 20 different curries in Kamakura by area.
Kamakura is an area where you can enjoy various genres of curries from authentic curry, Southern and Northern Indian styles, bak kut teh curry, etc.
Did you find a curry shop that interests you? Kamakura is an area filled with different foods. Thus, why not journey around Kamakura to find your favorite curry?
writer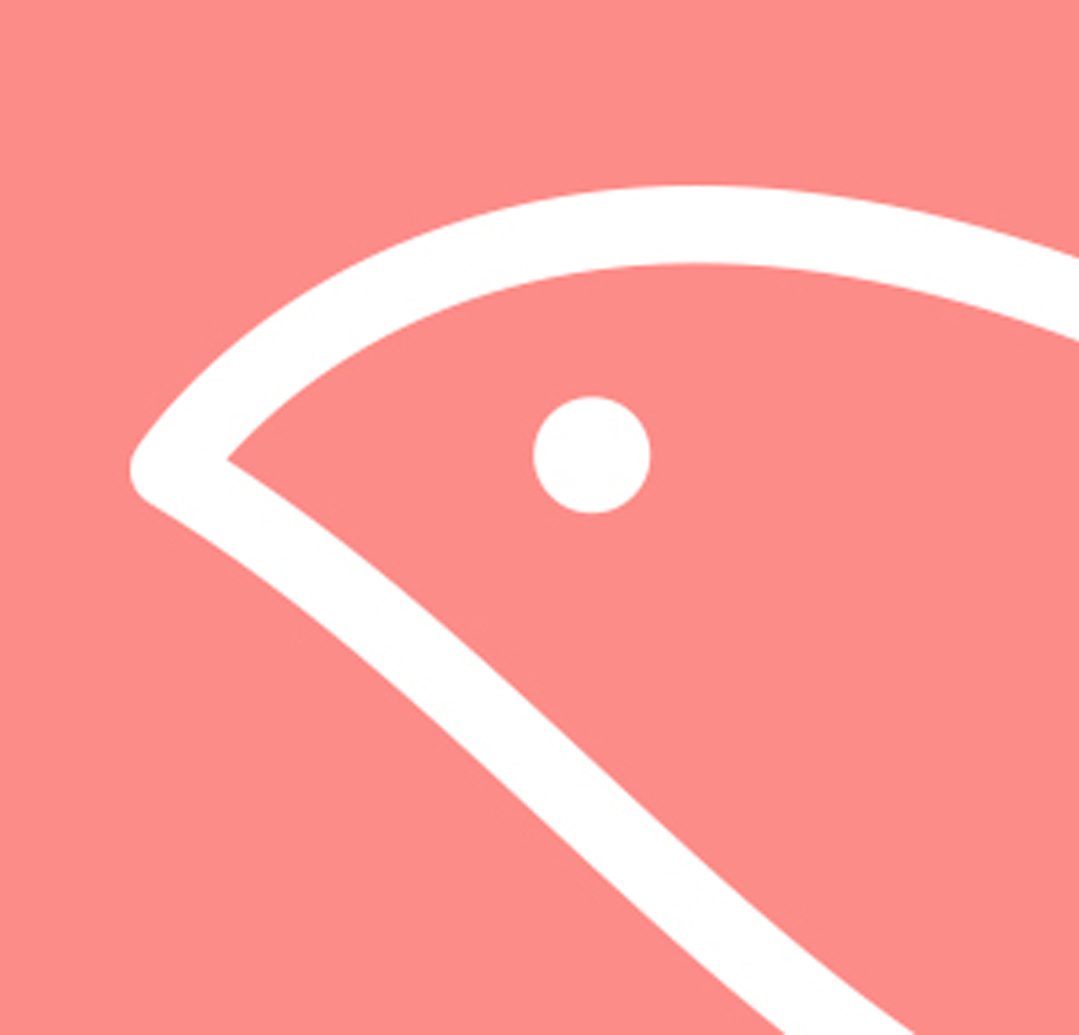 Buzz Trip Kamakura is an information site about Kamakura based on the concept of "spreading the joy and beauty of Kamakura to people in Japan and around the world. It is operated by BEEP Corporation, a web consulting company in Kamakura.
Our goal is to help not only tourists from Japan and abroad, but also all visitors to Kamakura to make their time and experience in Kamakura even more wonderful, and we hope that you will become a fan of Kamakura. We hope to make Kamakura a favorite among all visitors to Japan.
For more information about BEEP Corporation.